Price Wins 8th Finke Desert Race
Toby Price has won his 8th title at the Finke Desert Race, his 2nd win in the car category, and has finished in record time.
Price and navigator Jason Duncan were already on record pace on the outbound leg to Aputula in his Mitsubishi Triton Trophy Truck and got back to Alice Springs in an aggregate time of 3:21:46.2s.
Price, now eight-time King of the Desert remains the only competitor to have achieved victory on both two wheels and four.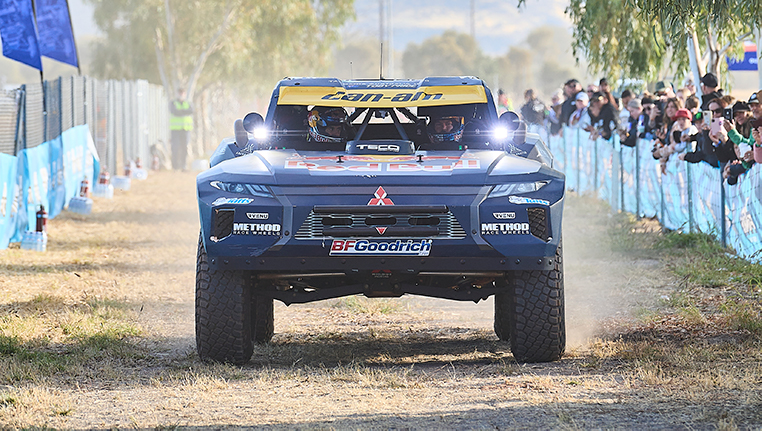 "We're stoked and it was a good run back. We didn't push, we didn't do anything crazy, I just can't thank my crew enough for all their efforts. We had a really good run yesterday, and the hardest part is that you don't know what's going on behind you. You push really hard, and the boys have done a great job with the truck… everything has turned out really good."
Toby Price
Toby Price's Tough Road
Meet the off road and enduro motorcycle legend Toby Price, who was Australia's first ever winner of the gruelling Dakar Rally. Then he did it again. But there's a whole lot more behind the achievements of this champion than meets the eye.
Want the chance to meet Toby Price?
We are giving Triton Owners the chance to win the Ultimate Triton Experience.
Share a photo of your Mitsubishi Triton in action and a short story on why 'Nothing Can Frighten My Triton'. You could win a weekend adventure experience for you and a mate PLUS a chance to meet Toby Price.
Includes flights, accommodation, meals and a full day 4WD experience with 4WD expert Jason Grech.
ENTER NOW here: https://www.nothingcanfrightenmytriton.com.au/
Entries close 11:59pm 11 July 2022. T&C's apply.