In November 2021, Stephen Corby wrote an article for the Weekend Australian explaining the features and benefits of Mitsubishi's Eclipse Cross Plug-in Hybrid vehicle. A copy of this article has been published below.
As a reader of this august column – sorry, publication – you are obviously someone of above-average intelligence, possessed of enough moral fibre to stuff several large cushions, and therefore probably pondering an electric vehicle as your next car.

I can make this assumption partly because just about everyone I meet these days tells me they'd like their next car to be electric – though the pronouncement is almost always followed by a big "but". The main problem is price, but people quickly turn to expressing their anxieties, specifically the fear that an electric vehicle won't get them from Sydney to Brisbane without recharging. Of course, none of these people have driven that far since their parents forced them to do it in the brutal days of shiny vinyl seats and no airconditioning, but it's the negative thought that counts.
You can tell people that the average Australian drives only 36km a day, and that they'll almost certainly choose to fly to Brisbane, but the range anxiety remains.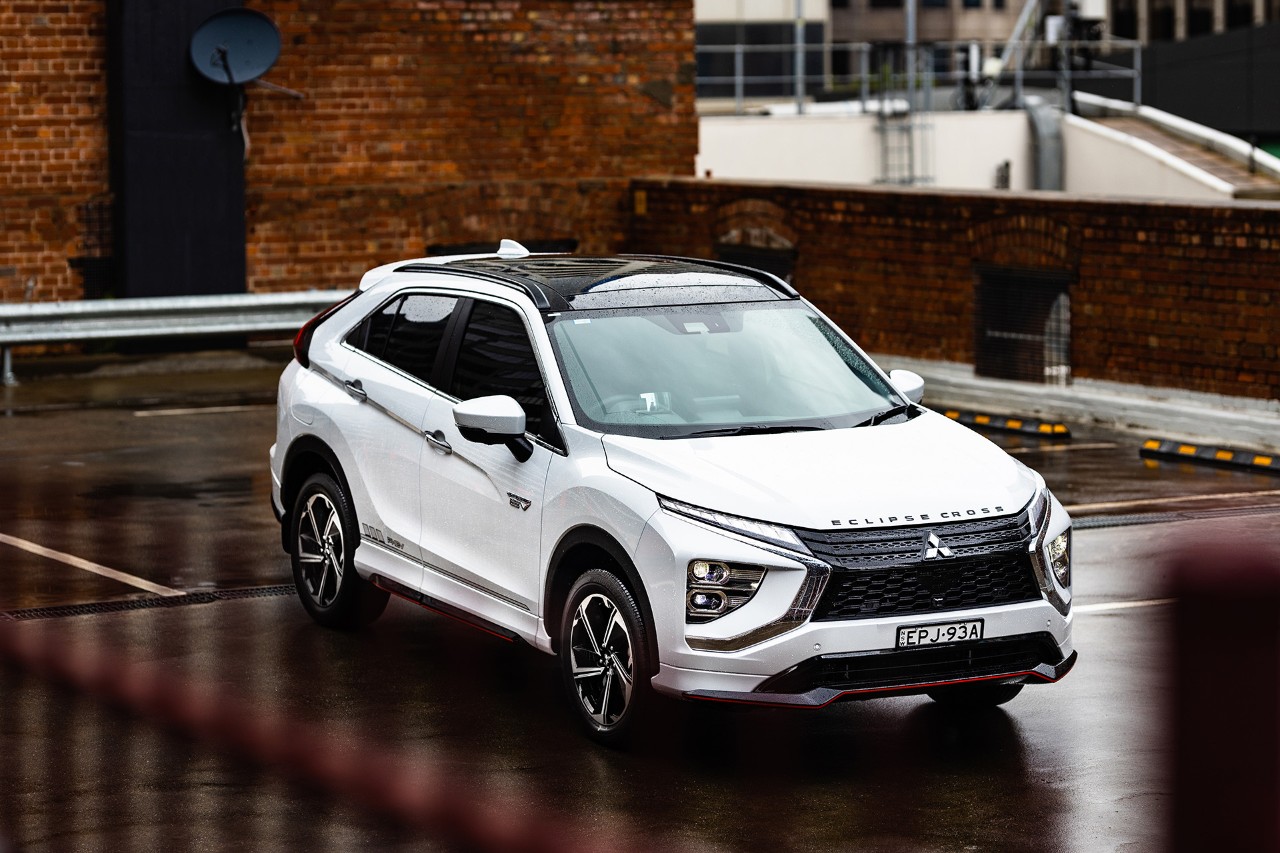 This mild-mannered Mitsubishi with the funny title – the Eclipse Cross Plug-in Hybrid EV – should, or could, be the answer. A motoring version of Wagga Wagga (so good they named it twice), the Eclipse Cross has two electric motors and a battery, which can be plugged in to a wall socket or a charger, but it also has a 2.4-litre petrol engine. This is why it's called a PHEV (Plug-in Hybrid Electric Vehicle).

Think of it as a DVD player that can also stream Netflix.
You can choose to drive it in EV mode – which is reasonably zesty and pleasingly quiet – and achieve an electric-only range of 54km, more than enough for a typical day's driving, before recharging, preferably with solar panels for guilt- and cost-free motoring (my new wall box did the job in three hours, and promised a range of 60km, so it must be extra powerful). Ingeniously, however, should you want to go further, you can flatten your foot, flatten your battery and drive as far as you like, using those familiar and fantastically common charging stations we like to call "servos".
Now, just to test your aforementioned genius, and attention, this Mitsubishi also has a Series Hybrid mode, which uses the petrol engine as a generator for the electric motors, and a Parallel Hybrid mode, which increases your range by switching between petrol and electric power, depending on the driving scenario. So, in actual fact, the Eclipse Cross is more like a DVD player that can also bake scones and do your taxes.

Oh, and if there's a blackout, it can be used as a generator, providing up to 1500 watts from its two onboard power sockets, and, in the near future, it will be able to run your household for more than a week from its battery, using its Vehicle-to-Home system. All this tech-trickery sounds expensive, yet the Eclipse Cross PHEV starts at just $46,490, and the expensive variant is only $53,990.
It does all sound slightly confusing, and it's easy to get distracted by the various screens showing you which power source is doing what, but the good news is that it feels very much like a normal car and all the switching between modes is pretty seamless.
But here's the thing: the problem with the plug-in part of a PHEV is that you don't have to plug it in.
Sure, for the first few weeks you'll be diligent and drag out the charging cable after every green-scented city journey. But it's a bit like that case they insist on giving me when I buy new sunglasses, with the cleaning fabric in it. I fully intend to use it, I really do, but I couldn't tell you what I've done with the last one.
The fact is, even if you don't plug in and recharge, the Eclipse Cross still runs as a conventional hybrid – recharging the batteries at least a little via the engine and the brakes, and using electric mode to save petrol where it can – and it has a claimed fuel economy figure of 1.9 litres per 100km. (Although that's only likely to be achieved by someone so anally retentive that they keep their decade-old sunglasses in the original case.)
Combining the electric and old-school petrol gives you 130kW and 332Nm to play with, which should be plenty, except that this mid-sized Mitsubishi SUV weighs 1.9 tonnes. That equation means it's adequate rather than exciting.
I can't remember much else about how it drives, as my head was spinning too much thinking about the technology, and whether a PHEV is the bridge Australians need to get them to an EV future, but for the price it feels like you're getting a hell of a lot of car, and technology. The Eclipse Cross, then, might just help a few Australians to live with their big buts.