Clean, Efficient and Built for Australia
The future of driving is here. A Mitsubishi Plug-in Hybrid gives you an electric driving experience, with the reassurance of a petrol engine, with the power of both when you need it. Plug in, charge up and zip around town electrically with zero tailpipe emissions, or use petrol power for longer Australian-made expeditions with remarkable fuel efficiency. You choose the energy, then enjoy the ride.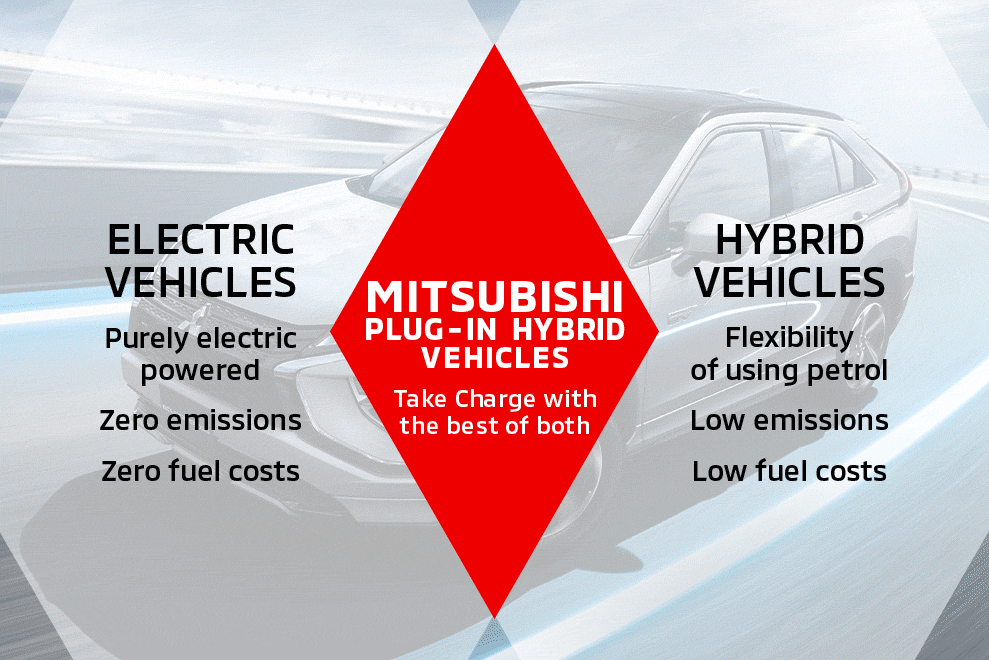 THE DIFFERENCE
Plug-in Hybrid versus other electric cars
ELECTRIC VEHICLE (EV) A battery supplies energy to an electric motor. The battery is recharged by plugging in to a power source, and can also charge via regenerative braking while driving.
HYBRID VEHICLE (HV) Fuel supplies energy to an engine that drives the wheels, accompanied by an electric motor. The electric motor is powered by a battery, which receives charge from the traditional engine and regenerative braking while driving.
PLUG-IN HYBRID VEHICLES (PHEV) Gives you the best of both, with a battery supplying energy to the electric motors, backed up by an engine. The battery is recharged by plugging into a power source, and can also charge via regenerative braking while driving. The engine can also act as a generator to charge the battery while driving, powered by fuel.
No Compromise

on Comfort, Space, Style and Safety.


Mitsubishi Plug-in Hybrids offer everything their petrol-only counterparts do. They just do it with the added option of electric power. You'll find the same interior space, the same luggage area, the sleek lines and the safety features you expect. All that's different from the outside is the badge.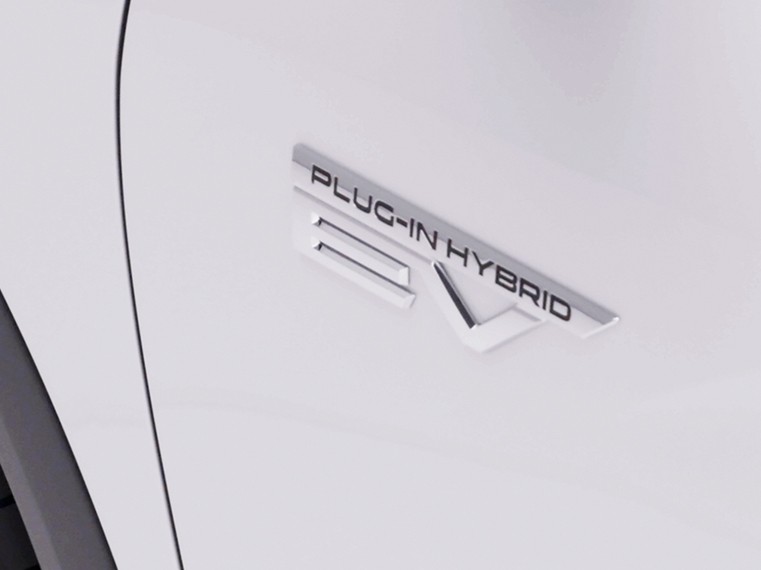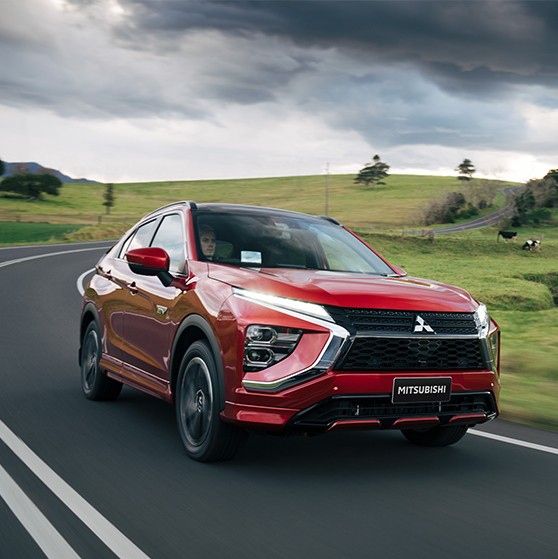 Plug In. Go Far.
Mitsubishi Plug-in Hybrids have front and rear electric motors and a petrol engine. It means you don't have to worry about looking for a charge when your battery gets low, offering peace-of-mind for Australian conditions.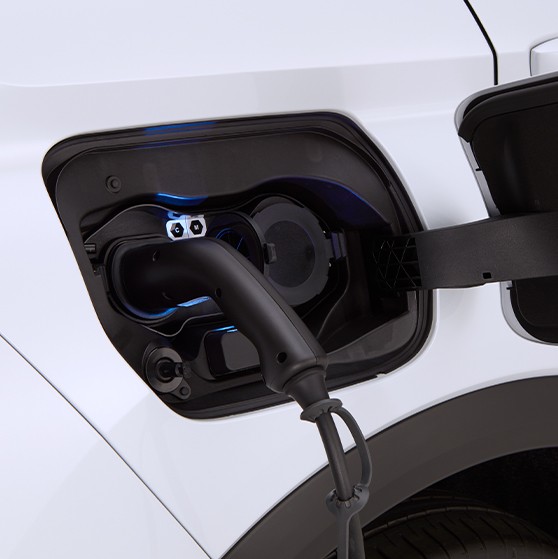 Charge Your Way
Mitsubishi Plug-in Hybrids are perfectly suited for at-home charging. A full charge takes just 7 hours when plugged-in to a regular 10 amp power point, ideal for taking advantage of overnight off-peak energy prices. You have a full battery in the morning for your daily commute, while avoiding a trip to the petrol bowser.
You can also charge the battery while driving, giving you the flexibility to choose when and where you use your energy away from home.
When opting for dedicated Electric Vehicle charging, it takes just 4 hours to fully charge from an AC fast charger, or as little as 25 minutes to charge to 80% capacity with a DC rapid charger.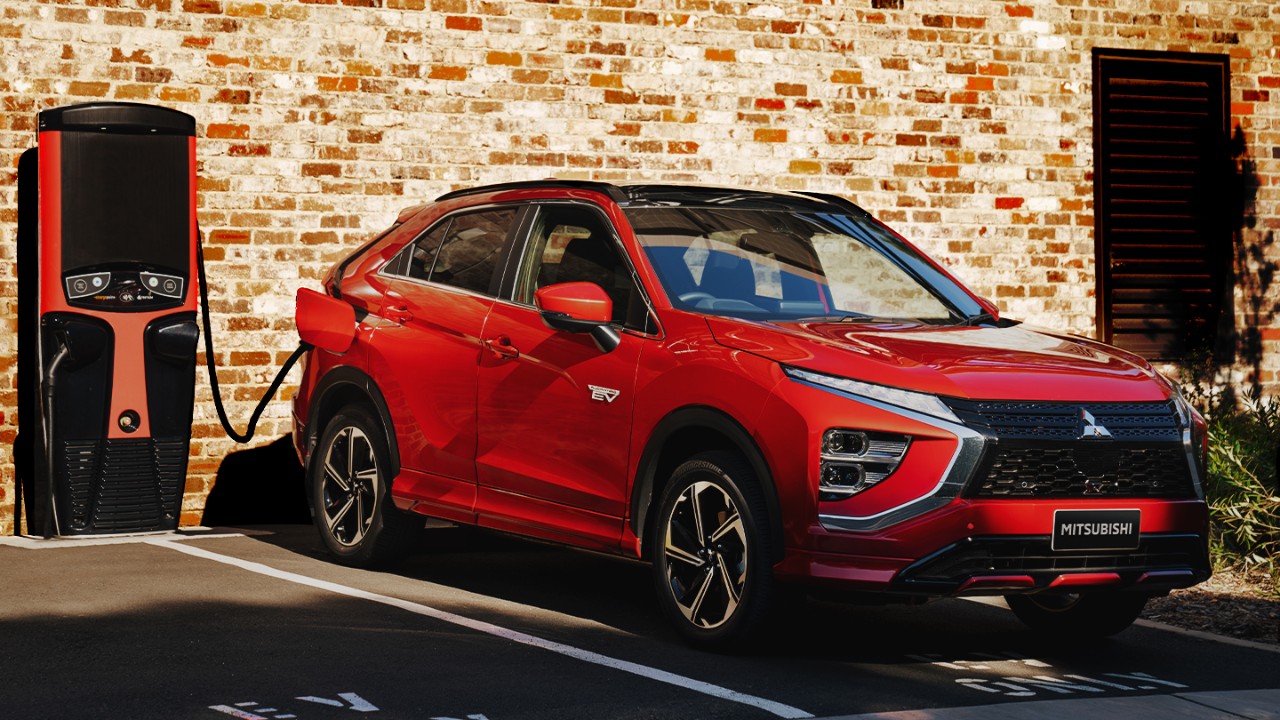 MITSUBISHI PLUG-IN HYBRID TECHNOLOGY
Power Trip
If you thought a Plug-in Hybrid vehicle might lack in performance, you may get a shock. Each Mitsubishi Plug-in Hybrid combines the power of a petrol engine plus a twin-motor AWD system. You get whisper-quiet, yet powerful acceleration with stable handling and precise control thanks to Mitsubishi's Super-All Wheel Control system, tested and proven in the Dakar Rally.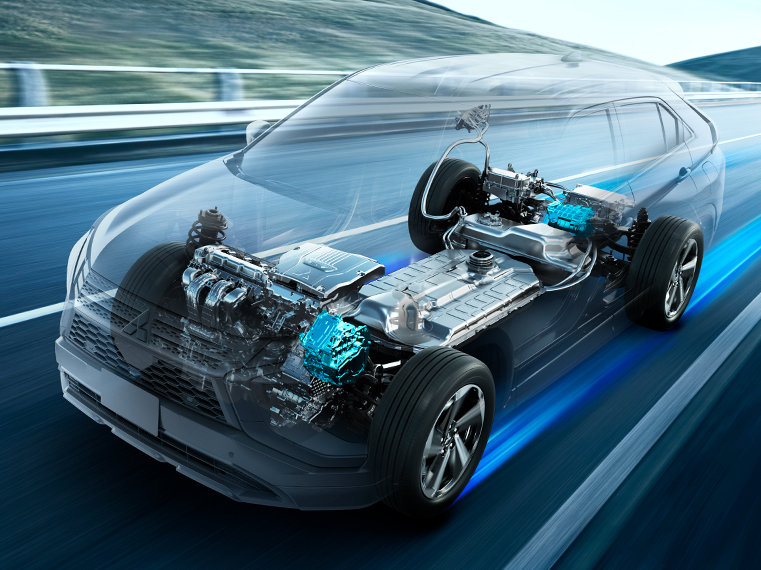 Mitsubishi Plug-in Hybrid Hardware
Front MCU (Motor and Generator Control Unit)

Rear MCU

2.4 Litre Petrol Engine

Generator

Front Motor 

Rear Motor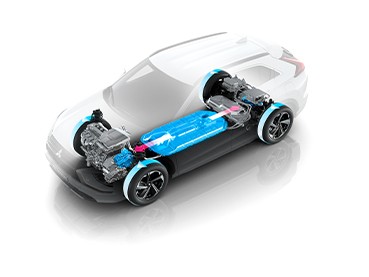 Electric Mode
Quiet & clean, with instant acceleration and zero tailpipe emissions, electric vehicle driving is perfect for urban areas.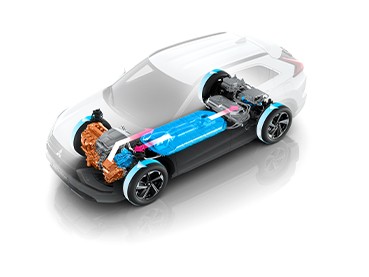 Series Hybrid Mode
When the battery is low, or power demand is high - like accelerating or climbing hills, the petrol engine generates electricity to boost power.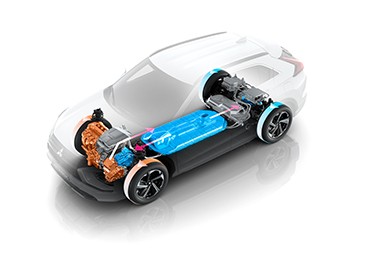 Parallel Hybrid Mode
For higher speed driving such as overtaking on the highway, the petrol engine works in combination with the electric motors to power the vehicle.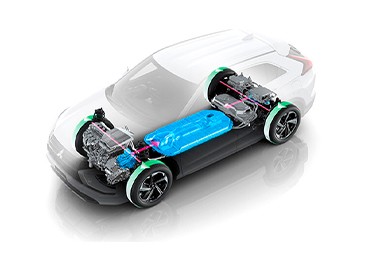 Regenerative Braking
Applying the brake pedal slows the vehicle by recovering the rolling kinetic energy of the vehicle and storing it as charge in your battery for later use.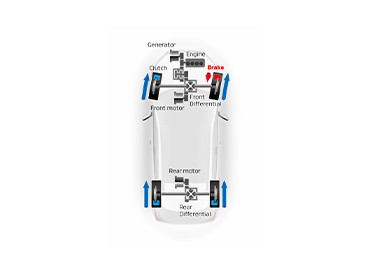 Joy-Full Control
Plug-in Hybrid vehicles feature a unique joystick selector lever. Shift across and down for Drive mode, up and across for Reverse, and while driving, select from six regenerative braking modes.
High Voltage Without the Rock & Roll.
Standard to all Mitsubishi Plug-in Hybrids, Super All-Wheel Control (S-AWC) is our integrated dynamics control system. It controls the driving and braking forces of all four wheels to give you sure-footed manoeuvrability and road-gripping traction, on any surface, in any situation.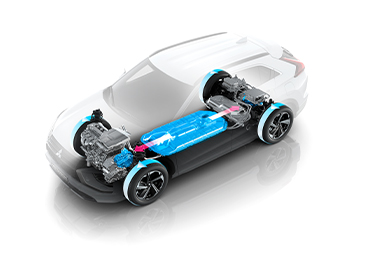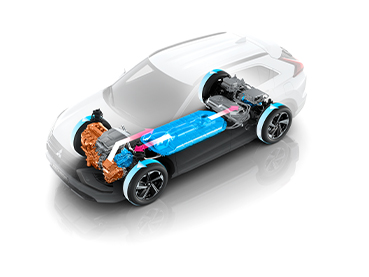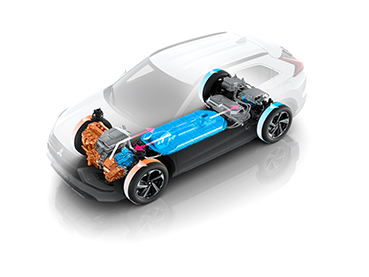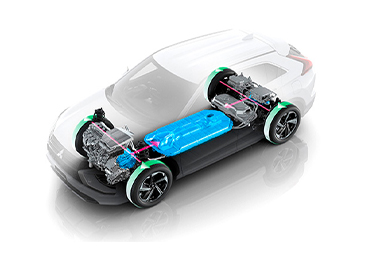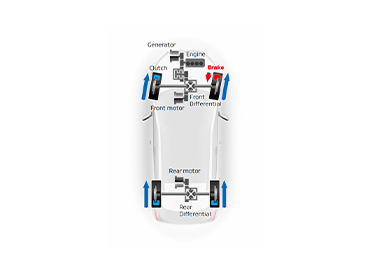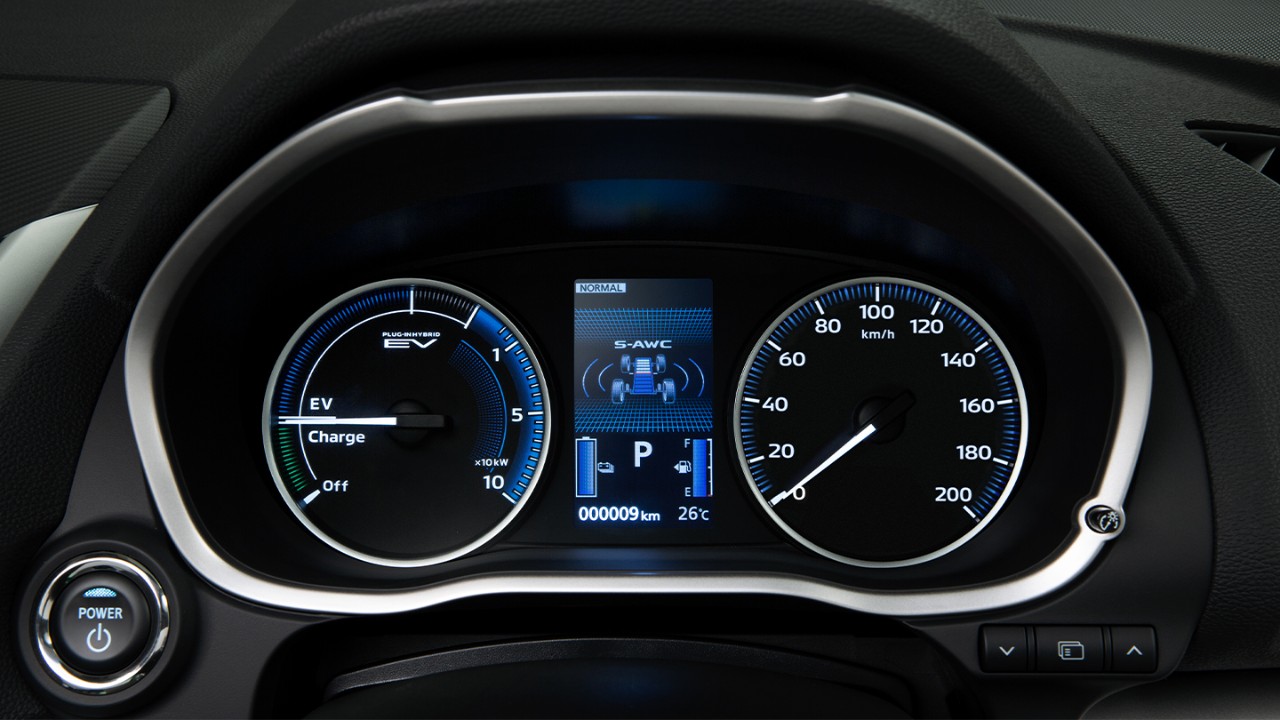 MITSUBISHI PLUG-IN HYBRID RANGE
The Atmosphere is Electric
Mitsubishi proudly manufactures Plug-in Hybrid vehicles. We believe they're good for the planet, offer great cost efficiency and importantly, peace of mind for Australians used to longer journeying. We're excited to announce some electric new additions to the family, here now or coming soon.
Eclipse Cross Plug-in Hybrid
Now Available
The new Eclipse Cross Plug-in Hybrid brings style, performance, safety and SUV practicality to a new era of energy. Plug yourself in because more than ever, Eclipse Cross is here now for wherever next.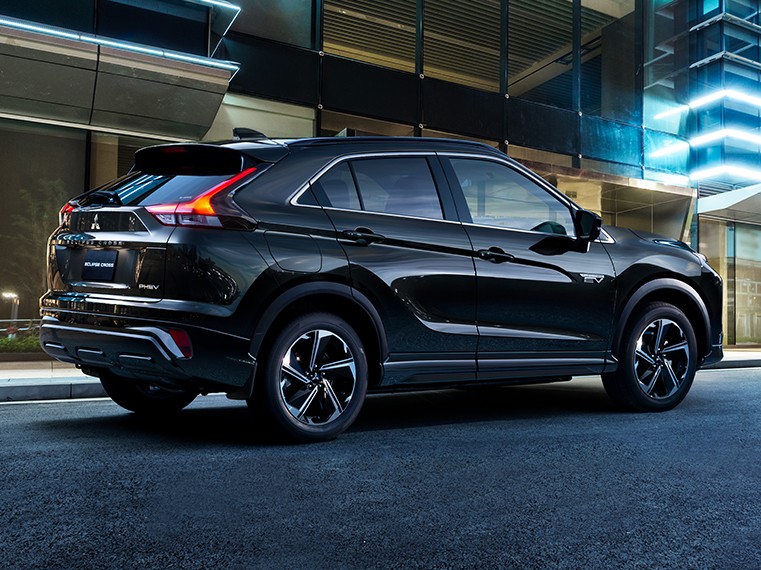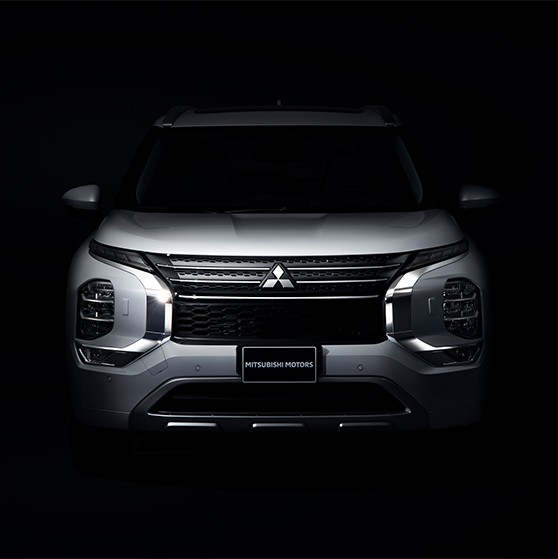 Outlander Plug-in Hybrid
Coming Soon
Totally redesigned, remarkably refined and undeniably electrifying, the all-new Outlander Plug-in Hybrid is landing in Australia in early 2022.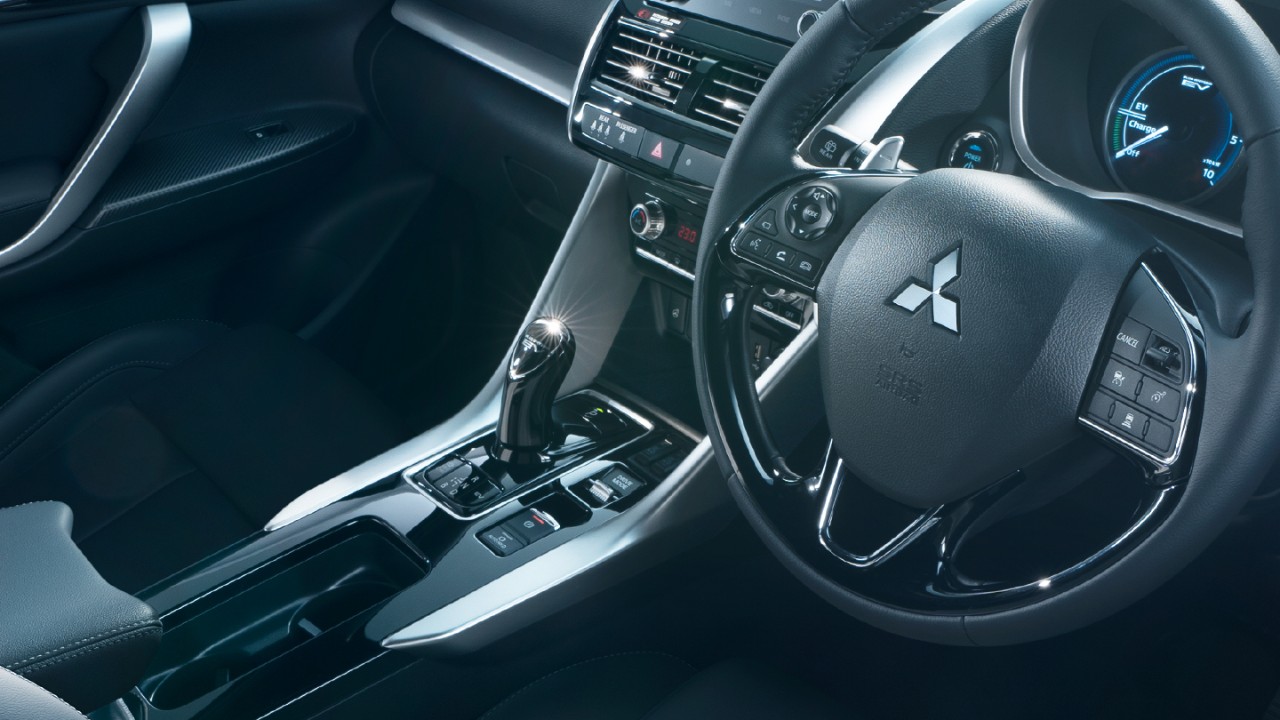 Dendo Drive House
Mitsubishi's Dendo Drive House system allows you to not only charge your Plug-in Hybrid vehicle at home using solar power, you can also charge your home from your vehicle. It's an emergency power source and an electricity cost-saver, all in one.