OVERVIEW
Fit for the whole family
A spacious and flexible interior with advanced safety and connectivity technology, wrapped in a sleek, dynamic design, Mitsubishi Outlander is the 5 seat or 7 seat SUV your whole family will love. With a choice of 2WD or AWD, Outlander is ready for wherever your journey takes you.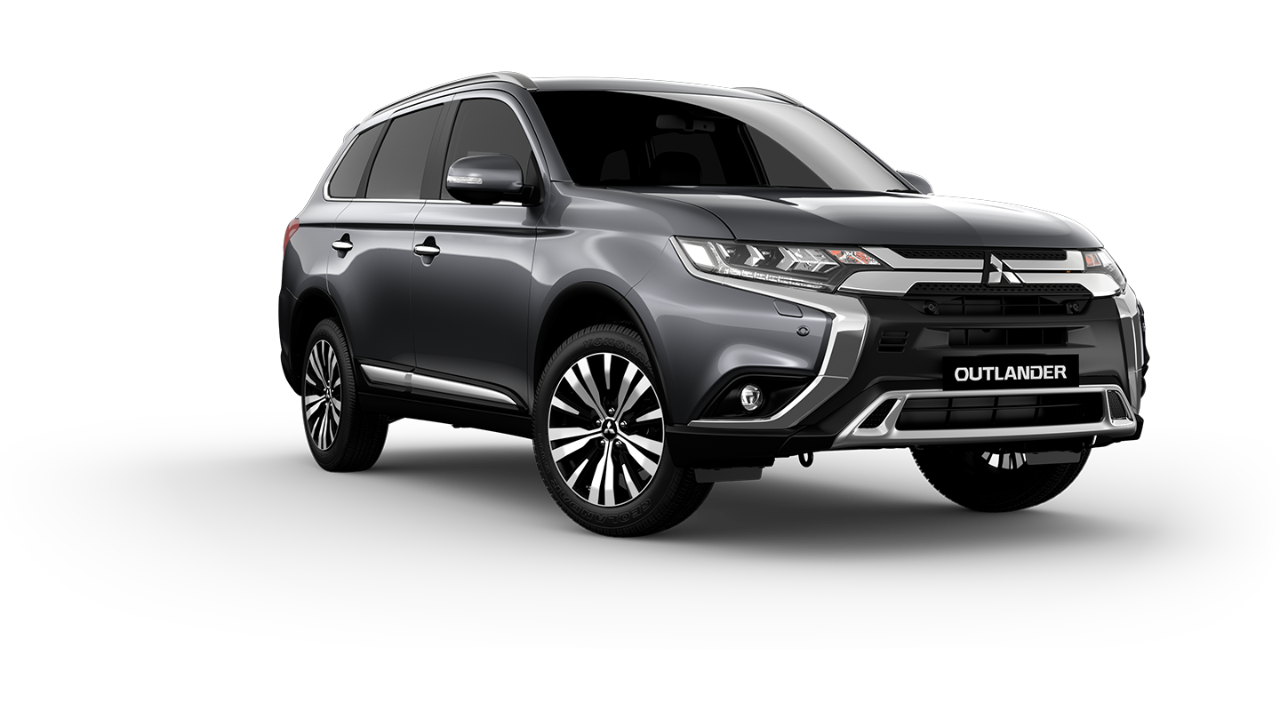 Dual Zone

Climate Control
The all-new
Outlander.
Coming in 2021.
With a stunning all-new design, cutting edge features and long lineage of performance in its DNA, the bigger, bolder, next generation Outlander is built to impress. Coming in 2021.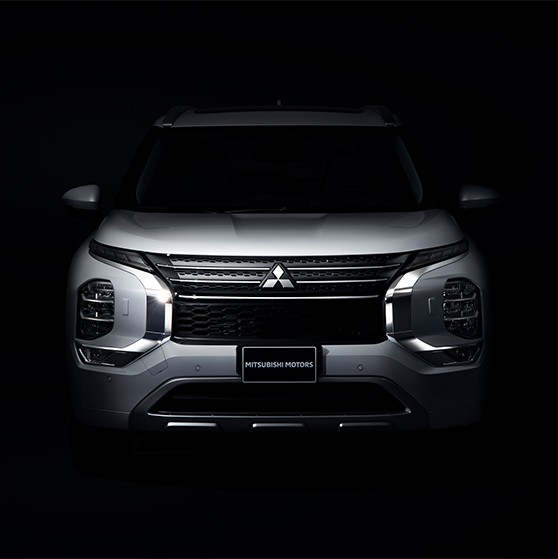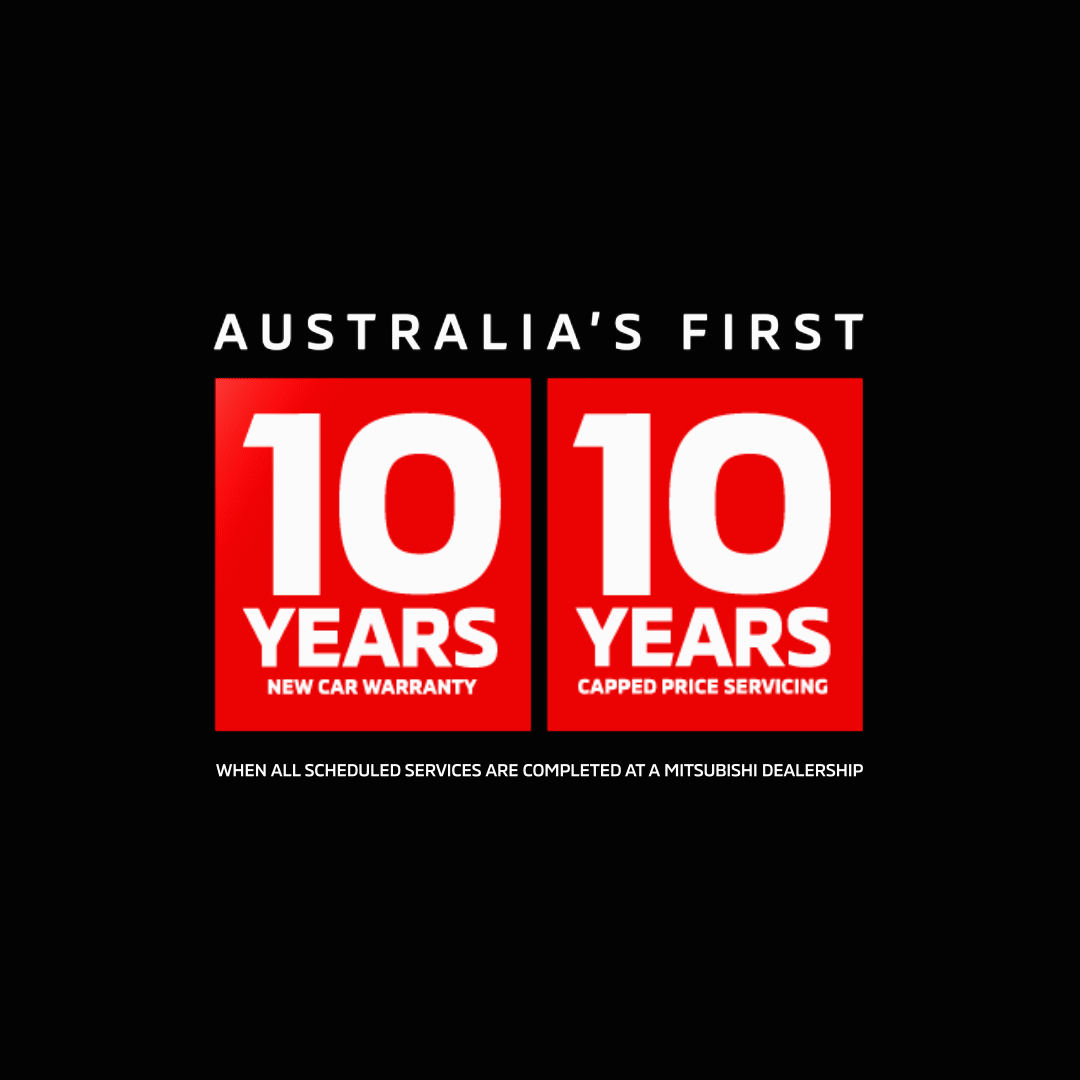 MITSUBISHI DIAMOND ADVANTAGE
The Ultimate
Customer Care Program
Australia's first 10 Year New Car Warranty and 10 Year Capped Price Servicing is both a symbol of our integrity and a service standard that sets us apart from other automotive manufacturers. Mitsubishi Diamond Advantage provides you total confidence, assurance and complete peace of mind, so you can spend more time on the road and less time worrying.
10 Year New Car Warranty⋄1
10 Year Capped Price Servicing⋄2
Auto Club Roadside Assist & Membership⋄3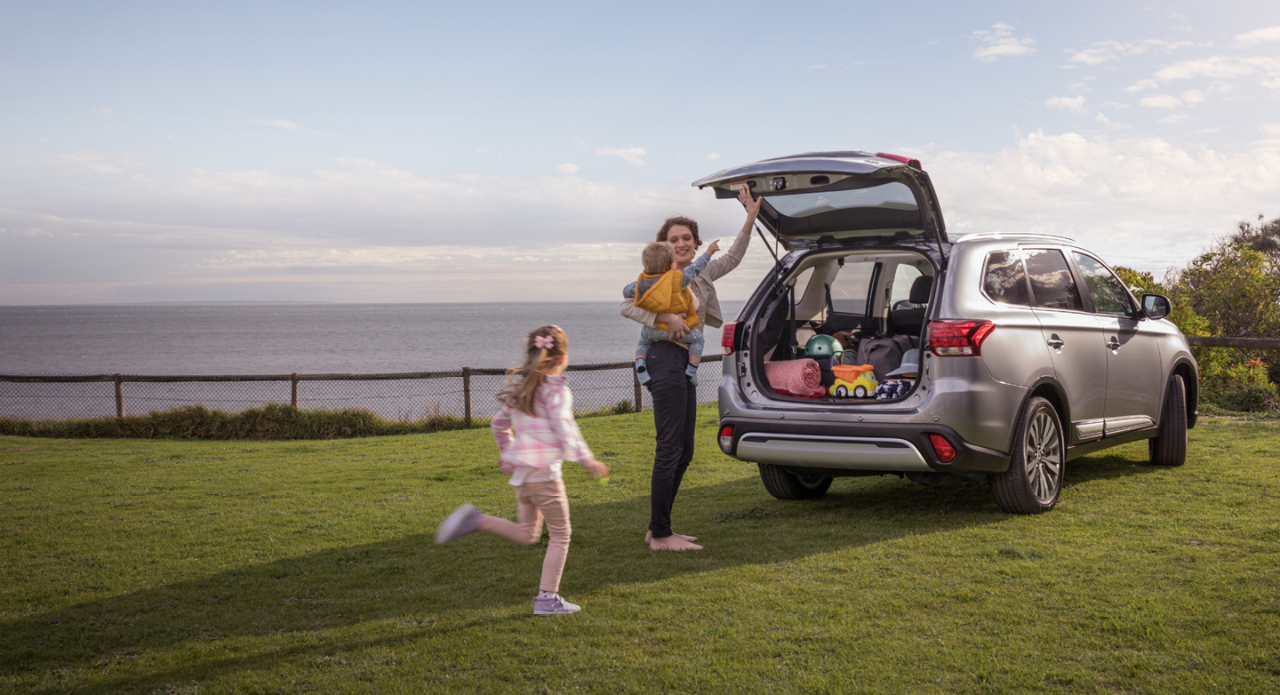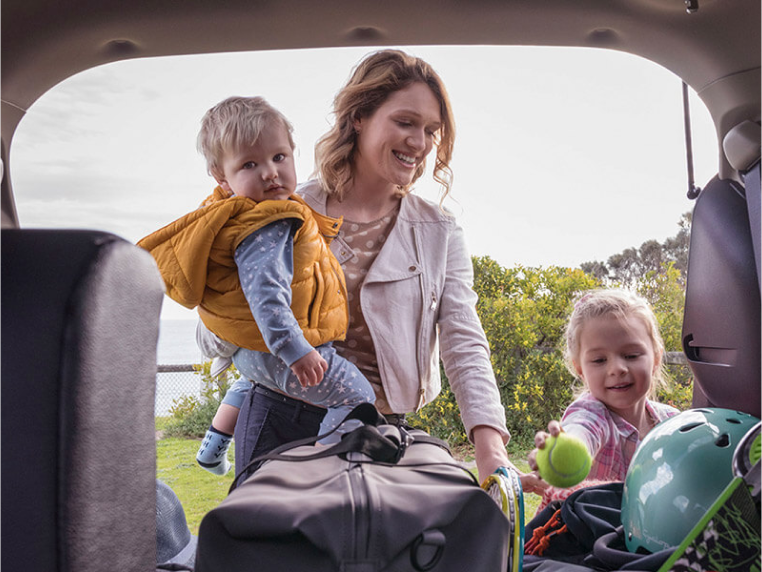 Your happy
space
Everyone will feel at home in Outlander's spacious cabin, with generous head and legroom and plenty of cargo space that can change with your needs. The stylish interior design features luxurious piano black and chrome highlights for a contemporary feel. 12v sockets in the dash and rear cargo bay let you plug in your essential accessories while you're on the go and Smartphone link Display Audio keeps everyone connected and entertained.
Versatile

and Comfortable

Outlander models adapt as quickly as your needs change. With reclining seat backs in both the second and third row seats of 7 seat models, a comfortable ride is assured, and both rows can be rearranged to take passengers, cargo or both. All of the rear seats fold down flat to create a capacious luggage area, then quickly and easily revert to carry the whole crew.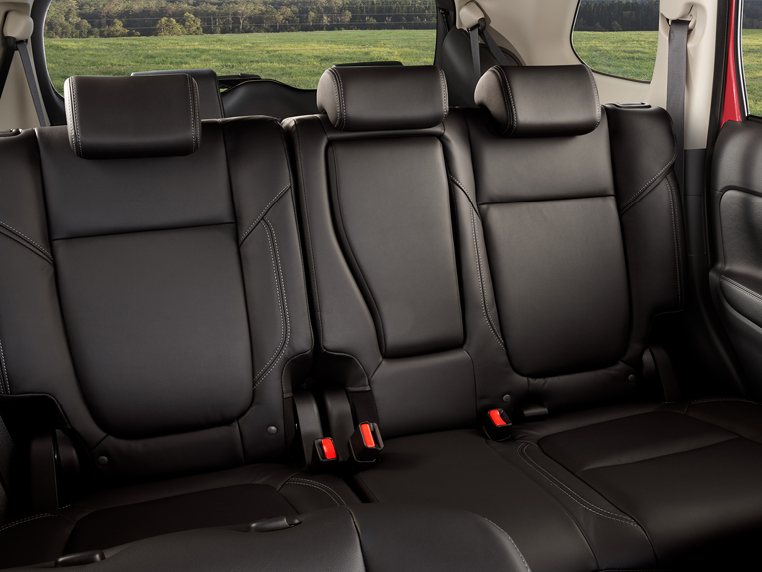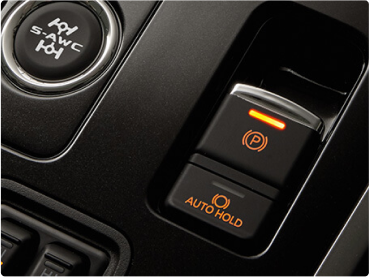 Electric parking brake
Outlander models with CVT automatic transmission feature a one-touch electric parking brake. Simply pull the switch up to apply the parking brake and push down to release.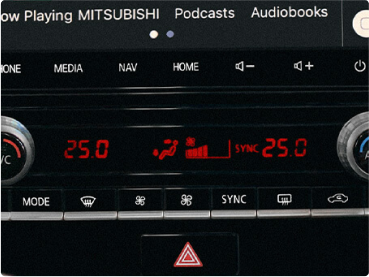 The perfect temperature for everyone
The driver and front passenger in all Outlander models can each set their own ideal temperature using the automatic dual zone climate control. Passengers in the rear have their own air vents with cooler, ensuring comfort in every seat.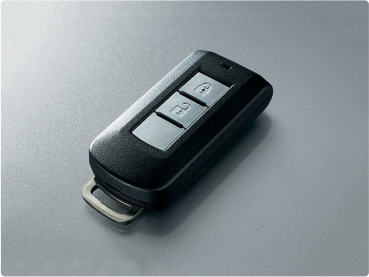 Smart key and one touch start
No more fumbling for keys – Mitsubishi's Smart Key and One Touch Start System on LS and Exceed lets you lock and unlock doors, open the tailgate, and even start the engine with the touch of a button, all while your Smart Key is tucked safely in your bag or pocket. Outlander Exceed makes shopping expeditions, road trips and the school run easier with its power tailgate that automatically opens and closes with a touch of the Smart Key.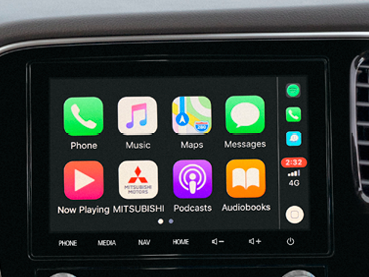 Clever connectivity
Outlander's large 8" touchscreen keeps you in touch and on the right track. Mitsubishi's Smartphone link Display Audio (SDA)K6 technology links Outlander with your phone via Android Auto™K11 or Apple CarPlay K12. Access your smartphone's compatible apps to find your way, stream your soundtrack from any source and stay in touch with voice calls and messages. Voice command and steering wheel controls let you operate call and music functions without taking your eyes off the road. Exceed features Integrated satellite navigation so you always know which way to go next, and an 8 speaker Mitsubishi Power Sound System makes the journey a blast.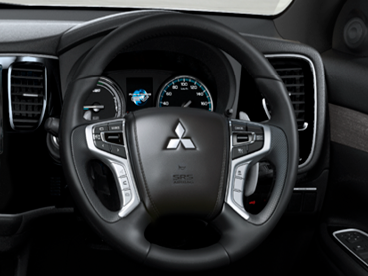 3-spoke leather steering wheel
Comfort and control are at your fingertips with your Outlander's leather steering wheel featuring integrated switches for audio, phone and cruise control, plus camera controls on Exceed.
Explore more interior features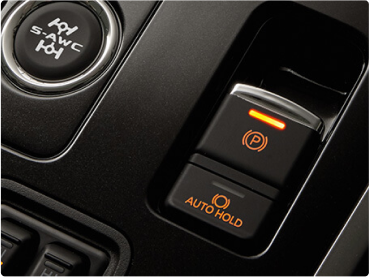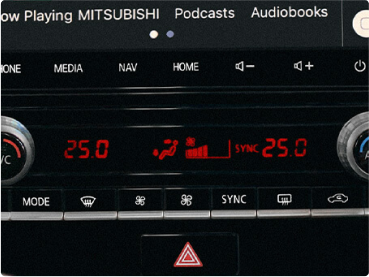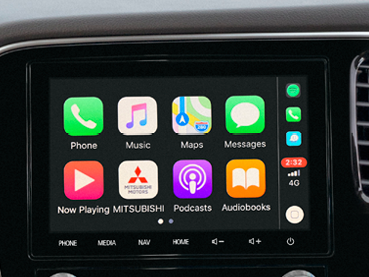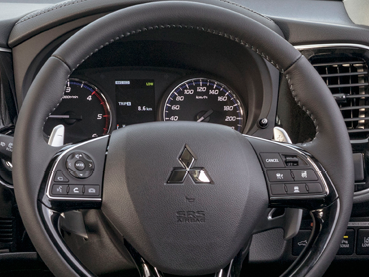 Exterior
Refined and purposeful. With sleek, contemporary lines flowing back from its bold chrome grille highlights, Outlander makes a sophisticated statement on the road.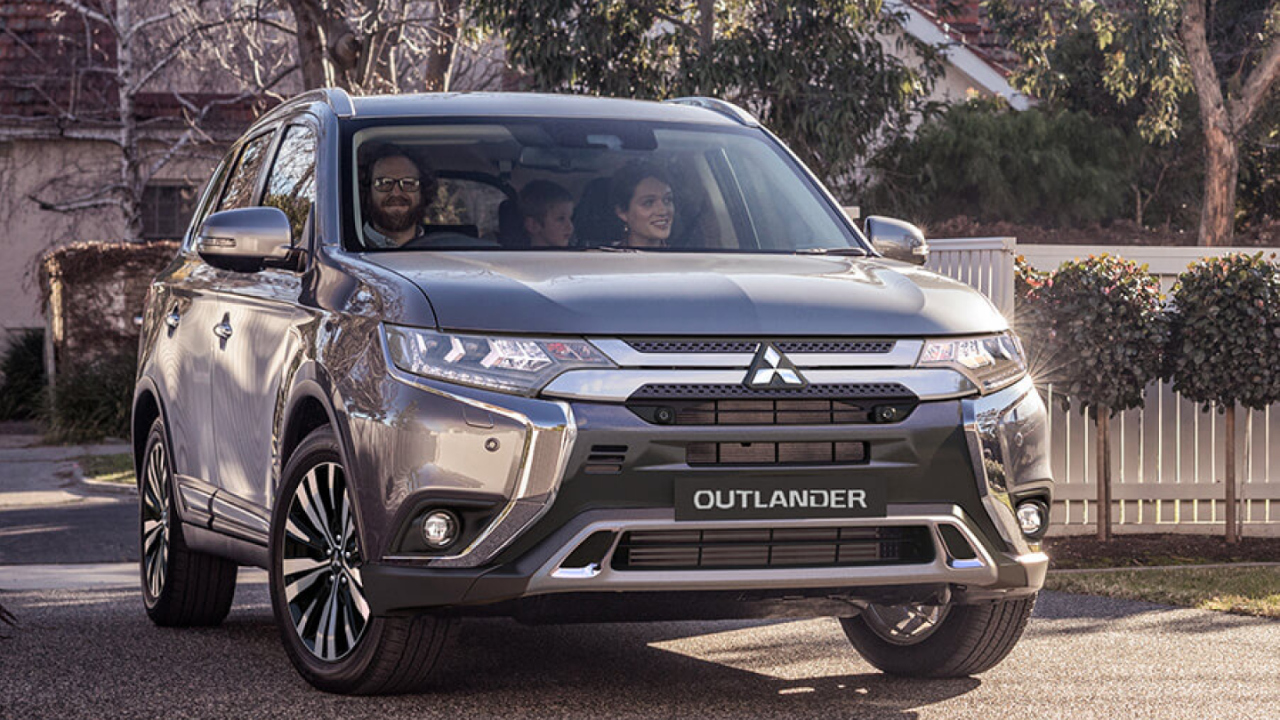 Distinctive rear combination lights
Mitsubishi Outlander's distinctive LED rear combination lights send a clear statement day and night.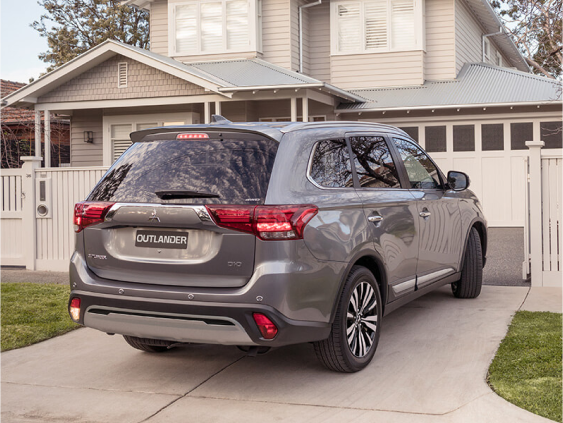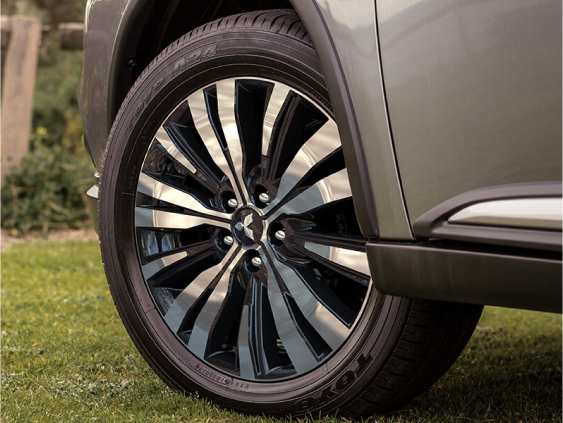 18" alloy wheels
Outlander rides on 18" alloy wheels, giving it a confident stance, highlighted by black wheel arch mouldings. The lightweight, rigid alloy wheels help reduce road noise for a smoother, quieter ride.
Sunroof
Soak up the sun or breathe the fresh air in with Exceed's electric tilt and slide sunroof. Blue skies and starry nights are yours to enjoy at the push of a button.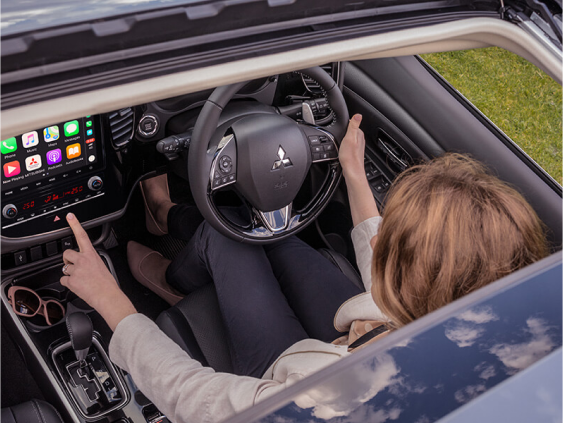 Ironbark and Black ES model available to order. Speak to your local dealer.
Outlander

Black Edition
Assertive and distinctive, Outlander Black Edition boasts bold black accents from nose to tail. Grille, 18" alloy wheels, roof rails, door mirrors and rear spoiler are all black, with privacy glass adding to its intense look. The interior trim is highlighted with red stitching and clever tech like Lane Departure Warning, Auto High Beam and Adaptive Cruise Control help keep you safe and in control.
Available in 2WD and AWD. Limited stock. While stocks last.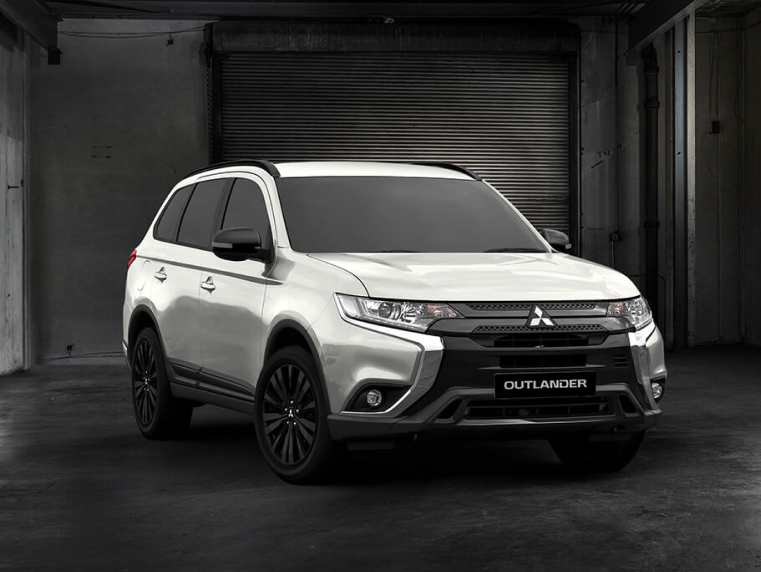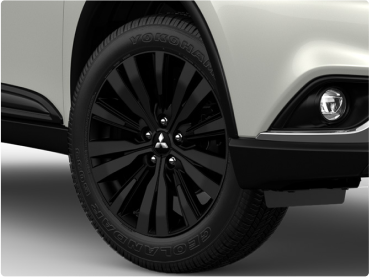 Black 18" alloy wheels
Outlander Black Edition's unique style is intensified by 18" black alloy wheels.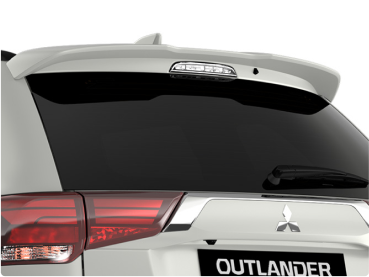 Rear spoiler
Outlander Black Edition's bold design is further accentuated by a rear spoiler.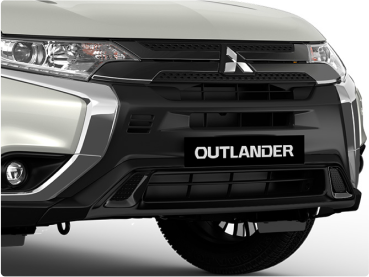 Black grille & front bumper
These black accents make a strong impression on the road.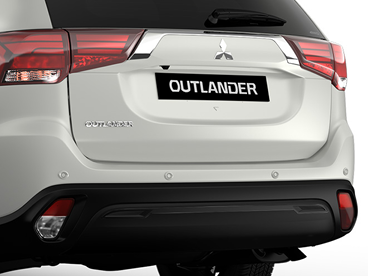 Reverse parking sensors
Maneouvre confidently and safely with reverse parking sensors.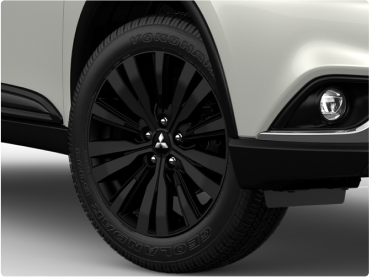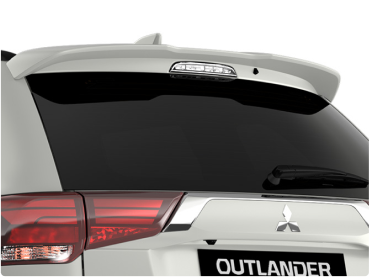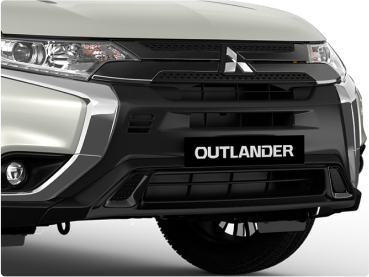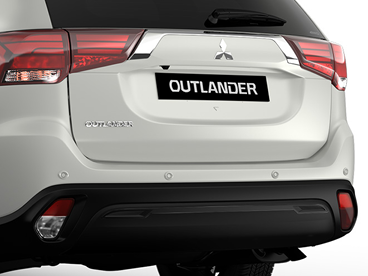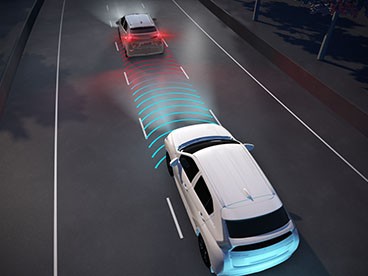 Forward Collision Mitigation (FCM)K10
Mitsubishi Motors' Forward Collision Mitigation system detects obstructions ahead and issues a visual and audio alert where there is a danger of collision, automatically applying the brakes to avoid collision or reduce impact.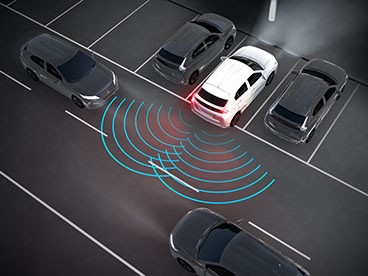 Rear Cross Traffic Alert (RCTA)01K9
Mitsubishi Motors' Cross Traffic Alert system helps detect a moving vehicle when reversing. It alerts you via a buzzer sound and an indicator light appearing in the combination meter and blinking light in the side door mirror.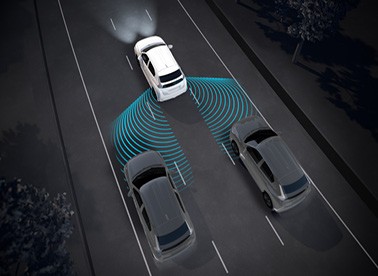 Blind Spot Warning (BSW) and Lane Change Assist (LCA)01K8
Mitsubishi Motors' Blind Spot Warning and Lane Change Assist helps you change lanes with confidence. The Lane Change Assist system sounds an audible alert and displays a blinking warning in the door mirrors when the system detects a high collision probability with a vehicle coming from behind moving in the same direction within 3.4m from your vehicle's side or rear bumper.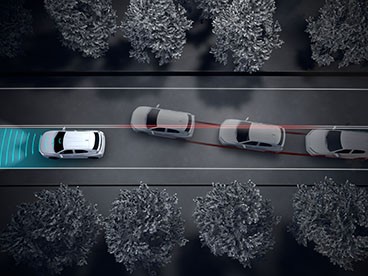 Lane Departure Warning (LDW)O#
Mitsubishi Motors' Lane Departure Warning issues an audible alert and shows a warning on the multifunction display if your vehicle drifts from its lane while the turn signals are not operating.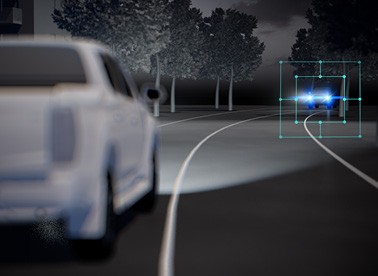 Automatic High Beam (AHB)O#
Mitsubishi Motors' Auto High Beam detects both the headlights of oncoming vehicles and the taillights of vehicles ahead, automatically switching between high and low beams.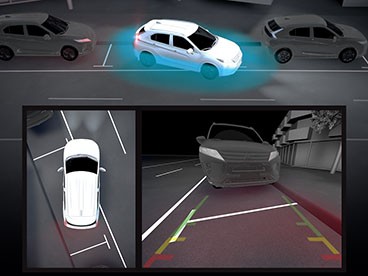 Multi Around Monitor (MAM)C1
Mitsubishi Motors' Multi Around Monitor provides a 360° bird's eye view of your car. The view from cameras mounted on the front, rear and sides of the vehicle (including bird's-eye view) can be displayed in various combinations to reveal what is in blind spots and help you park more safely.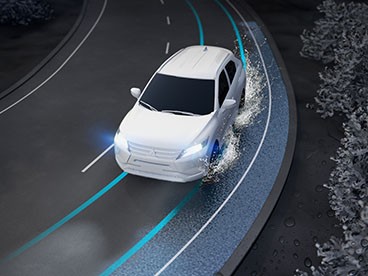 Adaptive Cruise Control (ACC)O#
Mitsubishi Motors' Adaptive Cruise Control uses radar technology to detect any cars in the lane ahead and adjusts the speed of your car accordingly while maintaining a safe distance set by you.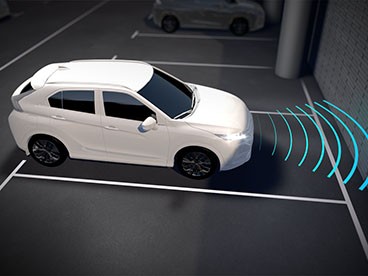 Ultrasonic misacceleration Mitigation System (UMS)C1K7
Mitsubishi Motors' Ultrasonic misacceleration Mitigation System reduces the chance and severity of hitting obstacles 4m in front or behind when a driver mistakenly presses the accelerator when stationary or at speeds of up to 10km/h.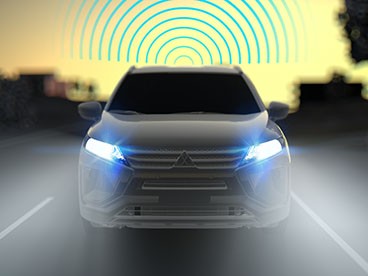 Automatic Dusk Sensing Headlights (ADSH)
Mitsubishi's Automatic Dusk Sensing Headlights will automatically illuminate in fading light or when you're travelling through a tunnel.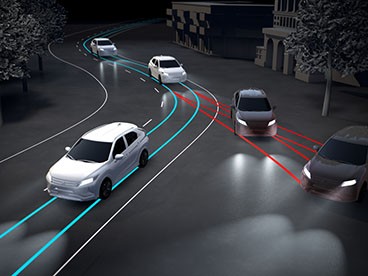 Active Stability Control (ASC)
Mitsubishi Motor's Active Stability Control intuitively recognises when you over-steer and applies the brake force to appropriate wheels to keep you stable through corners.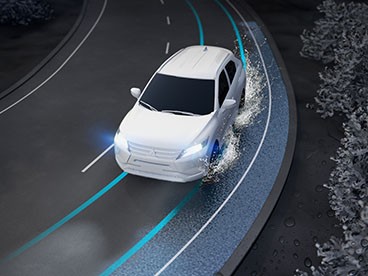 Active Traction Control (ATC)
Mitsubishi Motors' Traction Control helps maintain traction on most slippery or rugged surfaces. ATC automatically controls the engine output so driving wheels are prevented from spinning. Sensing loss of traction in independent wheels it then applies braking force to that particular wheel and sends extra power and torque to other wheels with traction, to keep the vehicle moving and in control.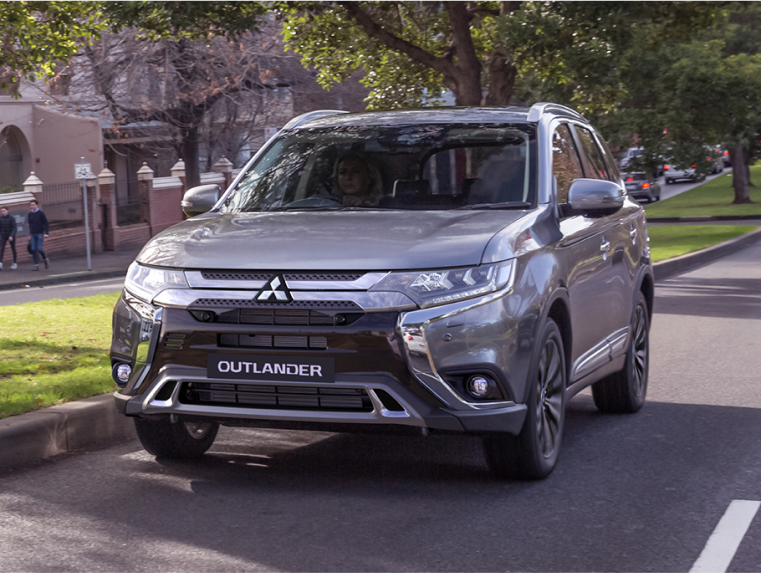 Mitsubishi Motors

Intuitive Technology
Mitsubishi Motors Intuitive Technology, or MiTECK0 , combines a range of innovative technologies into one integrated system that works constantly to keep you safe, comfortable and entertained every time you drive. Passive and active safety systems work in unison, alerting, guiding and reacting to help keep you and your passengers safe.
Learn more about MiTEC
Active Stability Control (ASC) and Active Traction Control (ATC)

Forward Collision Mitigation (FCM)K10
Lane Departure Warning (LDW)O#
Adaptive Cruise Control (ACC)O#

Automatic High Beam (AHB)O#

Automatic Dusk Sensing Headlights (ADSH)

Blind Spot Warning (BSW)O1
Lane Change Assist (LCA)O1K8
Rear Cross Traffic Alert (RCTA)O1K9
Multi Around Monitor (MAM)C1
Ultrasonic Misacceleration Mitigation System (UMS)

C1K7
Built for the

driven
Trapped by a bushfire in Australia's outback whilst competing in a 100km ultramarathon, Turia Pitt's world was suddenly turned upside down. It changed her life, but not her love of the great outdoors.
As one of Australia's most inspirational women, Turia is now a driving force across the world. Becoming a mother has also been an incredible journey, and with a growing family Turia's Mitsubishi Outlander is ready for the adventure.
Turia's road to recovery has been nothing short of remarkable, an amazing story of survival and strength. Her ambition to defy the odds is an experience everyone can learn from. Find out what makes Turia tick.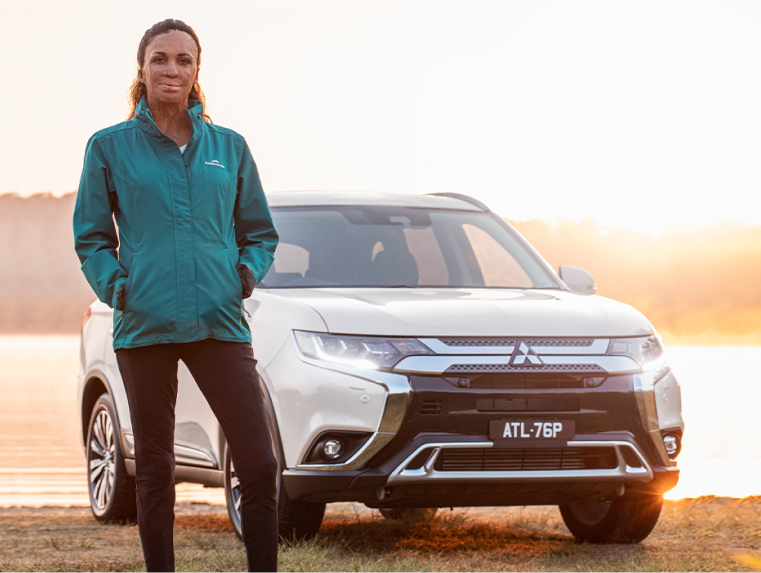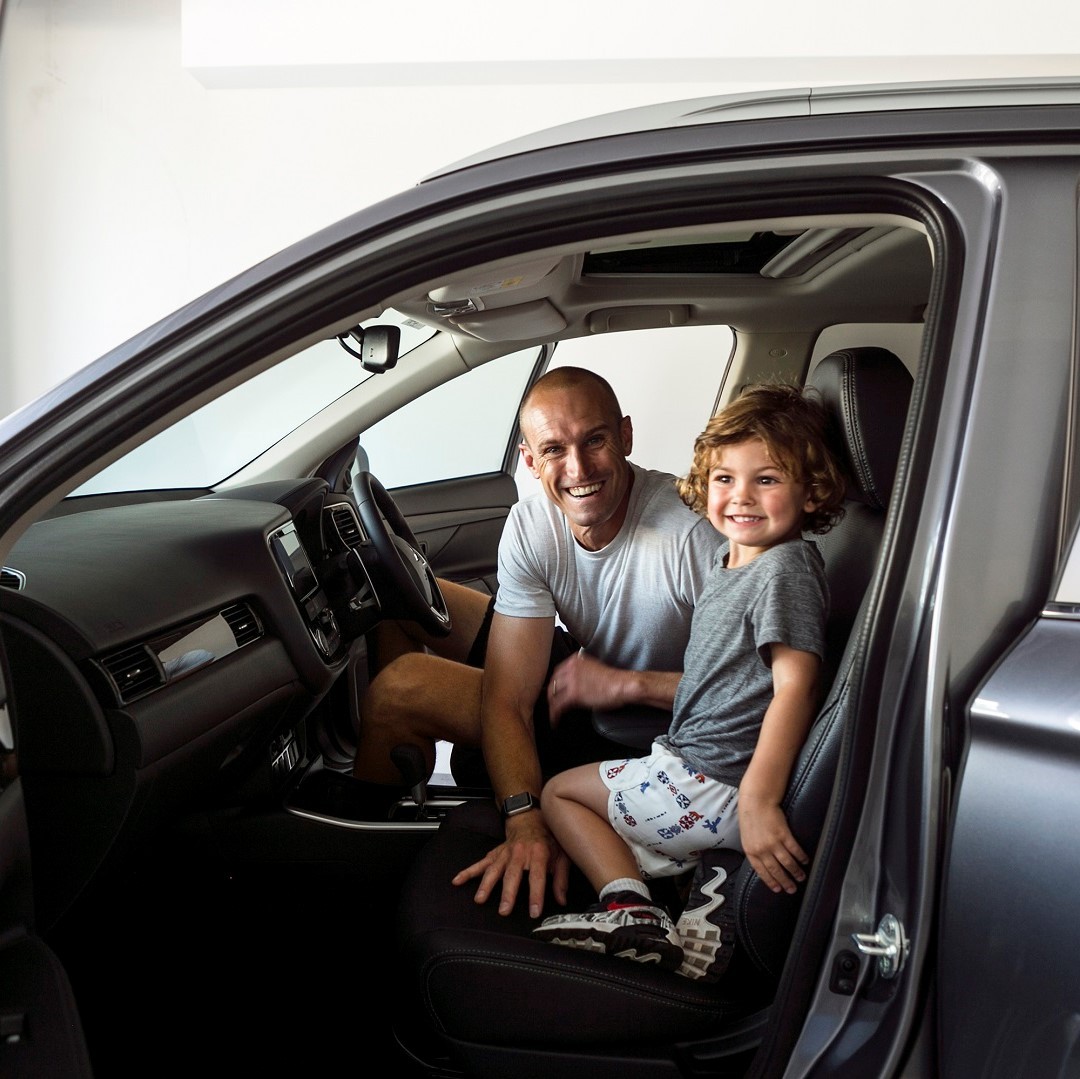 © J_HUI, J_HUI, J_HUI J_HUI
PERFORMANCE
Stay in total control
AWD02 AND S-AWC03
Challenges arise when you least expect them. Outlander's advanced control systems step in intuitively to ensure maximum control, with four driving modes to balance fuel economy and driving performance

Outlander's advanced Electronic Control AWD uses intuitive sensors to measure driver inputs so your intention as the driver is conveyed through all four wheels.
Whether navigating winding roads or snowy conditions, the Super All Wheel Control (S-AWC) system supplies optimal torque to rear wheels for enhanced vehicle dynamics, stability and control.
S-AWC integrates with Mitsubishi's Active Yaw Control (AYC), which uses braking to optimally distribute torque to the left and right wheels. Even if you unintentionally brake or accelerate too hard around a snow-covered turn, you can maintain control without extra steering effort.
You can choose the AWD ECO, NORMAL, SNOW or GRAVEL drive mode depending on road conditions to enhance accuracy, straight-line stability and manoeuvrability on slippery roads.
DIESEL OPTION
2.2L Direct Injection
Diesel Engine
If you want a fuel efficient SUV without sacrificing performance, Outlander's 2.2 litre turbocharged engine delivers the latest in diesel technology for greater fuel efficiency delivering an exceptional 6.2 litres per 100kmC5 with 110kW of power and 360Nm of torque.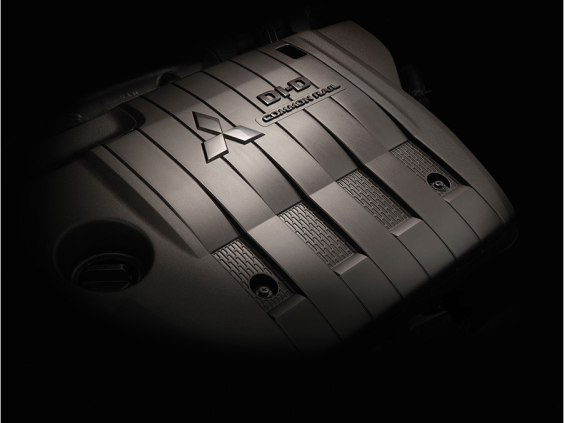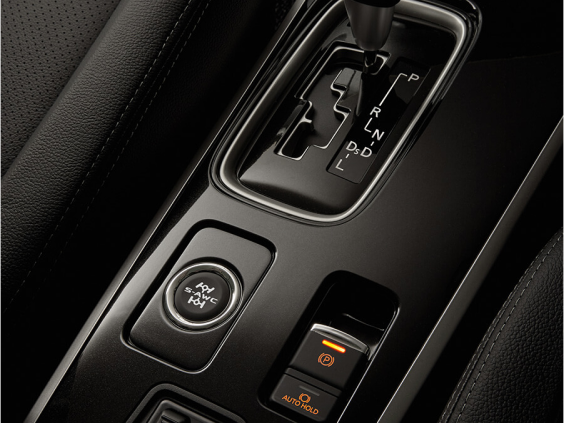 PETROL OPTION
Petrol Engines with CVT Auto Transmission
The Constantly Variable Transmission (CVT) has an infinite range of gear ratios that allow the engine to always operate at optimum RPM, irrespective of the car's speed. This maximises the efficiency of the 124kW of power on tap from the Smart-MIVEC 2.4 litre petrol engine to deliver dynamic performance and optimum economy, and provides a smooth ride with seamless gear changes.
Personalise


Outlander

Prepare your Outlander for your kind of adventure with Mitsubishi Genuine Accessories. Carry more, tow more, worry less, look your best – choose from our range of practical, stylish accessories with the peace of mind of perfect fit, quality and durability that comes with Genuine Parts.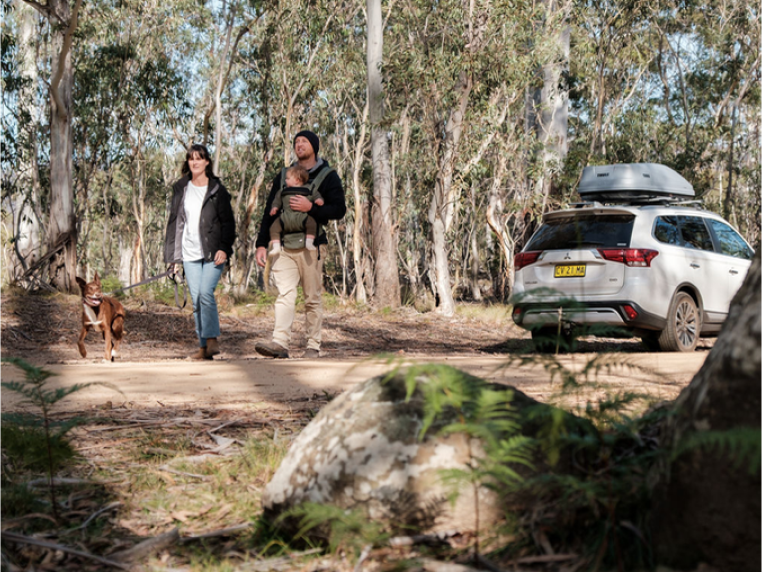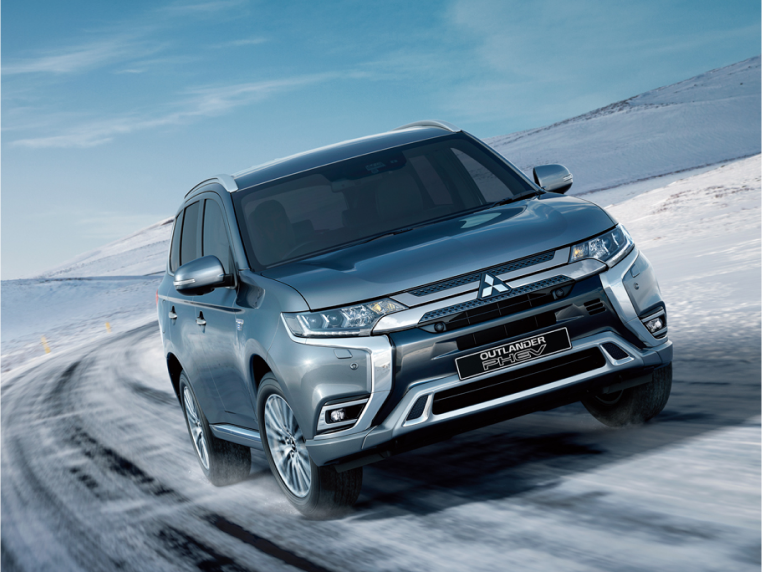 Outlander PHEV
You don't need to change your life to drive an Outlander PHEV, but it will change your life. Outlander PHEV (Plug-In Hybrid Electric Vehicle) combines quiet, dynamic performance, exceptional economy and low emissions for a superior driving experience. With AWD stability and handling, advanced safety technology and the environmental benefits of a technically advanced electric drivetrain, Outlander PHEV is the fuel-efficient hybrid SUV for tomorrow that fits your life today.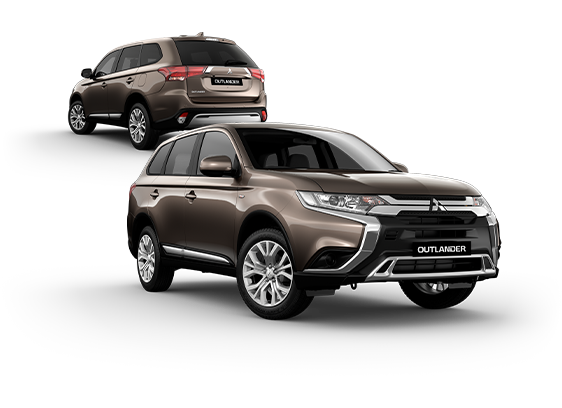 2.0L 4cyl SOHC 16 valve MIVEC engine
Smartphone link Display AudioK6
Digital Audio Broadcast (DAB) radio
Rear view camera
Dual zone climate control air conditioning with pollen filter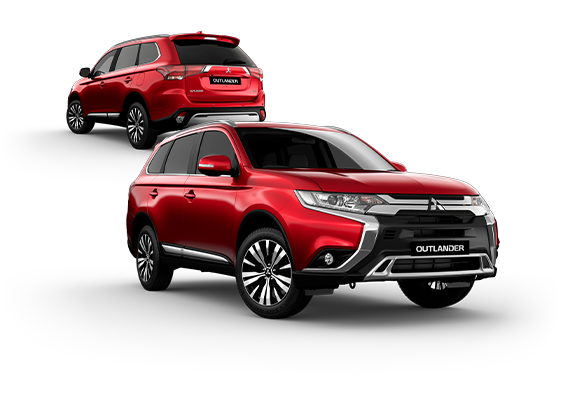 7 seats
Rain sensing wipers
Dusk sensing headlamps
Forward Collision Mitigation (FCM)K10
Adaptive cruise control
Lane Departure Warning (LDW)
Reverse sensors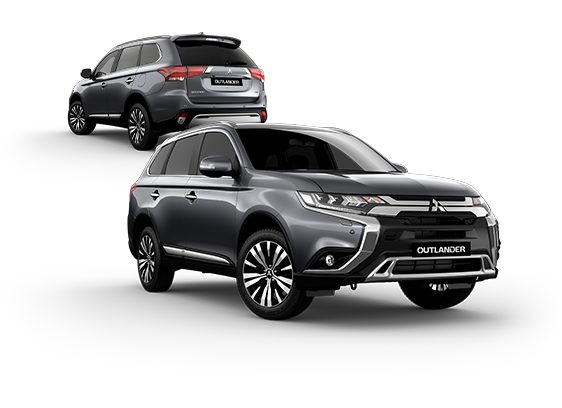 Ultrasonic misacceleration Mitigation System (UMS)K7
Blind Spot Warning (BSW)K8
Multi Around Monitor (MAM)
Lane Change Assist (LCA)K8
Rear Cross Traffic Alert (RCTA)K9
Electric sunroof with slide and tilt
C1

Only available on Exceed model
C5

Australian Standard ADR/81/02. Figures used for comparison across vehicles. Driving conditions will affect actual results.
O1

LS and Exceed models only
O2

ES and AWD models only. 
O3

Exceed and LS AWD models only. 
O#

Not available on ES MT model. 
K0

Please drive safely and never rely solely on these systems while driving. Drivers are fully responsible for their own safe driving.
K6

(SDA) supports Android™ 5.0 or higher/iOS 8.0 or higher for use with Android Auto™ / ApplePlay. Smartphone Link Display Audio will not operate in areas with no service signal and may not operate in supported areas where the signal is weak. Users are responsible for all charges incurred using smartphones and iPhones to connect to Android™ and CarPlay respectively. Some functions may not be available for use depending on the user's location. Only compatible Apps can be used.
K7

UMS may not activate in some conditions. The engine output control activates when driving; 0-10km/h (not in N or P Position); obstacle/vehicle is within 4m range; accelerator pedal is pushed hard or abruptly; driver is not turning to avoid obstacle/vehicle. The detection and control capabilities of UMS are supplementary only and do not prevent misacceleration in every situation.
K8

The detection and control capabilities of BSW and LCA are supplementary only and do not warn you of vehicles in blind spots in every situation. BSW and LCA may not activate in some situations.
K9

Do not rely solely on this system, which may not detect all moving vehicles in certain conditions.
K10

The detection and control capabilities of FCM are supplementary only and do not prevent collisions in every situation. Please read the operation manual carefully and be aware of these limitations.
K11

Android Auto™, Android™, Google Maps and Google Play are trademarks of Google Inc.
K12

iPhone, Siri, CarPlay, iPod, iPod touch and iPad are trademarks of Apple Inc. registered in the United States and other countries.
⋄1

Up to 10 years from the date of first registration or 200,000 km New Vehicle Warranty (whichever comes first) when all regular services are completed within the specified service intervals at a Mitsubishi Dealership. Otherwise, 5 years from the date of first registration or 100,000 km New Vehicle Warranty (whichever comes first) applies. Service conditions apply.
⋄2

10 year or 150,000 km Capped Price Servicing (whichever occurs first). Includes the first 10 regular services (at 15,000 km/12 month scheduled intervals). Covers all items specified under the standard "Regular Service Table" for normal operating conditions detailed in the Periodic Inspection and Maintenance Schedule on the Mitsubishi website. Additional service/repair items (if required) are at additional cost. Once a schedule of Capped Price Servicing costs are set for a model year, they are not changed for the life of the model. Conditions apply.
⋄3

1 year Auto Club Roadside Assist and Membership. Your initial 12 month Auto Club Roadside Assist and Membership will be extended for a period of 12 months from the date of the most recent eligible Capped Price Service for that vehicle performed at an authorised Mitsubishi dealer. Auto Club Roadside Assist and Membership, if extended in accordance with these items, is available for a maximum of up to 4 years. Conditions apply. Please visit the website of the Auto Club in your respective state or territory for further information.