Be yourself, wherever you want to be.
Do your thing and do it in outlandish style. With a stunning design, cutting edge features and rally bred performance built into its DNA, the Mitsubishi Outlander SUV is nothing short of revolutionary. Its powerful presence, impressive stance and state of the art technology inspire confidence wherever the journey takes you.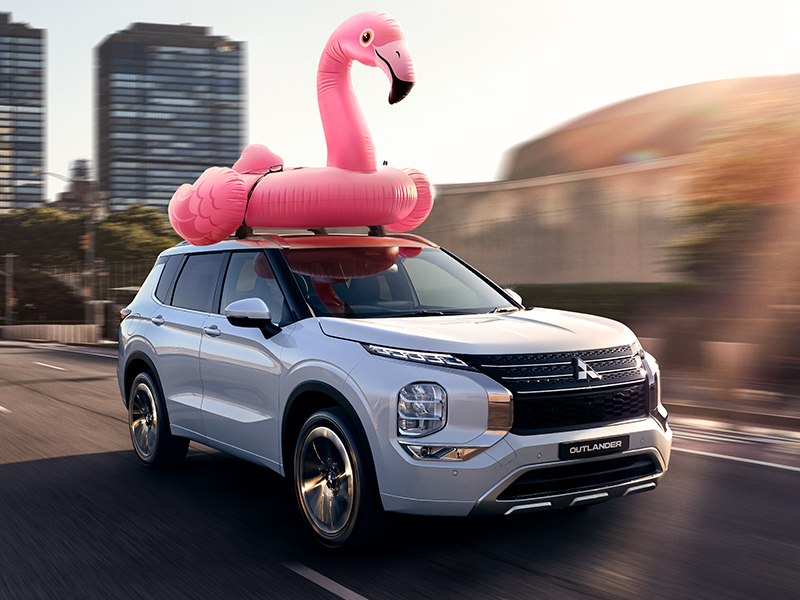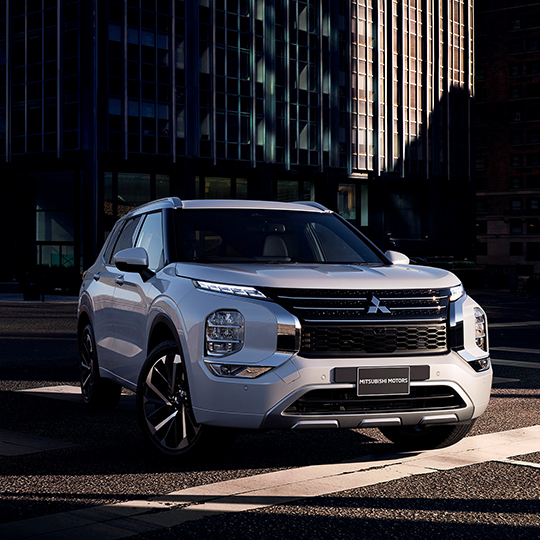 Styled to set you apart. Built to set you free.
Agile and adventurous, the completely reimagined and meticulously redesigned Outlander stands proud with distinctive LED headlights, sculpted sides, horizontal rear profile, and authoritative 20-inch alloysO8.
Live a little, or a whole lot. Mitsubishi's unique Super-All Wheel ControlO9 technology gives you complete freedom to explore your world, on all kinds of surfaces and terrains, in almost all conditions.
Back yourself with the ultimate in Customer Care.
We're here for the long run. That's why Mitsubishi offers Australia's only 10 Year New Car Warranty with 10 Years Capped Price Servicing. It's a guarantee of the integrity and service standards that set us apart from other automotive manufacturers. The Mitsubishi Diamond Advantage program is our commitment to you for complete peace of mind. Every Mitsubishi is built and backed for the time of your life. You can count on it.
10 Year New Car Warranty⋄1
10 Years Capped Price Servicing⋄2

Genuine Servicing

Auto Club Roadside Assist and Membership⋄3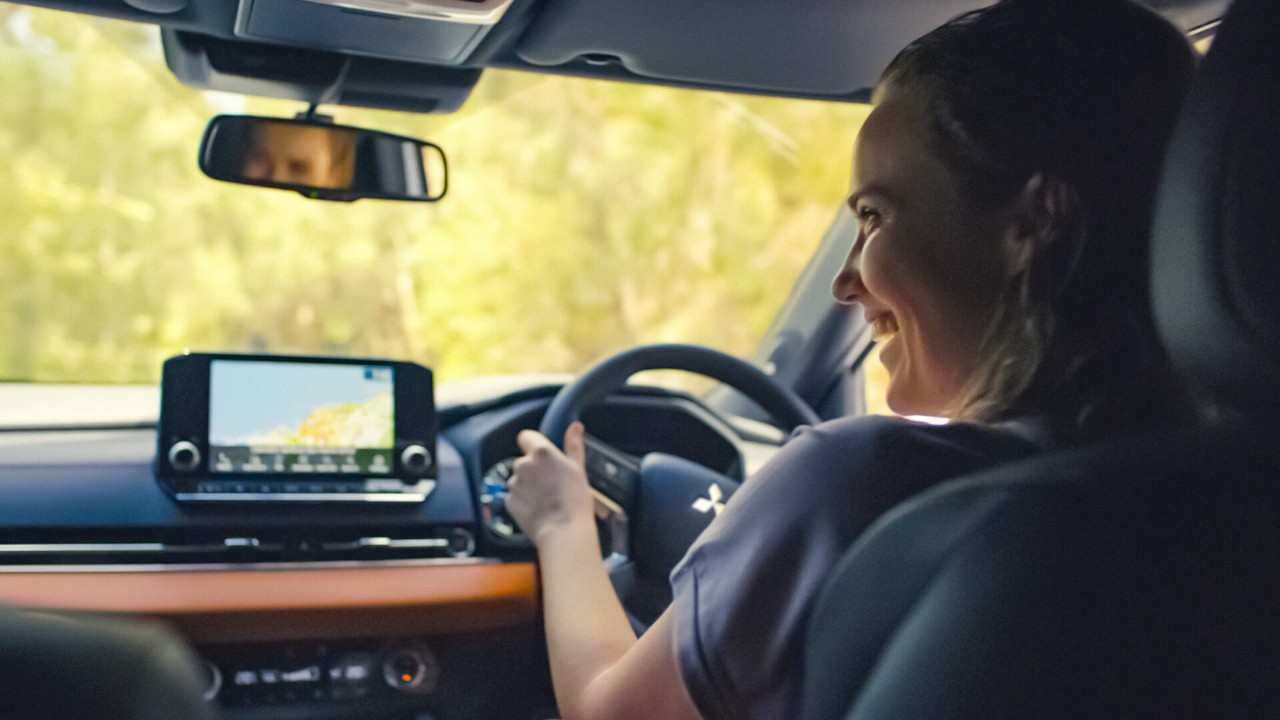 Live life large.
Once you ease into Outlander's exceptionally crafted cabin and delight in the massage function in both front seats, you'll instantly relax and come out of your shell. Fastidious attention to detail has been paid to every nuance and feature, right down to the knobs and dials.
Ergonomic elegance keeps everything within arm's reach, while a multifunction steering wheel keeps you in control.
Contrasting two tone leather trim, striking aluminium instrument panel accents and matte carbon trim make a handsome statement in style.
Exceed Tourer shown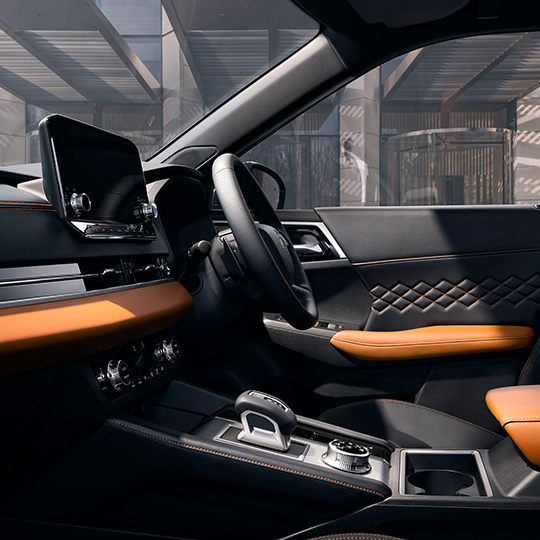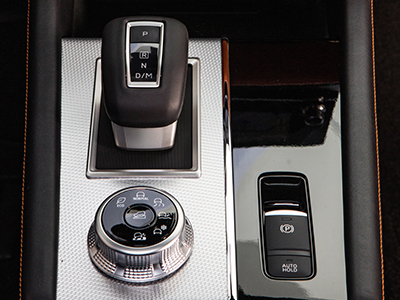 Aluminium Centre Console Trim
Premium materials plus a high-quality metallic finish create a sophisticated centrepiece that pairs perfectly with the surrounding dashboard and door trim.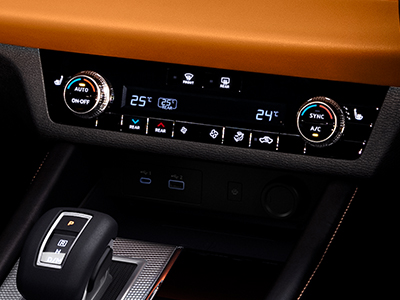 Tri-Zone Climate Control
Driver and passenger, plus second and third row rear passengers can enjoy their own personalised oasis with separate climate zones featuring individual controls.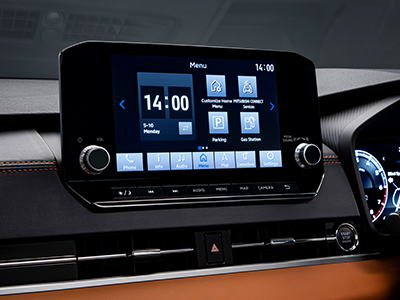 9-inch Touchscreen with Integrated NavigationO10
Stay in touch, on track and seamlessly switch between your music, maps and contacts via touchscreen or voice control with wireless Apple CarPlay® and Android Auto™.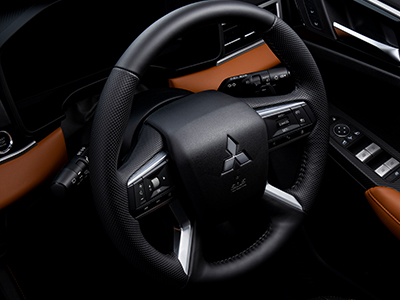 Multifunction Steering Wheel
Comfort and control are in your hands with intuitively positioned switches for audio, phone, cruise control and much more.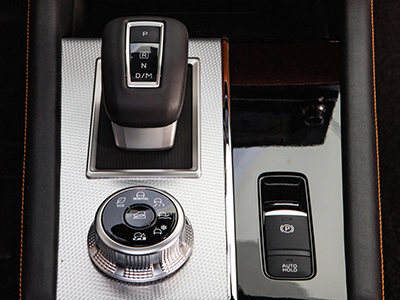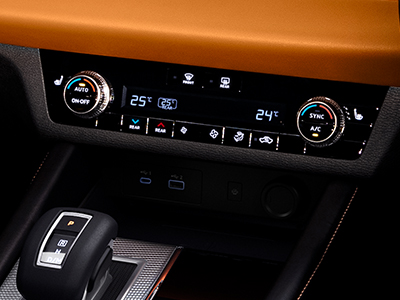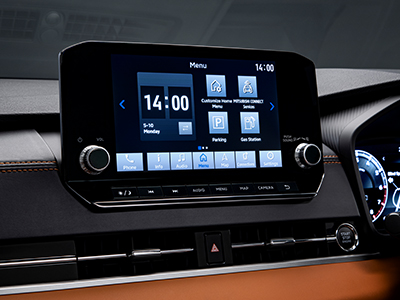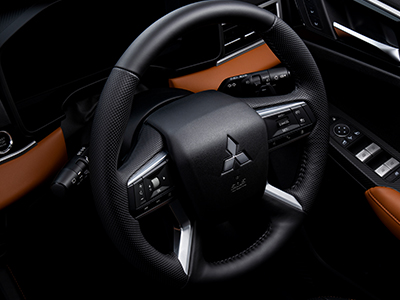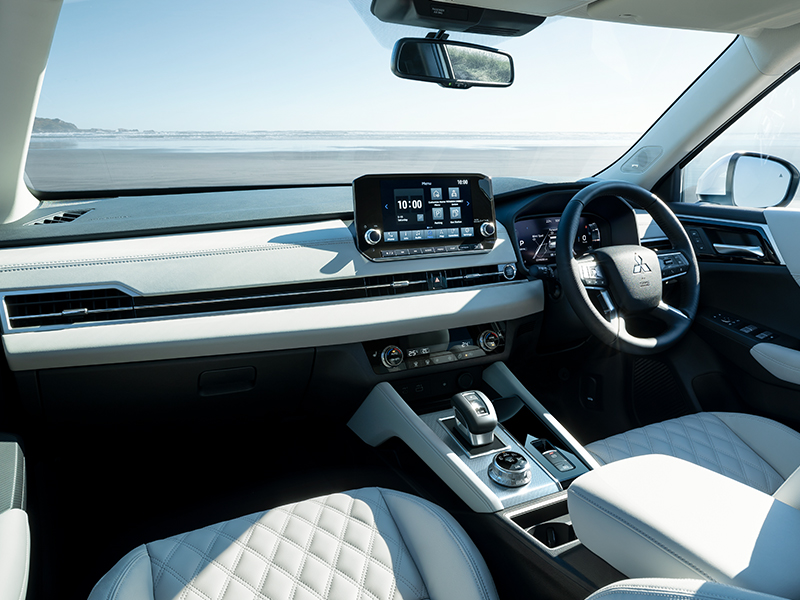 Be absolutely comfortable with yourself.
Sometimes you're the only person you need to impress. On every occasion, Outlander's superior combination of exquisite craftsmanship and advanced technology will make you feel at home. An 8-way power adjustable driver seat can be customised and memorised to embrace any body and height.
Double stitched quilted leather upholstery coalesces with embedded comfort features, so you always arrive relaxed. Heated seats in the front row provide welcome winter warmth, while independent tri-zone climate control allows everyone to create their own personal oasis year round.
Exceed shown

Welcome to the fold.
Change things up. With 5+2 seat flexibility, there's always ample room for busy weeks and even bigger weekends away. All seats can recline for added comfort, while the slide adjustable 40:20:40 split second row and 50:50 split rear third row can fold fully forward to create a multitude of versatile passenger and cargo configurations. All rear seats can lie flat to create a capacious luggage area and up to 1717 litres of cargo space for 5+2 seat models.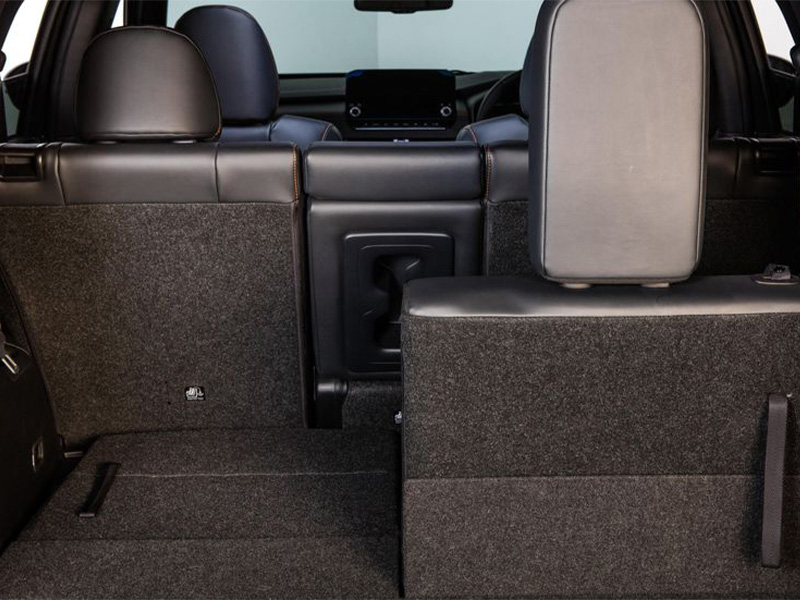 Third row 50:50 split fold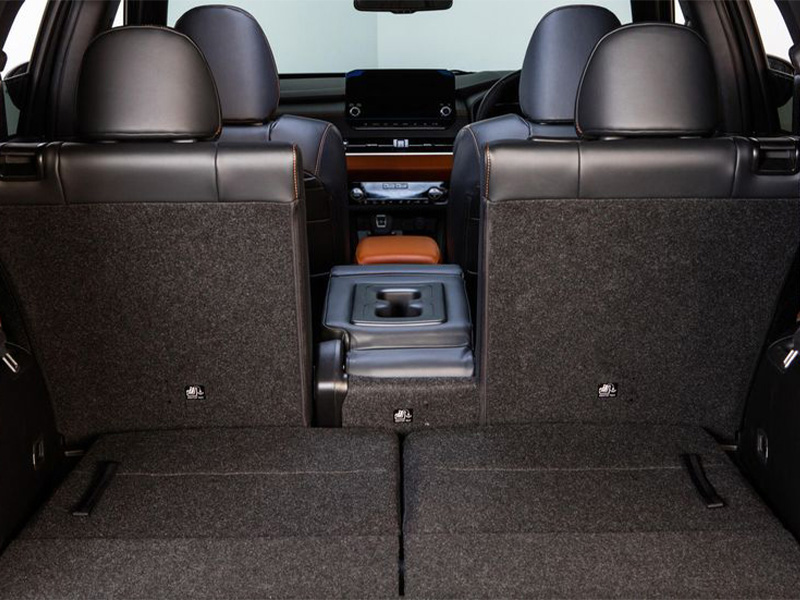 Third row full forward fold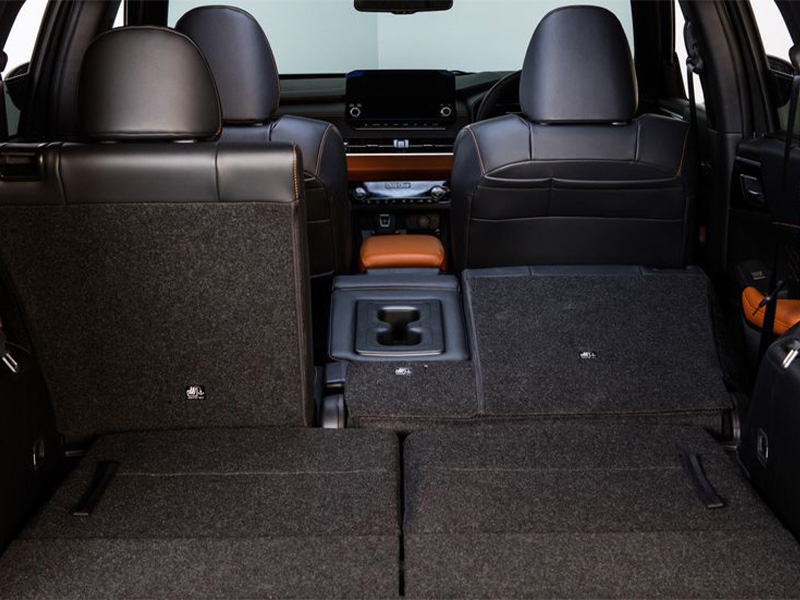 Second row 60:40 split fold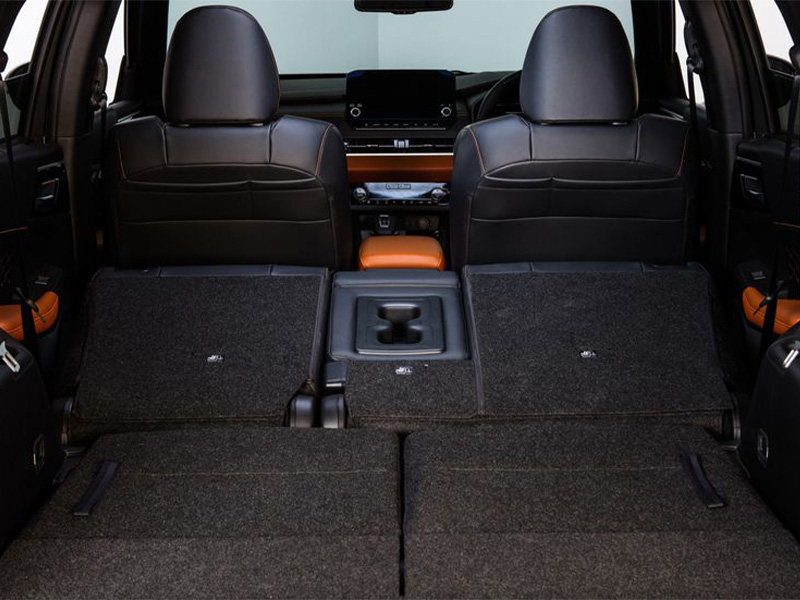 Second and third row full forward fold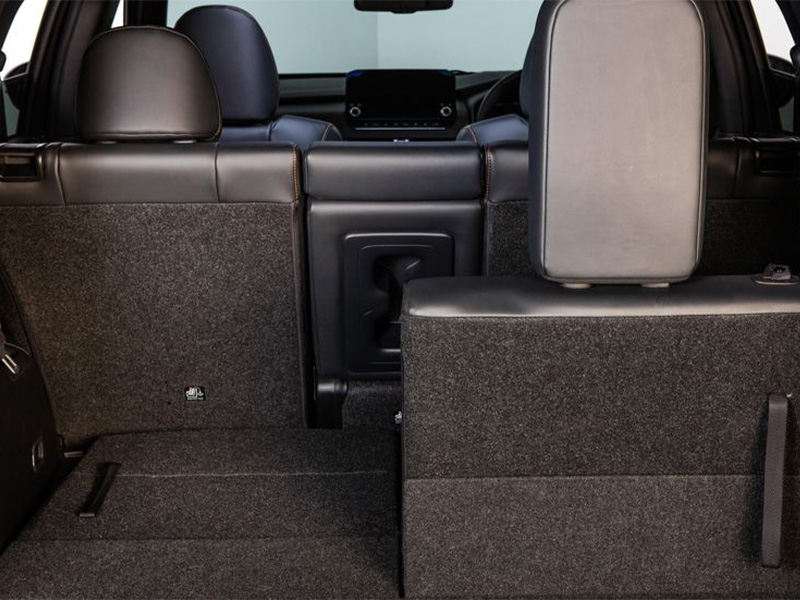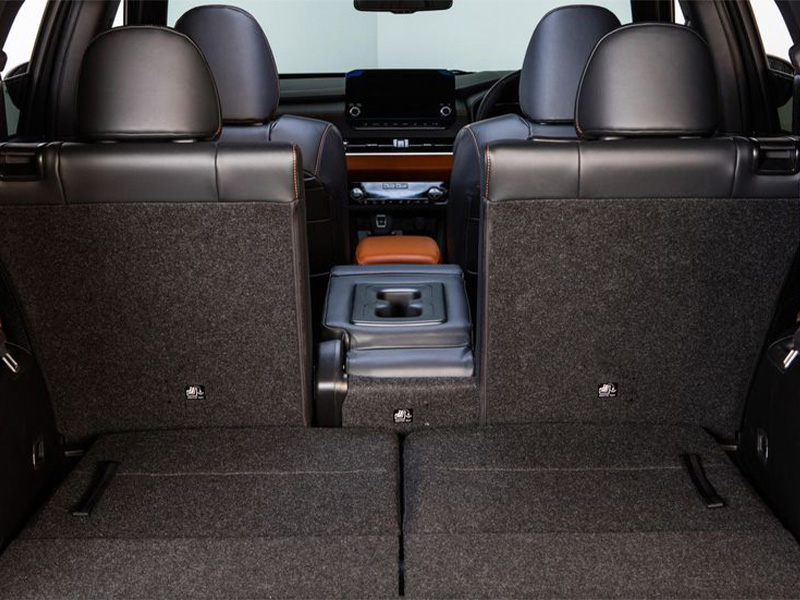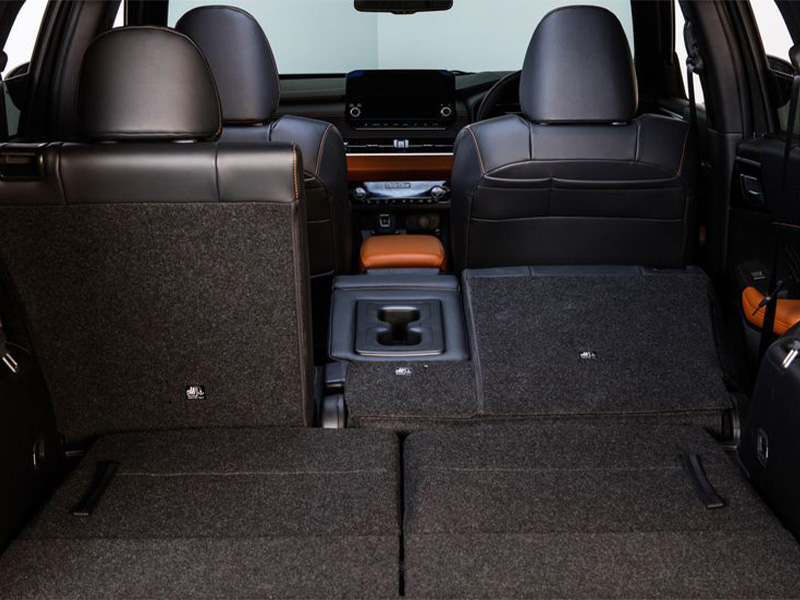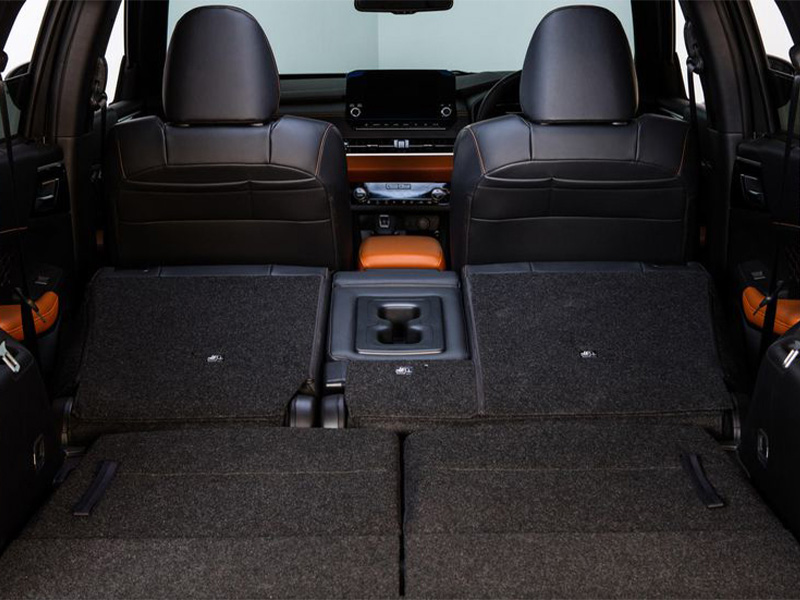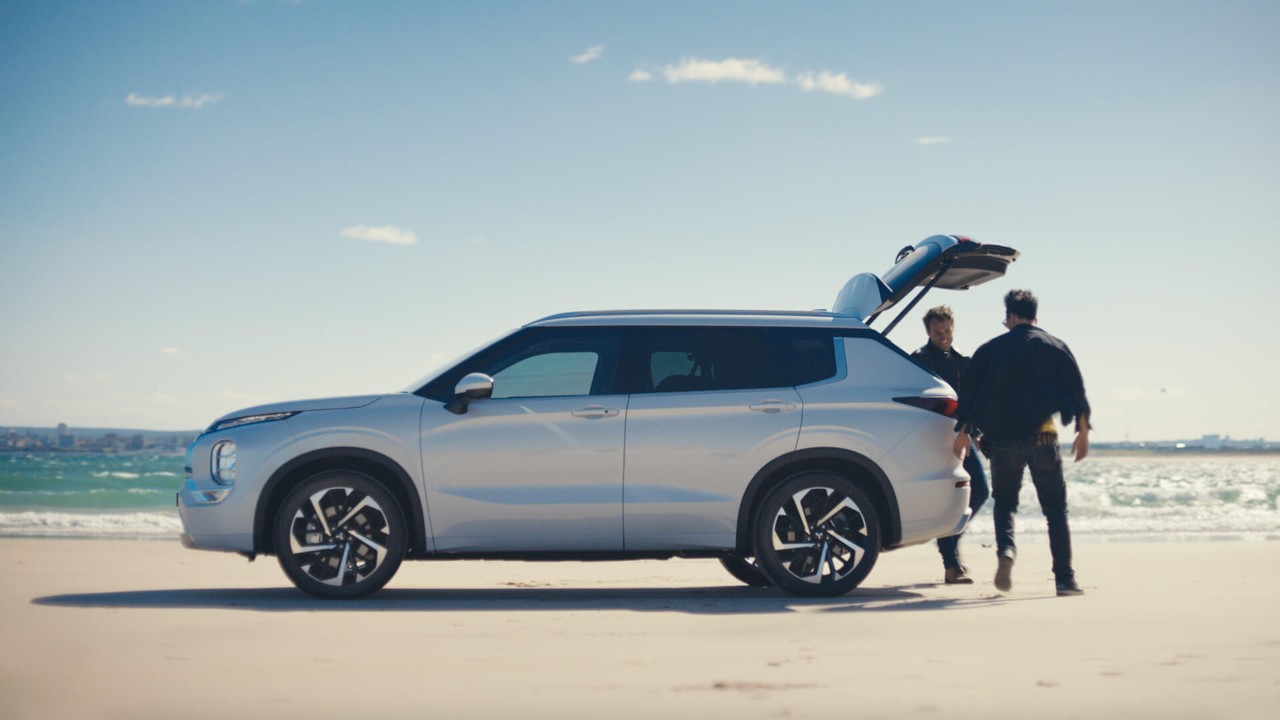 Flaunt that hands-free tailgate.
Live it up without lifting it up. As outrageously convenient as it is impressive, the Outlander's automatic rear tailgateO11 can be opened simply by placing a foot under its rear bumper. Its lift height is adjustable to prevent contact with low garage doors and ceilings, while a wide rear frame and deep cavity easily accommodate bulky luggage and equipment.
Always open minded.
Outlander's large and wide panoramic sunroofO11 goes above and beyond. One touch tilt and slide operation opens up the interior cabin to the great outdoors, creating an even greater sense of vast, natural space.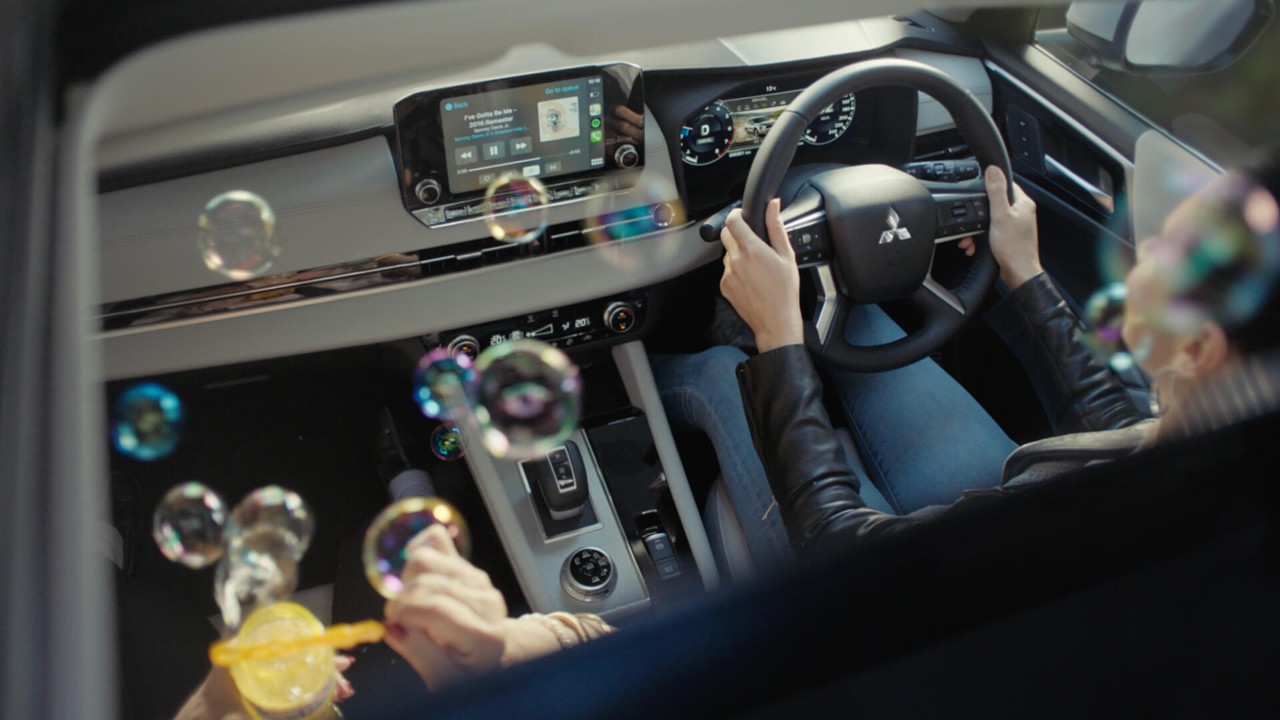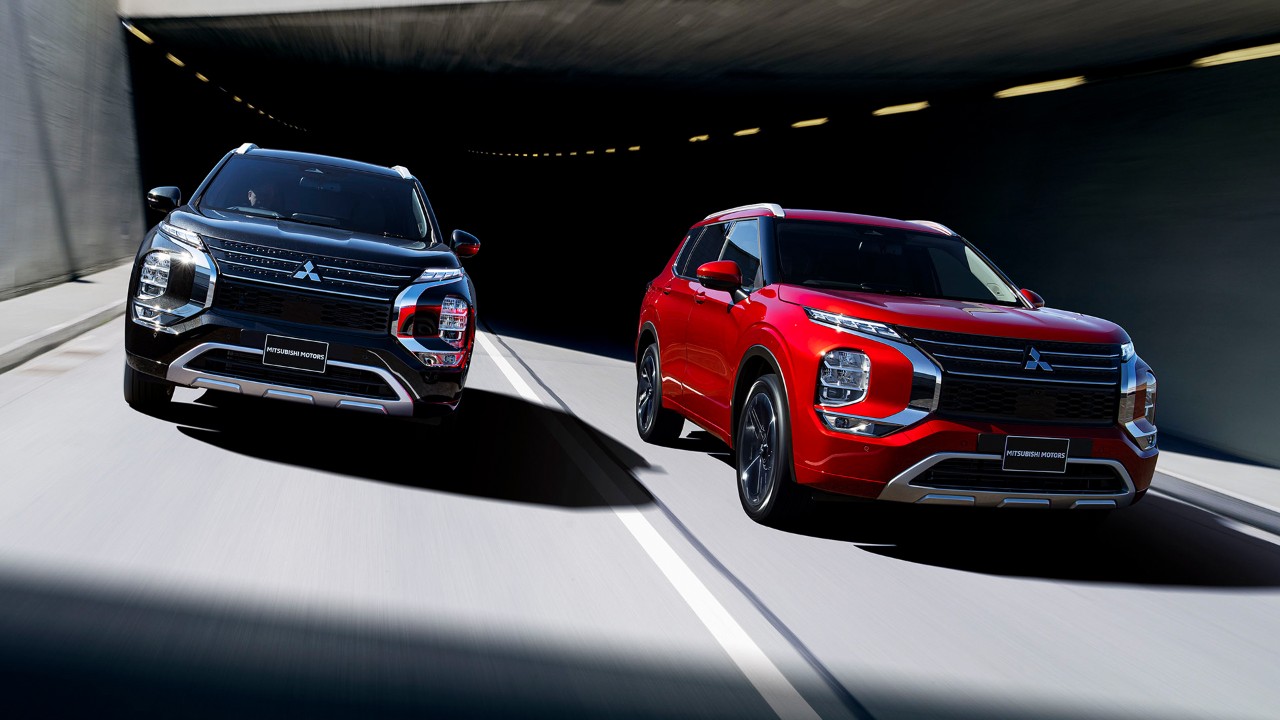 Make your presence known.
The daring and distinct Outlander is no wallflower. It makes a strong, dignified entrance with confident sculpted lines, muscular flared fenders and broad shoulders. Its bold front dynamic shield and streamlined rear spoiler not only turn heads, they also deliver greater performance and aerodynamics.
Steal the limelight.
It's your time to shine. Sharp and slender daytime running lights crown a full LED headlight cluster that's strategically positioned to provide greater visibility across long distances and improved recognition by oncoming vehicles.
Horizontally extended rear LED lights with T-shaped ends delineate the horizon line and highlight the Outlander's distinctive shoulders.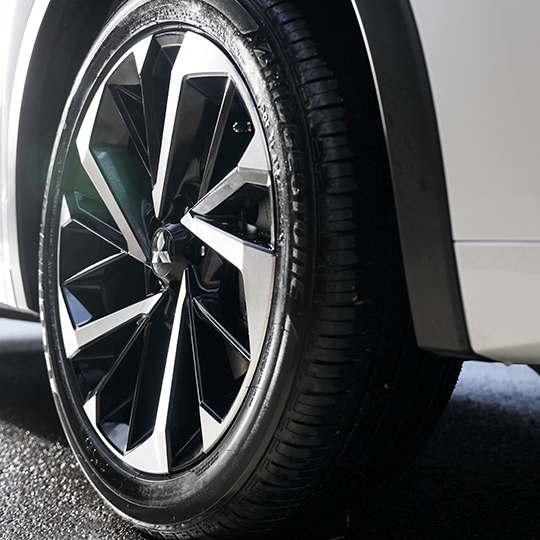 Show them how you roll.
Large diameter, dual tone 20-inch machined alloy wheels bolster Outlander Aspire, Exceed and Exceed Tourer's impressive stance.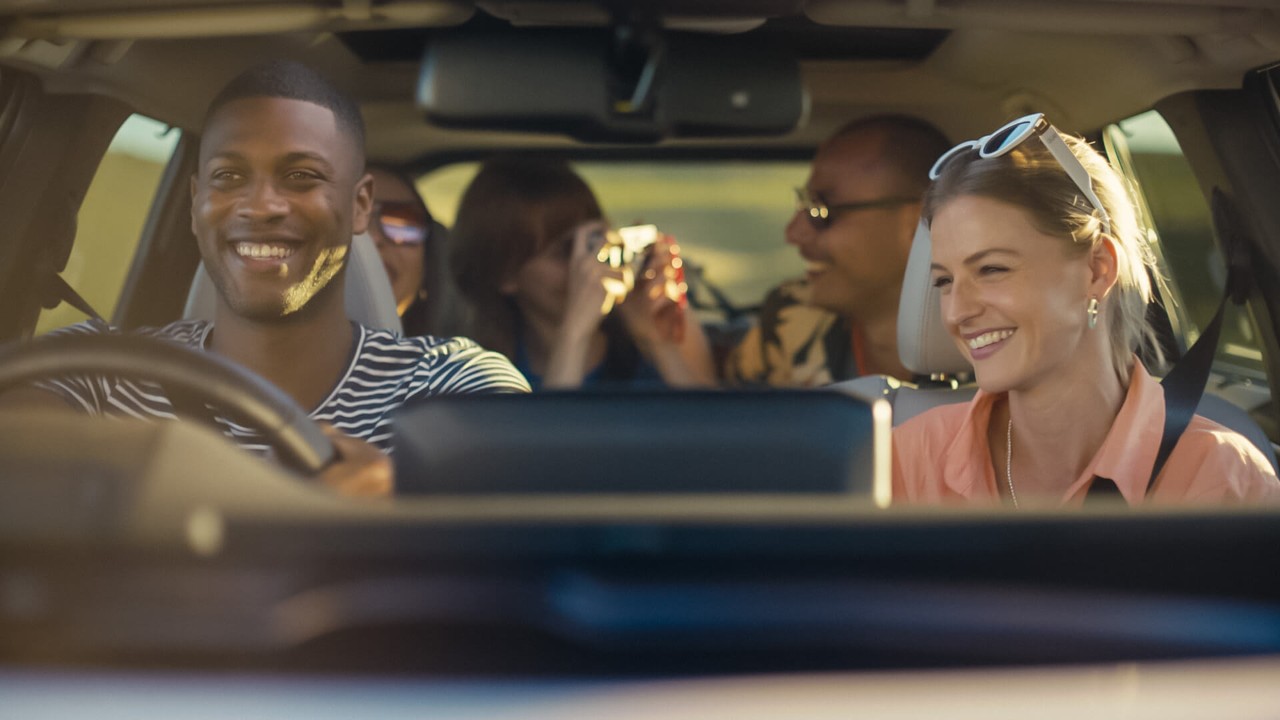 Be out there. Play it safe.
Mitsubishi Motors Intuitive Technology or MiTECO12, is an integrated system of brilliant innovations in action, working in unison to guide and protect, alert and connect, even entertain. It thinks like you, reacts like you, before you even know it. MiTEC delivers unsurpassed safety and next generation features to the modern-day driver. These significant safety features coupled with Mitsubishi's Reinforced Impact safety Evolution (RISE) body means you can rest assured you're driving one of the safest cars on the road.
Rear Cross Traffic Alert
Mitsubishi's Rear Cross Traffic AlertO10 system helps detect approaching vehicles when reversing. It alerts you via a buzzer sound, and an indicator light appearing in the combination meter and blinking light in the side-door mirror.
Rear Automatic Emergency Braking
Rear Automatic Emergency BrakingO10 system uses the rear parking sensors to detect obstacles behind the vehicle. If a risk of a collision with an obstacle is detected, audible and visual warnings are given and the system will automatically apply the brakes. Operates when vehicle is in reverse at speeds below 15km/h.
Lane Departure Warning
Mitsubishi's Lane Departure Warning uses a camera to issue an audible alert if your vehicle drifts from its lane while the turn signals are not operating. The system operates at speeds above 60km/h, and will vibrate the steering wheel and flash the lane departure warning light.
Lane Departure Prevention
Lane Departure Prevention uses front camera to issue an alert if the vehicle drifts from its lane while turn signals are not operating. The system operates at speeds above 60km/h, and will vibrate the steering wheel and flash lane departure warning light. The vehicle will also apply the brakes on one side to help return the vehicle to the centre of the travelling lane.
Forward Collision Mitigation
Mitsubishi's Forward Collision MitigationO13 system with pedestrian detection, cyclist detection and junction assist detects obstructions ahead and issues a visual and audible alert when there is a danger of collision, automatically applying the brakes to avoid collision or reduce impact.
Blind Spot Warning & Lane Change Alert
Mitsubishi's Blind Spot Warning and Lane Change AlertO14 helps you change lanes with confidence.
The Lane Change Alert system sounds an audible alert and displays a blinking warning in the door mirror when the system detects a high collision probability with a vehicle coming from behind moving in the same direction within 3.5m from your vehicle's side or 70m from its rear bumper.
Rear View Camera
The Rear View Camera system automatically shows a rear view of the vehicle when the selector lever is placed in the 'R' position. The rear view image is displayed on the Smartphone-link Display Audio screen, and includes predictive guidelines based on steering wheel position.
Adaptive Cruise Control
Mitsubishi's Adaptive Cruise Control uses radar technology to detect any cars in the lane ahead and adjusts the speed of your car accordingly while maintaining a safe distance set by you.
Driver Attention Alert
Driver Attention Alert system monitors driving style and steering behaviour over a period of time, detecting changes to normal driving pattern. When the system detects that driver attention has deteriorated, audible and visual warnings are signalled to the driver suggesting 'take a break'.
Traffic Sign Recognition
Traffic Sign Recognition uses front camera to read speed limit signs and display the most recently recognised value in the multi-information display, and in the head-up display if equipped. If the vehicle exceeds the displayed speed limit value, the displayed value will begin to blink to warn the driver.
Hill Start Assist
Steep city streets or congested shopping mall ramps are no longer a problem with Mitsubishi's Hill Start Assist technology. It prevents the car from rolling backwards by maintaining braking force to give you time to move your foot from brake to accelerator.
Hill Descent Control
Drive downhill safely with peace of mind.
Hill Descent Control automatically applies the brakes when travelling downhill to maintain vehicle speed so you can focus on steering.
Emergency Lane Assist
Emergency Lane Assist uses the front camera to detect the road edge and lane markings, and front radar to detect vehicles approaching from the front, while simultaneously using the rear side radar sensors to detect vehicles approaching from the rear. Operating at speeds above 60km/h the steering wheel will vibrate and the land departure warning light will flash when activated.
Predictive Forward Collision Warning
Predictive Forward Collision WarningO13 uses the front radar to detect sudden braking of the vehicle traveling ahead of the vehicle directly in front. The system operates at speeds above 5km/h and will flash a warning light and sound an audible alert.
Multi Around Monitor
Mitsubishi's Multi Around MonitorO8 provides a 360o birds-eye view of your car. The view from cameras mounted on the front, rear and sides of the vehicle (including birds-eye view) can be displayed in various combinations to reveal what is in blind spots and help you park more safely.
MI-PILOT
MI-PILOTO11 adds extra functionality to Adaptive Cruise Control with features such as Lane Keep AssistO16 to keep the vehicle near the centre of the lane; Traffic Jam Assist which allows Adaptive Cruise Control to automatically reengage after coming to a complete stop within a short time period; and Speed Limit Assist using Traffic Sign Recognition which prompts automatic adjustment to new speed zones with a one-touch acceptance/activation when using Adaptive Cruise Control.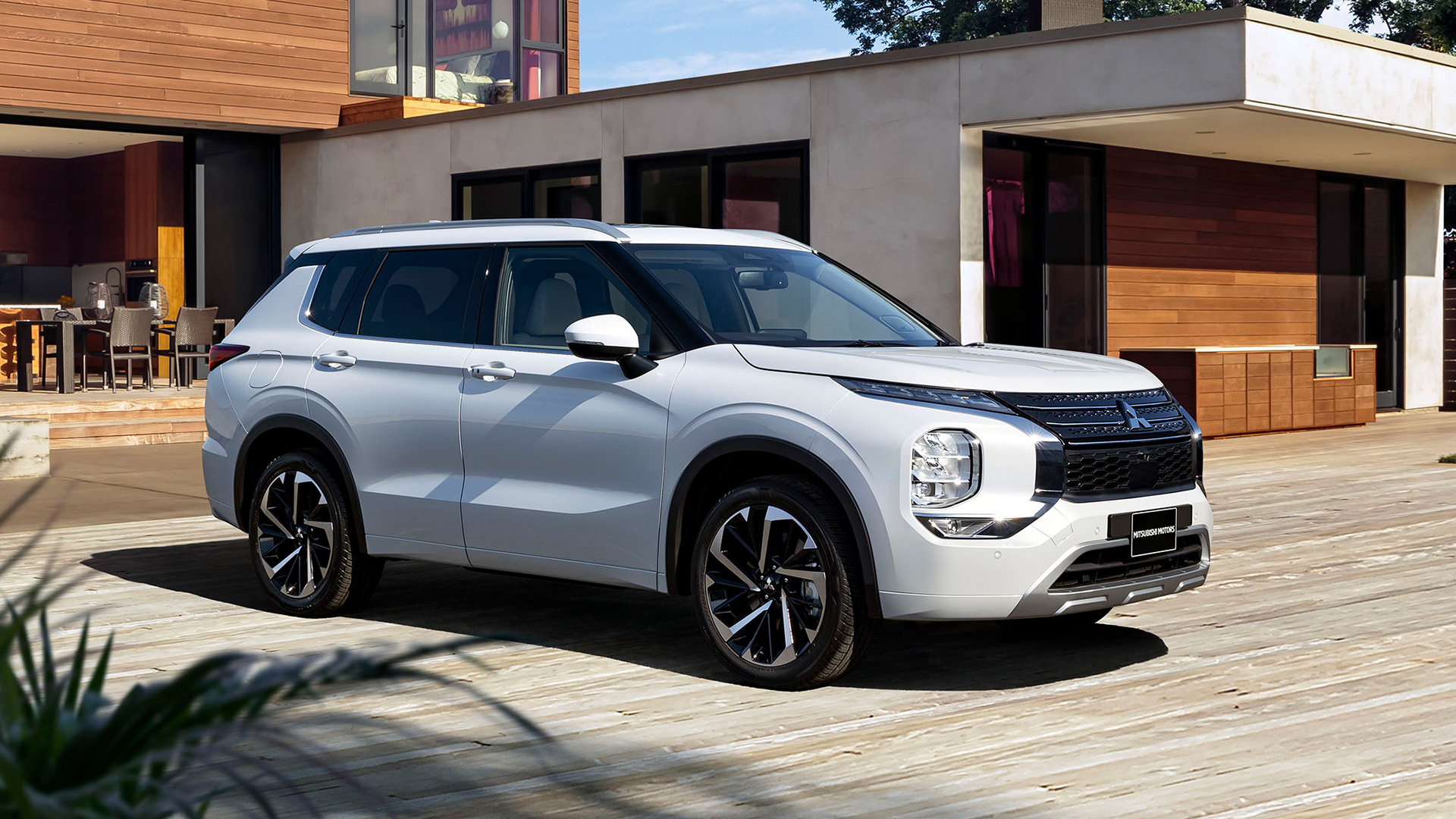 MiTEC Safety features:
Forward Collision MitigationO13
Predictive Forward Collision WarningO13

MI-PILOTO11

Adaptive Cruise Control

Blind Spot Warning & Lane Change AlertO14

Emergency Lane Assist

Lane Departure Warning

Lane Departure Prevention

Traffic Sign Recognition

Driver Attention Alert

Hill Start Assist

Hill Descent Control

Rear Cross Traffic AlertO10
Multi Around MonitorO8

Rear View Camera

Rear Automatic Emergency BrakingO10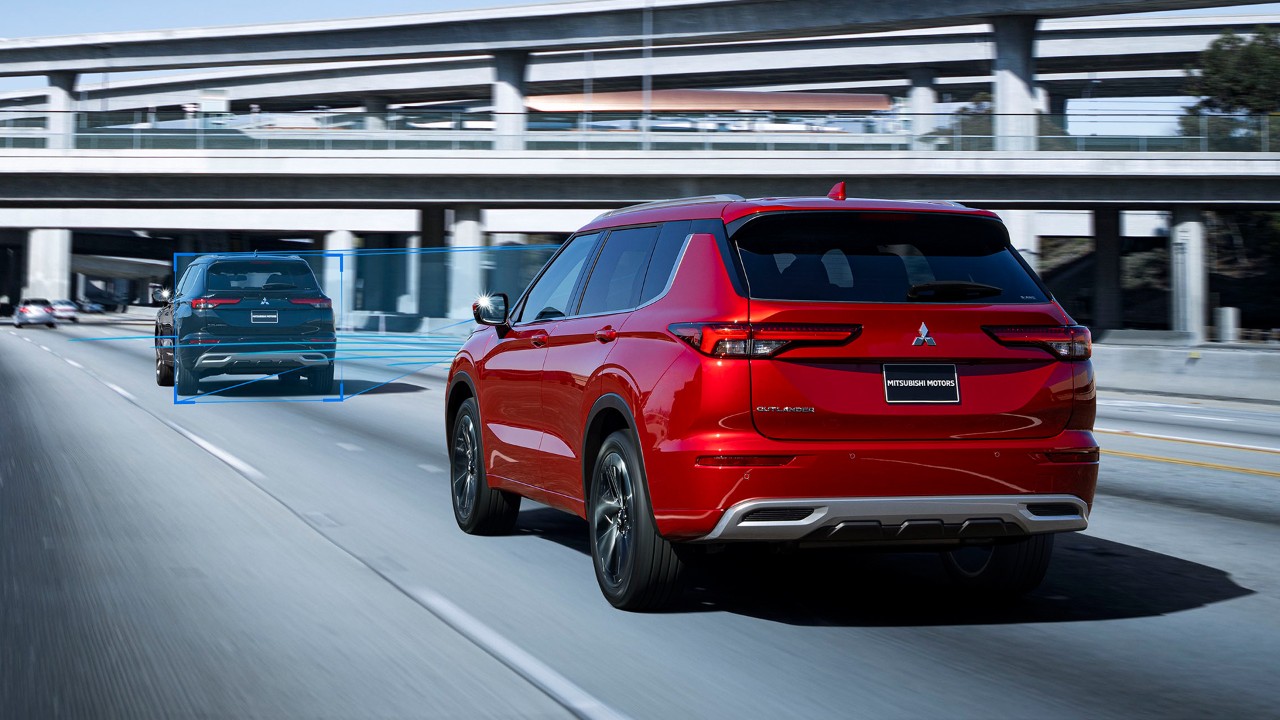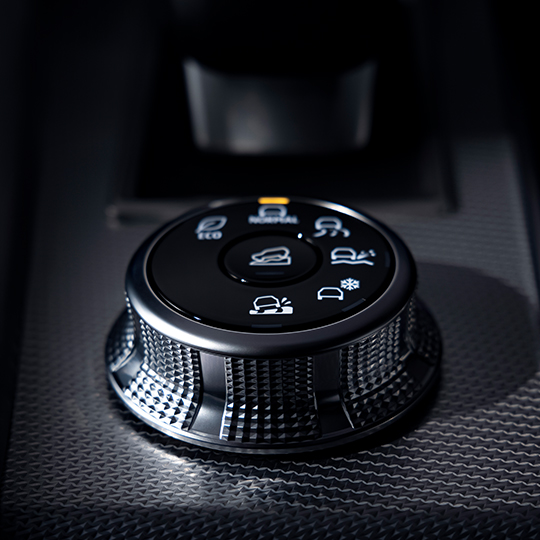 Forge your own path.
Outlander's Super-All Wheel ControlO9 system integrates Mitsubishi's revolutionary rally bred full-time, 4WD based technology. Featuring direct coupling with quick torque response, it optimises speed and braking force at each wheel to deliver more power, better cornering and greater stability wherever you are.
Six available drive modes give you the freedom to drive on all kinds of terrains, in almost all conditions.

Normal mode
Optimal performance for everyday use.
Eco Mode
Provides ecological and economic driving.
Tarmac Mode
For agile and fun driving on dry sealed surfaces.
Gravel Mode
Superior handling on rough roads for maximum control.
Snow Mode
Enhances stability on slippery or icy road conditions.
Mud Mode
Provides powerful all wheel driving in muddy or snowy conditions.
Performance on every stage.
Outlander's 2.5 litre 4 cylinder engine has been designed to achieve improved output and torque, remarkable fuel efficiency and cleaner emissions. It incorporates the latest technologies including direct injection, electrically operated valve timing, cooled exhaust gas recirculation and mirror bore coating for reduced friction and better economy.
Paired with a continuously variable automatic transmission (CVT) the Outlander drives with agility and composure, while delivering power, pace and prowess when you need it.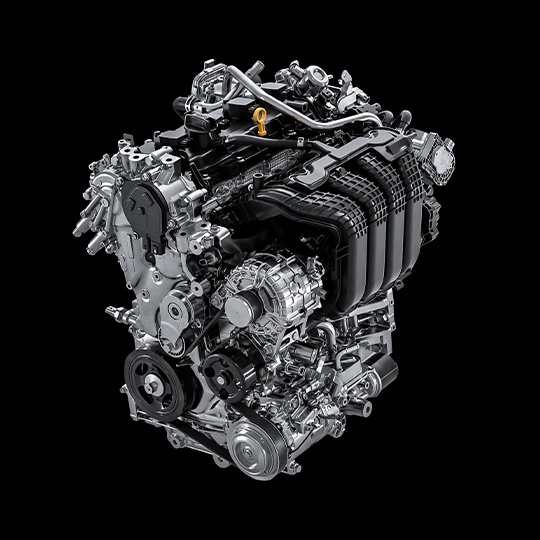 Out and about. In the know.
A high resolution widescreen 12.3 inch full digital driver displayO11 continuously updates the status of your Outlander and can be customised to showcase navigation, Super-All Wheel ControlO9 information, audio entertainment options, and many more important details..
The transparent driver's 10.8 inch head up displayO8 can be configured to provide additional information in clear view of the road ahead.
March to the beat of your own drum, or playlists.
Go loud and proud. Sound insulating double pane windows and windshields ensure silence is golden, so you can hear every note played through the Outlander's incredible ten speaker Bose sound systemO11. The show always goes on with complete Apple CarPlay and Android Auto connectivity.
Wireless smartphone chargingO10 means the entertainment or handsfree conversations never have to stop.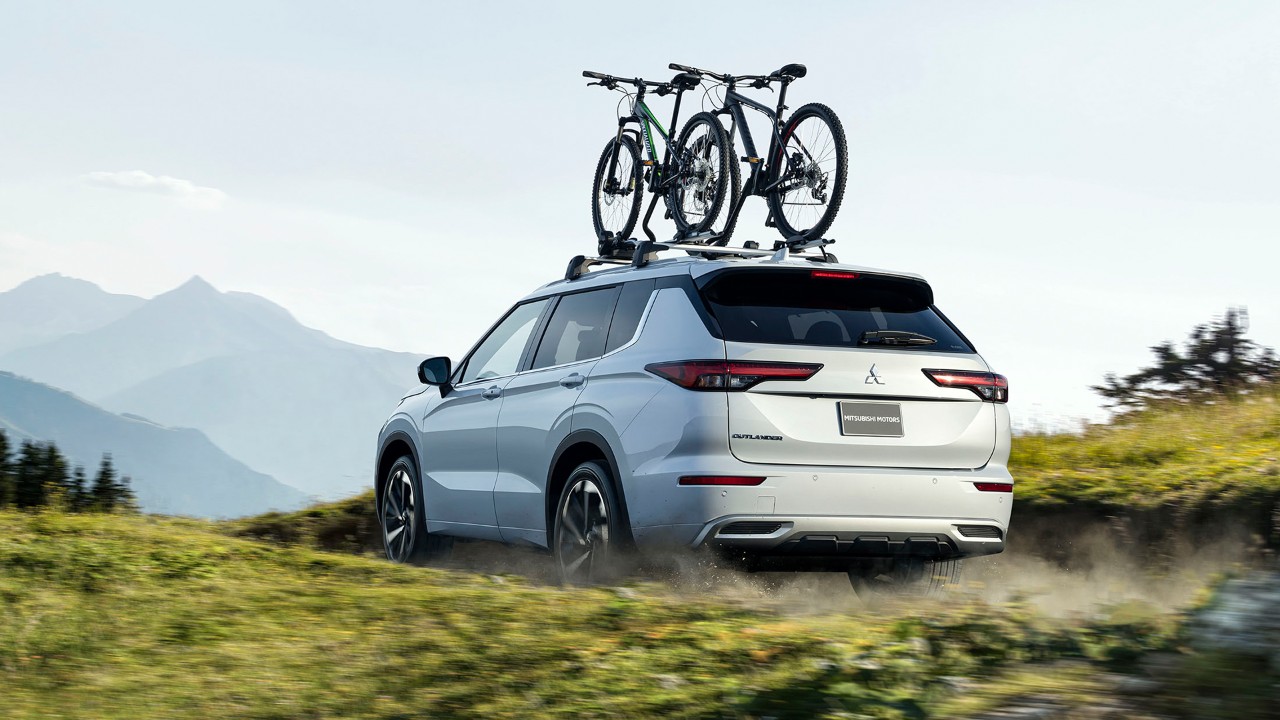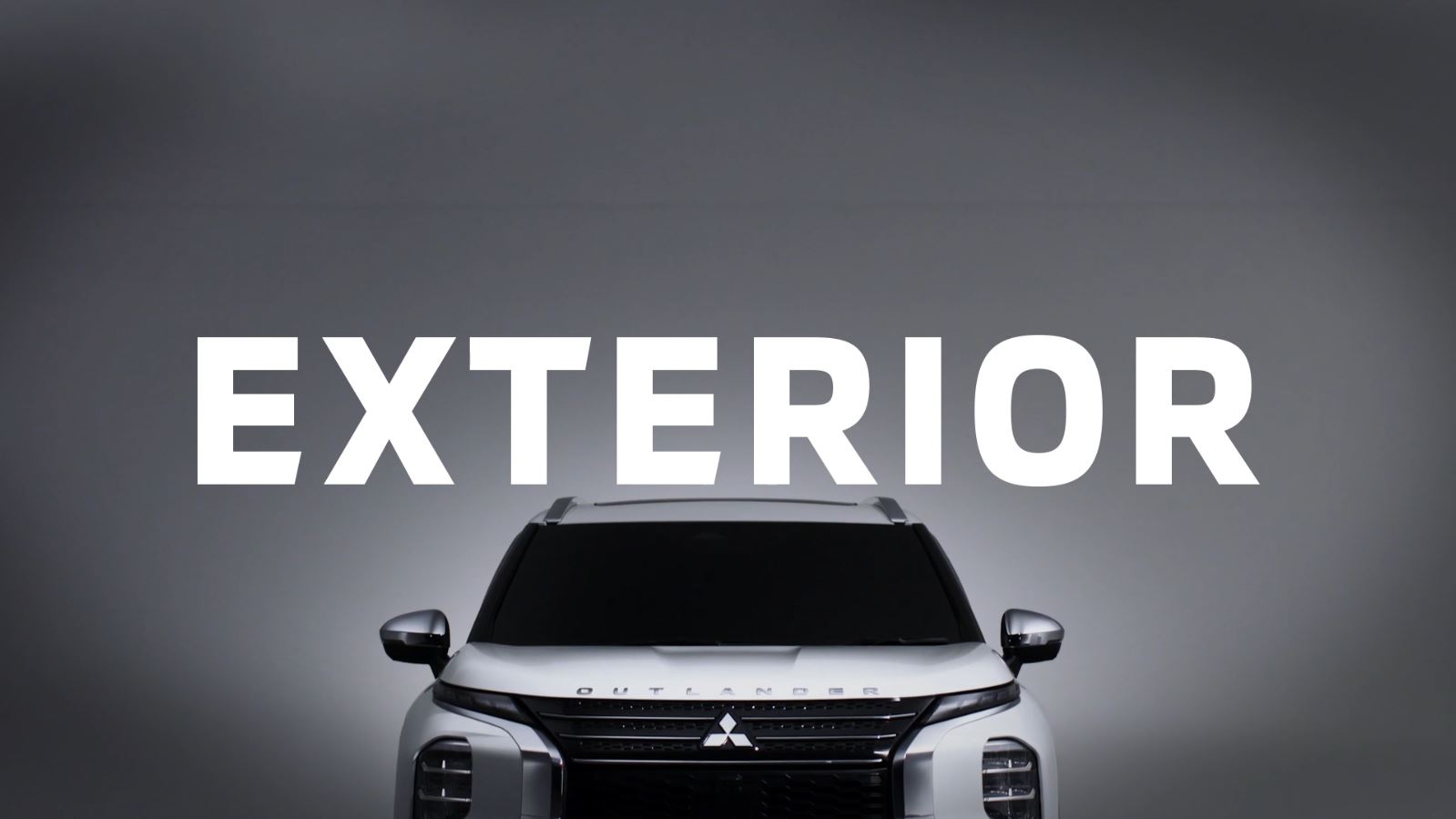 Make the Outlander truly your own with Mitsubishi Genuine accessories. Each and every one goes through and extensive program of design, development and stringent testing to ensure they meet all applicable government standards as well as Mitsubishi's own rigorous engineering specifications and performance targets.
Range
Live outlandish your way.
O8

Aspire, Exceed & Exceed Tourer models only
O10

Not available on ES models
O11

Exceed & Exceed Tourer only
O12

Please drive safely and never rely solely on these systems while driving. Drivers are fully responsible for their own safe driving.
O13

The detection and control capabilities of FCM are supplementary only and do not prevent collisions in every situation. Please read the operation manual carefully and be aware of these limitations.
O14

The detection and control capabilities of BSW and LCA are supplementary only and do not warn you of vehicles in blind spots in every situation. BSW and LCA may not activate in some situations.
O16

The Lane Keep Assist (LKA) is not a replacement for proper driving procedures and is not designed to correct careless, inattentive or absentminded driving. The Lane Keep Assist (LKA) will not always steer the vehicle to keep it in the lane. It is not designed to prevent loss of control. It is the driver's responsibility to stay alert, drive safely, keep the vehicle in the travelling lane, and be in control of the vehicle at all times.
⋄1

Up to 10 years from the date of first registration or 200,000 km New Vehicle Warranty (whichever comes first) when all regular services are completed within the specified service intervals at a Mitsubishi Dealership. Otherwise, 5 years from the date of first registration or 100,000 km New Vehicle Warranty (whichever comes first) applies. Service conditions apply. Excludes Plug-in Hybrid EV drive batteries, which are warranted for 8 years / 160,000kms from the date of first registration.
⋄2

10 Year/150,000km Capped Price Servicing (whichever occurs first). Includes the first 10 regular services (at 15,000km/12 month scheduled intervals). Some items excluded or subject to separate warranty. PHEV main power (traction) battery is warranted for 8 years or 160,000km (whichever occurs first). Any non-regular service/repair items are at an additional cost. Servicing must be completed by an authorised Mitsubishi Motors Dealer within 2,000kms or 2 months of the service due date. Valid from date of vehicle registration. Some customers are excluded such as government, taxis, rentals and selected national business.
⋄3

1 year Auto Club Roadside Assist and Membership. Your initial 12 month Auto Club Roadside Assist and Membership will be extended for a period of 12 months from the date of the most recent eligible Capped Price Service for that vehicle performed at an authorised Mitsubishi dealer. Auto Club Roadside Assist and Membership, if extended in accordance with these items, is available for a maximum of up to 4 years. Conditions apply. Please visit the website of the Auto Club in your respective state or territory for further information.