OVERVIEW
The EV Superpower
The stunning Outlander Plug-in Hybrid EV delivers eco-friendly efficiency plus pure performance on and off the road.
Its highly advanced powertrain combines twin electric motors and a hybrid petrol engine to give you the best of both worlds.
With greater battery capacity (20.0kWh) and a larger fuel tank (56L), the Outlander Plug-in Hybrid EV now has even more power and range, wherever and whenever you need it.
Go all the way, your way. Live outlandish.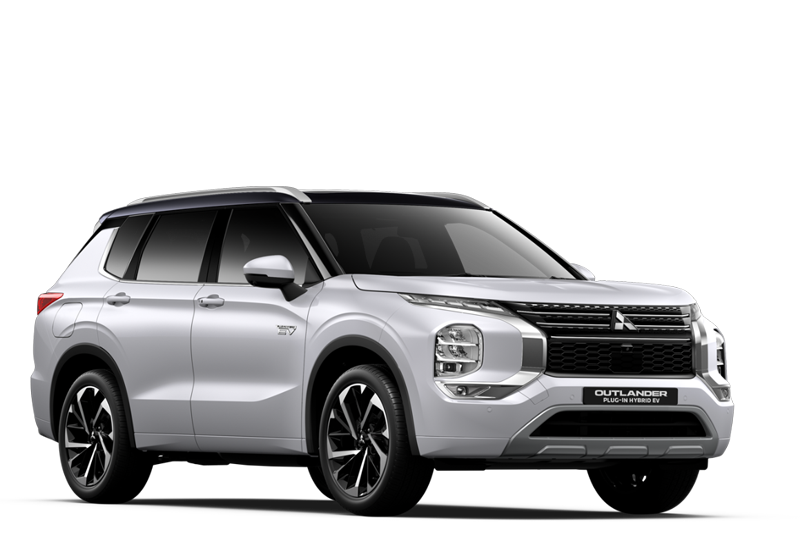 Class Leading Electric Range O2

84km

Hybrid Petrol Power

For longer road trips

Charge Anywhere

Multiple Charging Options

Super-All Wheel Control

For off road adventures
The next generation Outlander Plug-in Hybrid EV goes green, goes bush, and keeps on going. Saunter around the city in pure stealth mode with its twin electric motors. Stay on the road, not on edge, with a powerful hybrid petrol engine. And head off the beaten track with rally bred full-time 4WD based technology plus seven driving modes for rugged roads. It's ready for anything, even that true blue adventurer Russell Coight!
Outlander Plug-in Hybrid EV leads the charge.
A formidable combination of twin electric motors plus hybrid petrol power, the Mitsubishi Outlander Plug-in Hybrid EV has delivered another outstanding performance and been judged DRIVE's Best Medium Hybrid SUV.
With class leading02 electric range and true off-road capability for great Australian adventures, the Outlander Plug-in Hybrid EV continues to impress some of the world's toughest automotive critics. Now's the time to judge for yourself.
PLUG-IN HYBRID EV RANGE
Live outlandish your way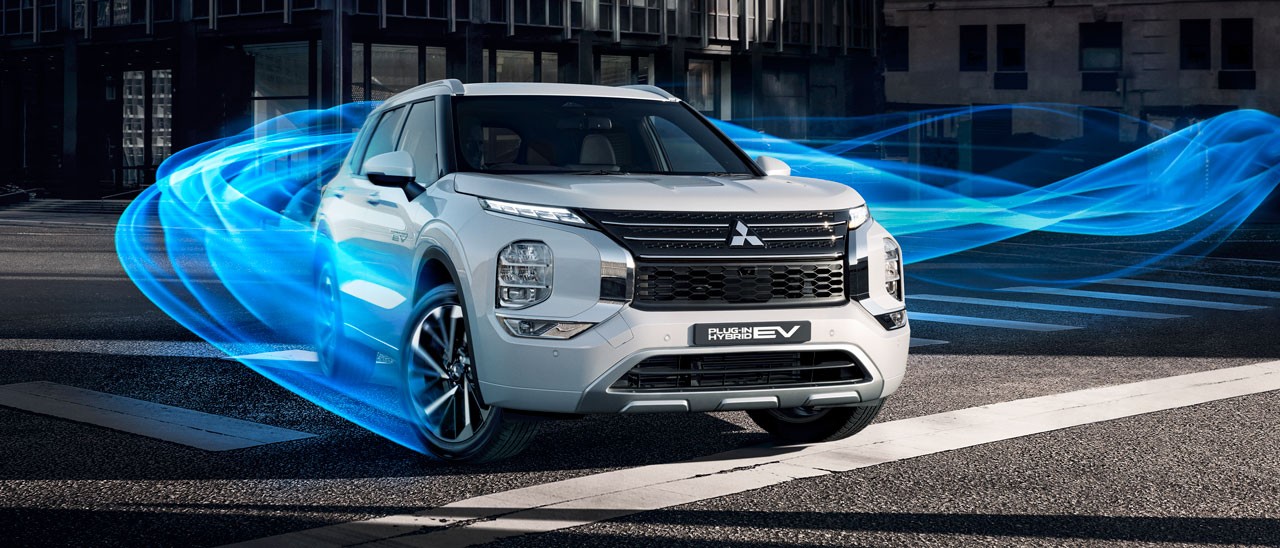 More range. More choice. Mitsubishi Plug-in Hybrid EV.
Leave range anxiety behind
With a fully electric range of 84kmsO2 backed by the security of a hybrid petrol engine, you can rest assured the Outlander Plug-in Hybrid EV will get you there, and back.
Flexible charging options
Outlander Plug-in Hybrid EV can fast charge with a standard Type 2 connector at available charging stations. Plug into any standard power outlet, or charge as you drive with regenerative braking.
Twin motors. Twice the fun.
Two electric motors deliver incredible amounts of torque for lightning fast acceleration and an exhilarating driving experience. One taste and there's no turning back!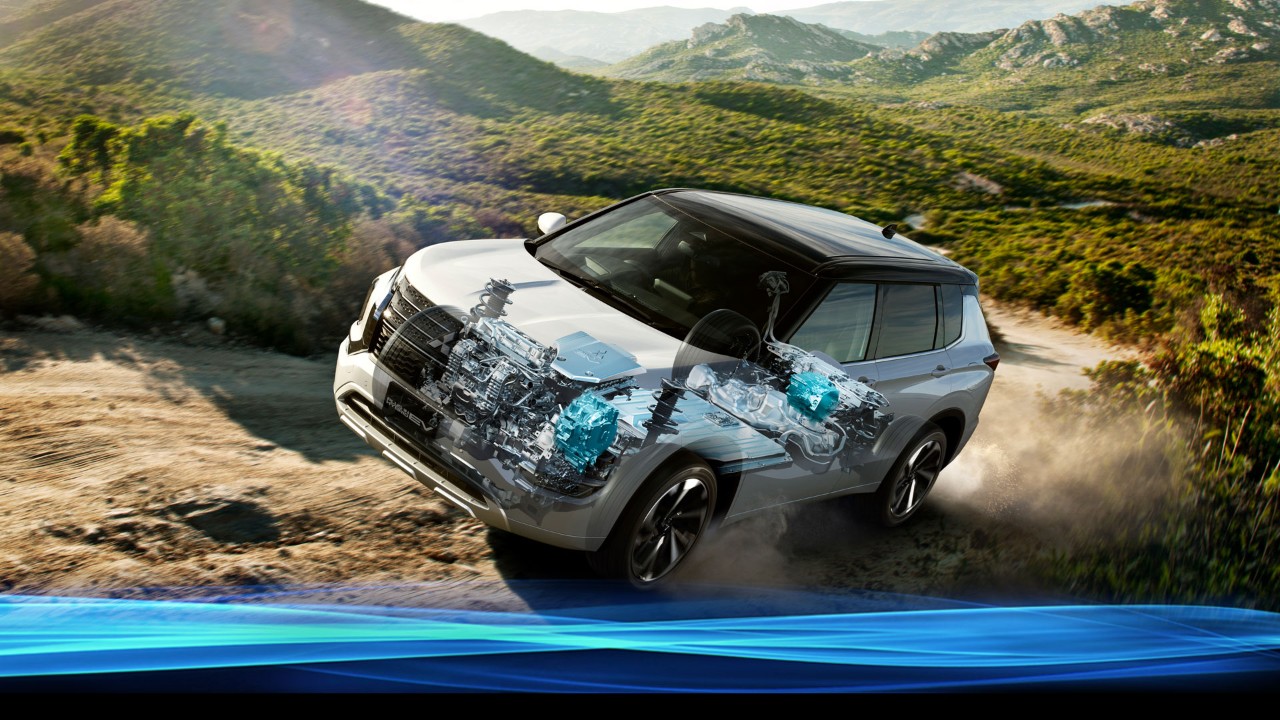 Powering the next generation of Australian adventures.
The powerful Outlander Plug-in Hybrid EV puts you in charge with twin electric motors for pure EV driving around town plus a hybrid petrol engine for complete confidence on great Australian road trips.
It seamlessly switches between electric and hybrid petrol power for on-demand performance and recharges while you drive using regenerative braking technology.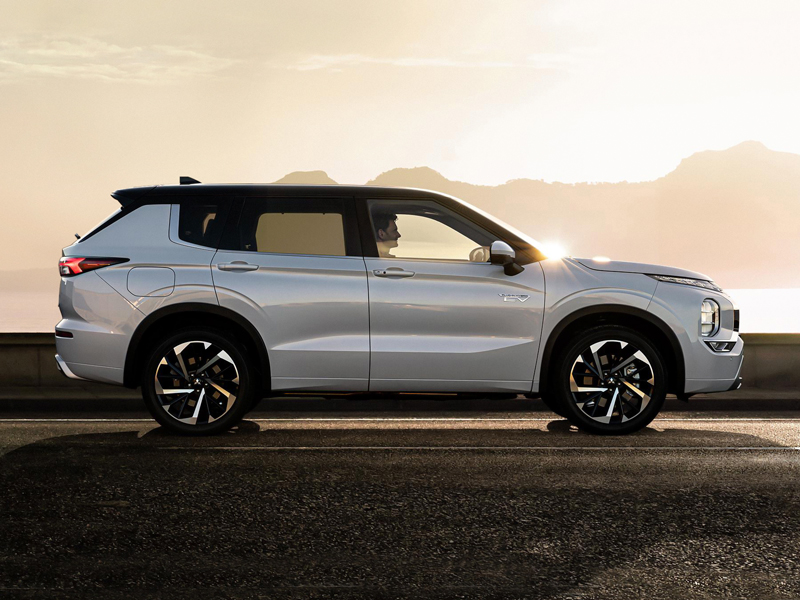 Lead the charge.
Outlander Plug-in Hybrid EV next generation battery technology and electric motors now deliver up to 54% more electric range O1, so you can go even further with zero tailpipe emissions. Plus, you can use hybrid petrol power for longer road trips with remarkable fuel efficiency.
Mitsubishi Plug-in Hybrid EVs offer everything their petrol-only counterparts do, they just do it with the added option of electric power. With a class leading 84km all electric range O2 plus the long range reassurance of a hybrid petrol engine you've got all bases covered.
EV power. Pure performance.
The Outlander Plug-in Hybrid EV system automatically switches between electric and hybrid petrol power to deliver incredible on-demand performance and outstanding efficiency.
EV Mode
Quiet and exceptionally clean, EV driving is perfect for low to medium speeds in urban areas.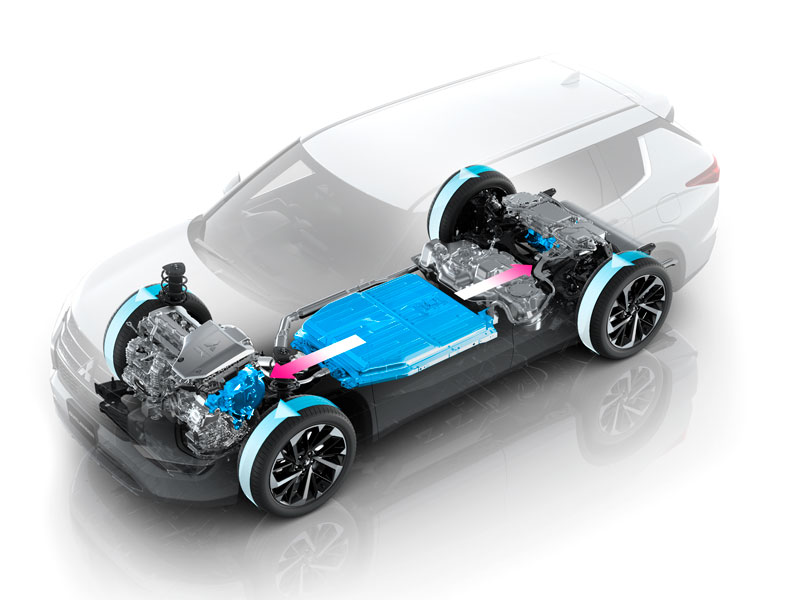 Series Hybrid Mode
When accelerating or climbing hills, the hybrid petrol engine can be used to generate additional power while the vehicle runs on motor power.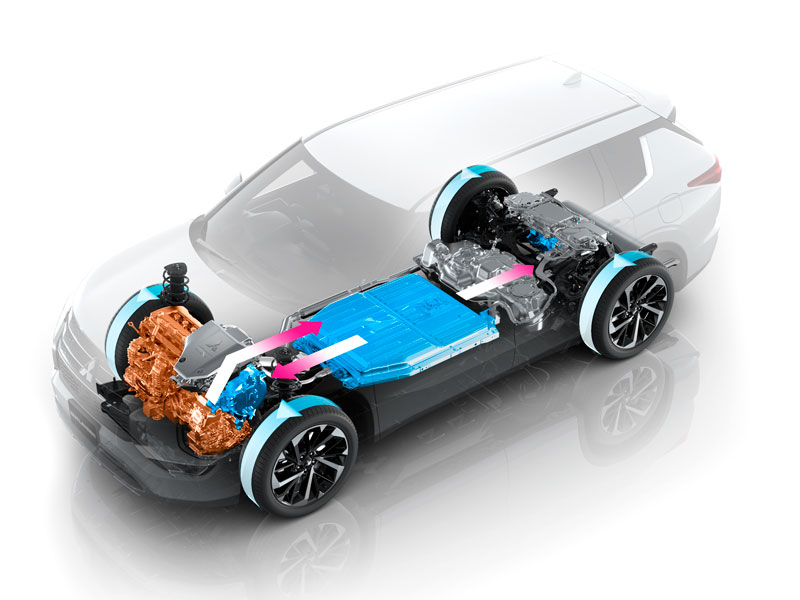 Parallel Hybrid Mode
For high-speed driving such as overtaking vehicles on the highway, the vehicle runs on engine power while being assisted by the electric motor.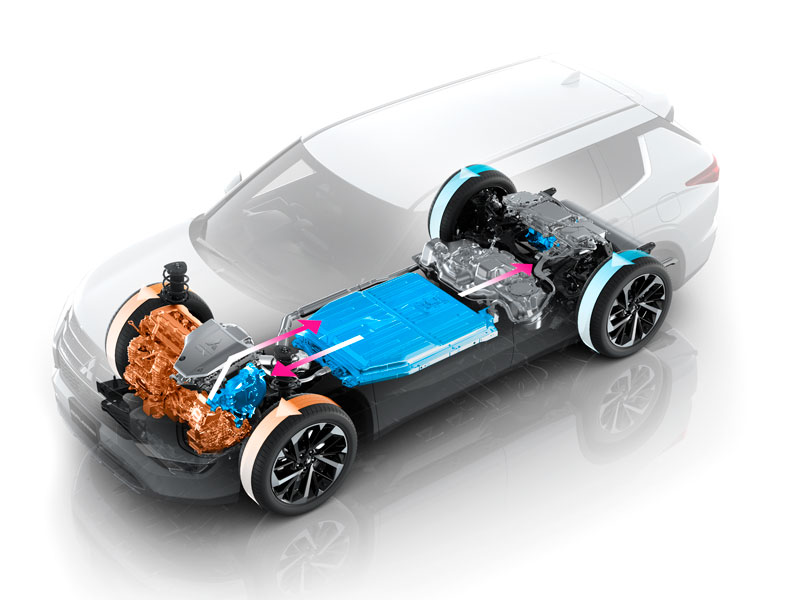 Lightning Fast Charging
Quickly recharge your Outlander Plug-in Hybrid EV to 80% capacity in as little as 38 minutes using a public rapid recharging station.
Charge Anywhere
Plug into any standard power point to charge your Outlander Plug-in Hybrid EV in approximately 9.5 hours, or in 6.5 hours using a home or public charging device (EVSE)
Regenerative Power
In addition to plug-in top ups, your Outlander Plug-in Hybrid EV will continue to generate power during regular driving, whether you're using the electric motor or hybrid petrol engine.

Zero tailpipe emissions in EV mode.
The Outlander Plug-in Hybrid EV has a fully electric range of 84kmO2, more than enough for the average daily commute – meaning that you can go about your day knowing that you're not producing any tailpipe emissions on your commute.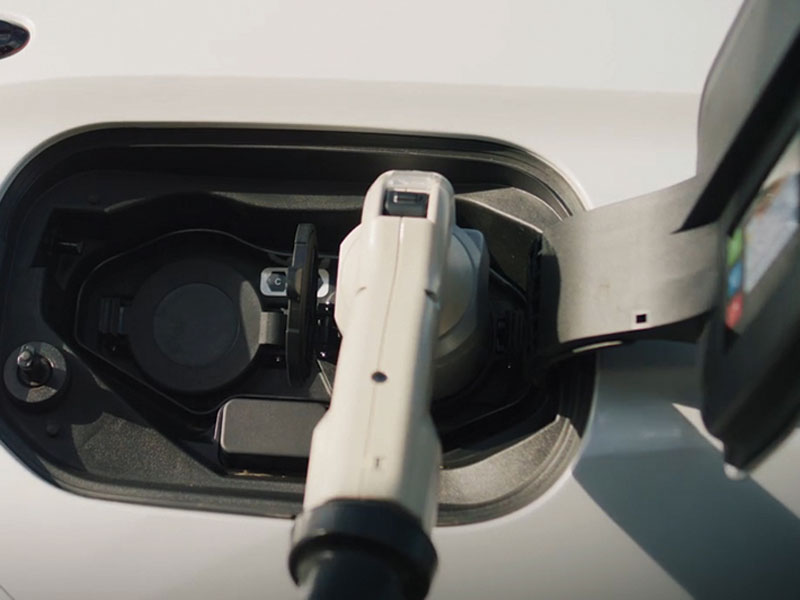 Go off the grid, and feed back into it.
Going solar? Prefer off-peak power prices? Bi-directional charging abilityO3 means you can get the most out of your energy.
When you're not out exploring, the Outlander Plug-in Hybrid EV can act as an additional battery cell for your homeO3. It can draw power from your own solar system, or the grid during low cost hours, and then store that energy on boardO3. During peak times you can draw on power saved in the Outlander Plug-in Hybrid EV's battery and use it for your home, offsetting your electricity bills. Any power you don't use can be fed back into the grid to offset your bills.O3
Power Backup
Using bi-directional charging technology, the Outlander Plug-in Hybrid EV's high capacity battery can power your home for days during an outage or an emergencyO3. Unused energy captured by regenerative braking while driving can also be sold back into the gridO3.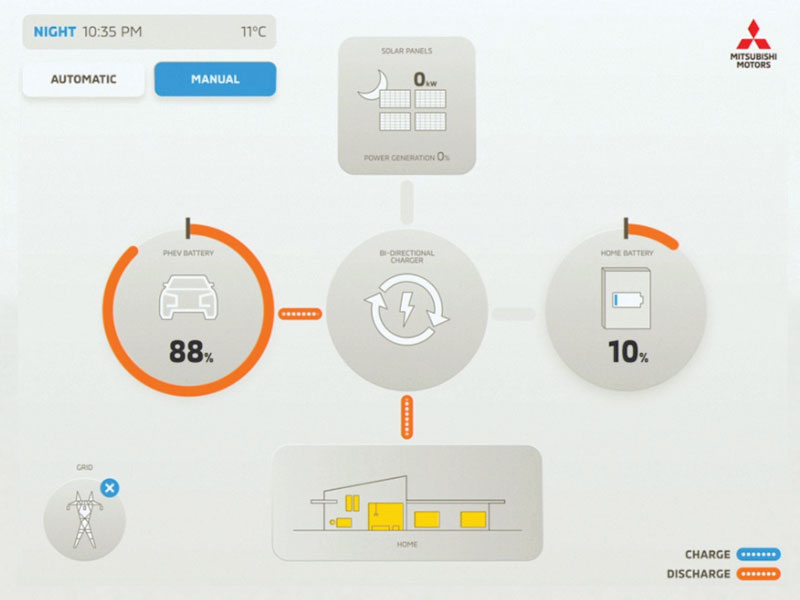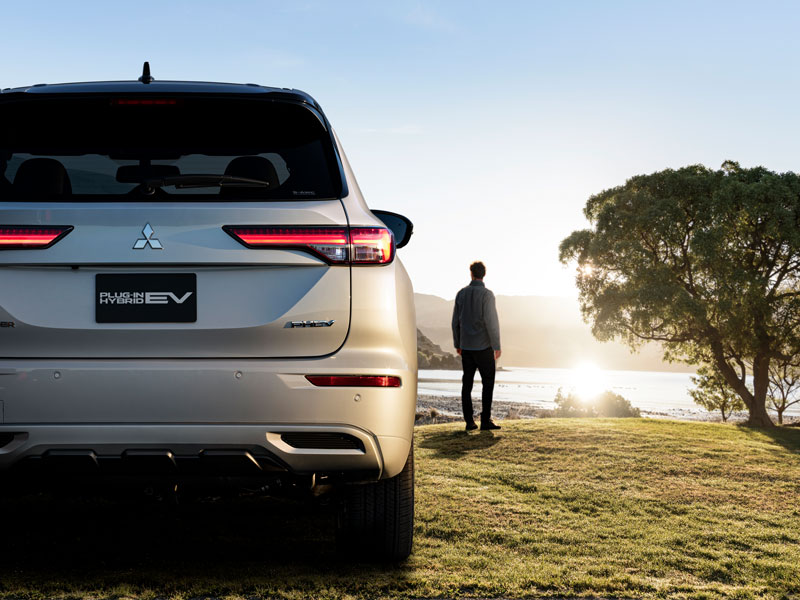 Make your presence known.
The daring and distinct Outlander Plug-in Hybrid EV is no wallflower. It makes a strong, dignified entrance with confident sculpted lines, muscular flared fenders and broad shoulders. It's bold front dynamic shield and streamlined rear spoiler not only turn heads, they also deliver greater performance and aerodynamics.
Steal the limelight.
It's your time to shine. Sharp and slender daytime running lights crown a full LED headlight cluster that's strategically positioned to provide greater visibility across long distances and improved recognition by oncoming vehicles.
Horizontally extended rear LED lights with T-shaped ends delineate the horizon line and highlight the Outlander Plug-in Hybrid EV's distinctive shoulders.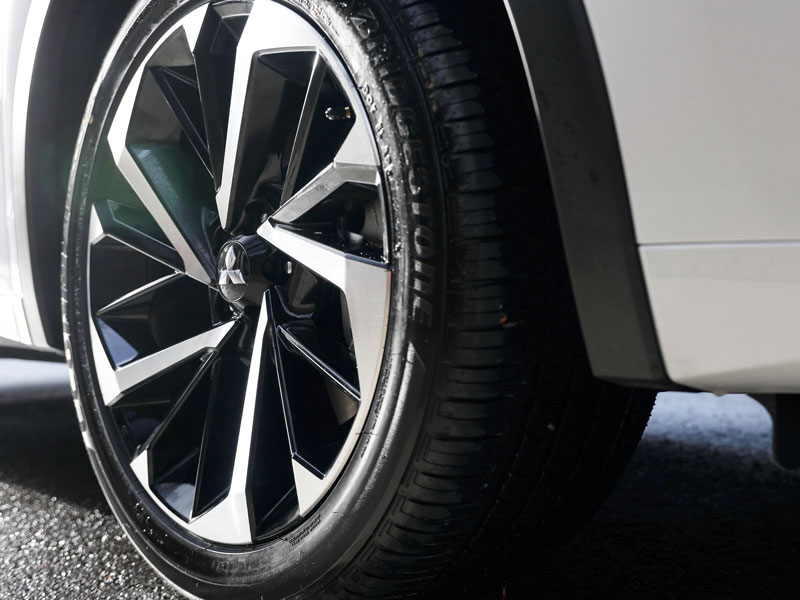 Show them how you roll.
Large diameter, dual tone 20-inch machined alloy wheels bolster the Outlander Plug-in Hybrid EV's Aspire, Exceed and Exceed Tourer's impressive stance.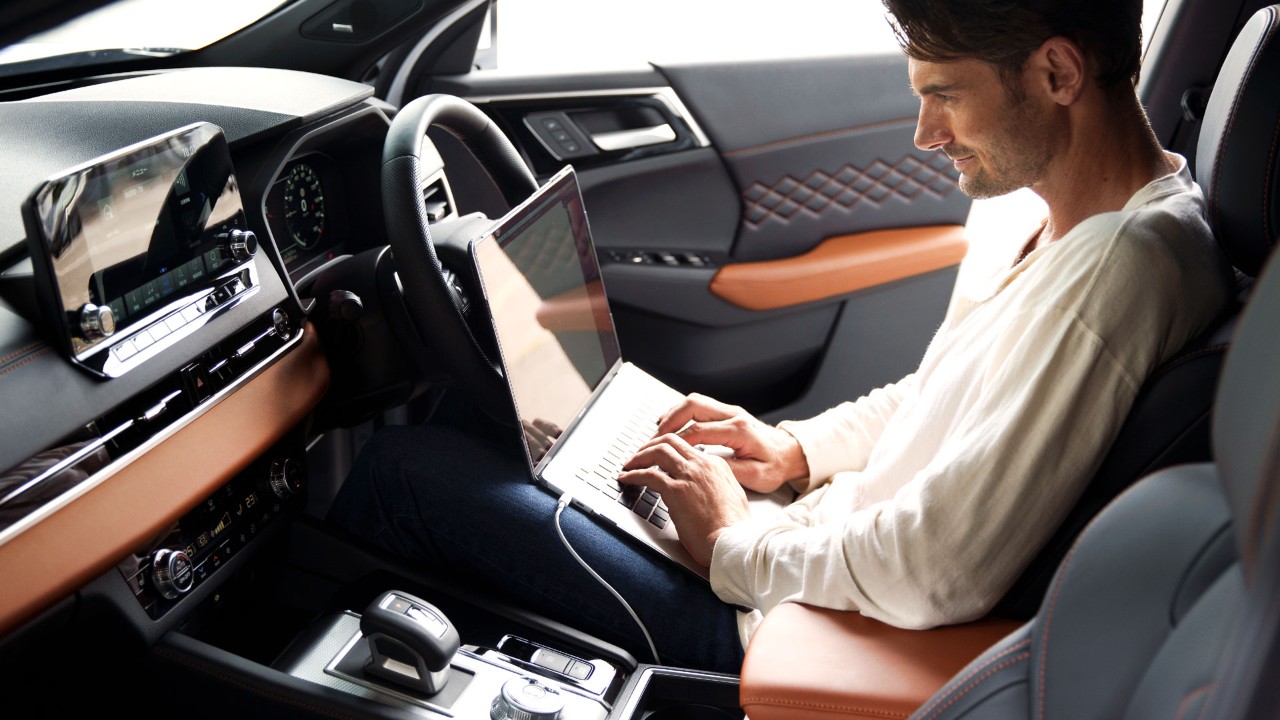 Exceed Tourer Shown
Live life large.
Once you ease into the Outlander Plug-in Hybrid EV's spacious and exceptionally crafted cabin, you'll instantly relax and come out of your shell. Fastidious attention to detail has been paid to every nuance and feature, right down to the knobs and dials.
Ergonomic elegance keeps everything within arm's reach, while a heated multifunction steering wheel keeps you in control.
Contrasting two tone leather trimO15, striking aluminium instrument panel accentsO11 and matt carbon trim make a handsome statement in style.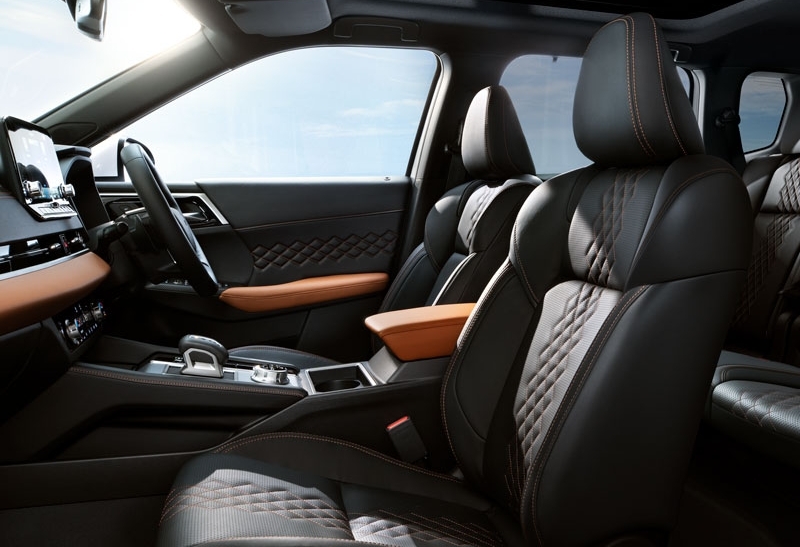 Exceed Tourer Shown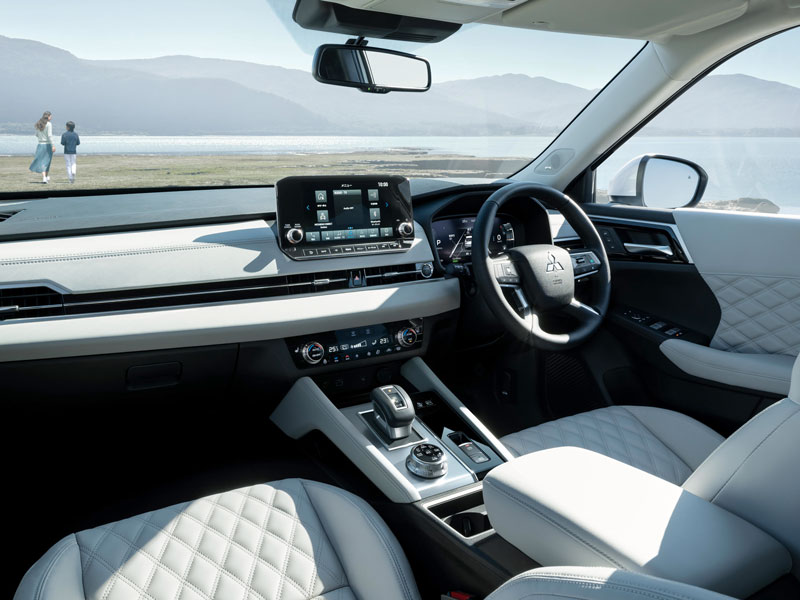 Exceed shown
Own your space.
Sometimes you're the only person you need to impress. The Outlander Plug-in Hybrid EV's superior combination of exquisite craftsmanship and advanced technology will make you comfortable with yourself wherever you are. An 8-way power adjustable driver seatO10 can be customised and memorised to embrace any body and height.
Double stitched quilted leather upholsteryO11 coalesces with embedded comfort features including a massage functionO15 in both front seats, so you always arrive relaxed. Heated front seatsO11 provide welcome winter warmth, while independent multi-zone climate control allows everyone to create their own personal oasis year round.
Welcome to the fold.
Change things up. With 5+2 seat flexibility, there's always ample room for busy weeks and even bigger weekends away. All seats can recline for added comfort, while the slide adjustable 40:20:40 split second row and rear third row can fold fully forward to create a multitude of versatile passenger and cargo configurations. All rear seats can lie flat to create a capacious luggage area and up to 2000 litres of cargo space.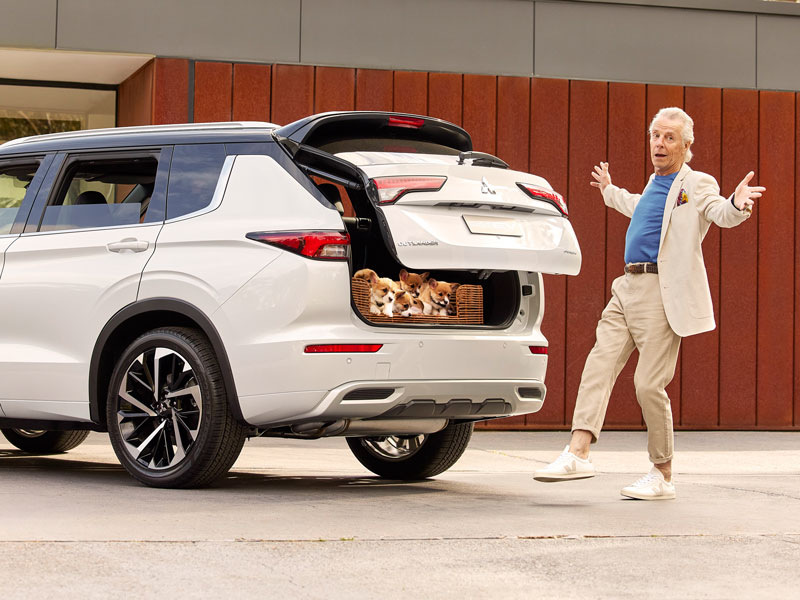 Flaunt that auto tailgate.
Live it up without lifting it up. As outrageously convenient as it is impressive, the Outlander Plug-in Hybrid EV's automatic rear tailgateO11 can be opened simply by placing a foot under its rear bumper. Its lift height is adjustable to prevent contact with low garage doors and ceilings, while a wider rear frame and deeper cavity easily accommodate bulky luggage and equipment.
Always open minded.
The Outlander Plug-in Hybrid EV's large and wide panoramic sunroofO11 goes above and beyond. One touch tilt and slide operation opens up the interior cabin to the great outdoors, creating an even greater sense of vast, natural space.
Accessories
Make your mark.
Add a personal touch and make the Outlander Plug-in Hybrid EV truly your own. Mitsubishi genuine accessories and packs let you tailor your ride inside and out, making it as individual as you.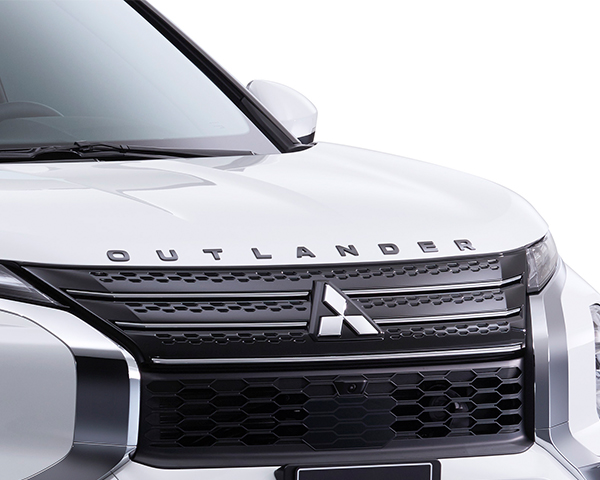 Bonnet Emblem
A distinctive accessory giving a bold stand out factor to your vehicle. Fits well with the other black trim accessories available for your vehicle like nudge bar, side mirror covers and door handle covers.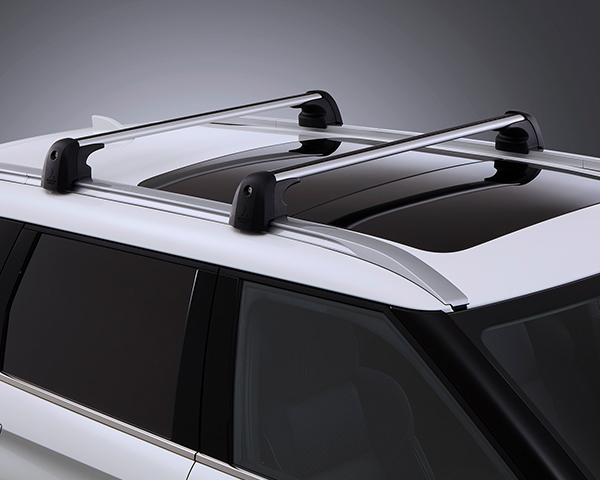 Roof Racks
These roof rack cross bars fit to your vehicle's roof rails and are engineered to the highest standards. They are perfectly suited to a range of applications, allowing you attach various carriers to your roof.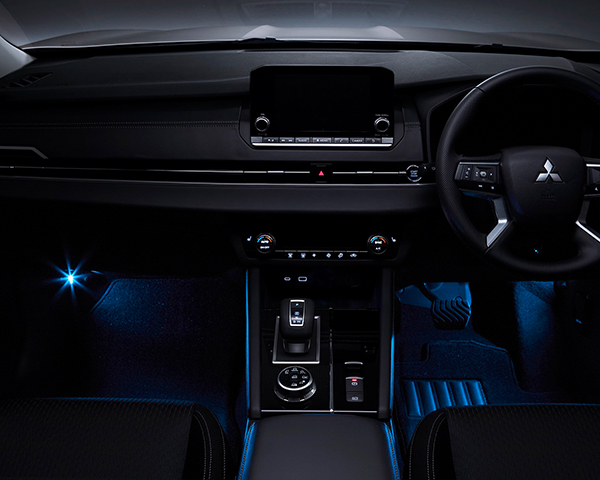 Interior Floor Illumination
Blue LED lighting gently illuminates the interior floor for a high-tech look.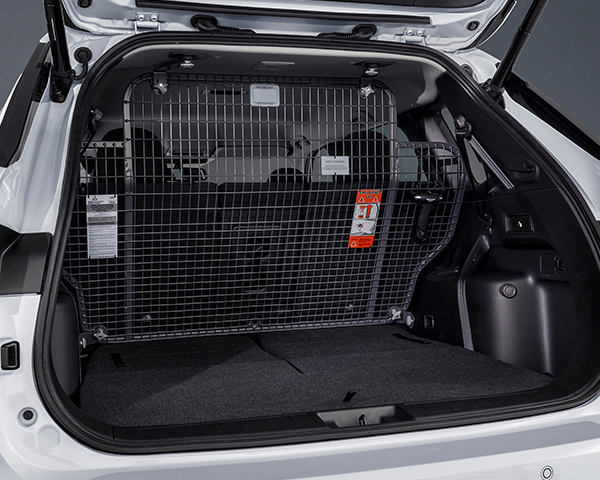 Cargo Barrier
This practical accessory has been engineered to withstand the severe impact of a loose projectile that may be thrown forward in the event of strong braking or an accident. These loose items may in certain situations become missiles that can cause severe injury to the vehicle occupants. Made from impact resistant steel, it has also been designed to provide a safe exit from the Cargo Area to avoid entrapment and includes an integrated glass breaker.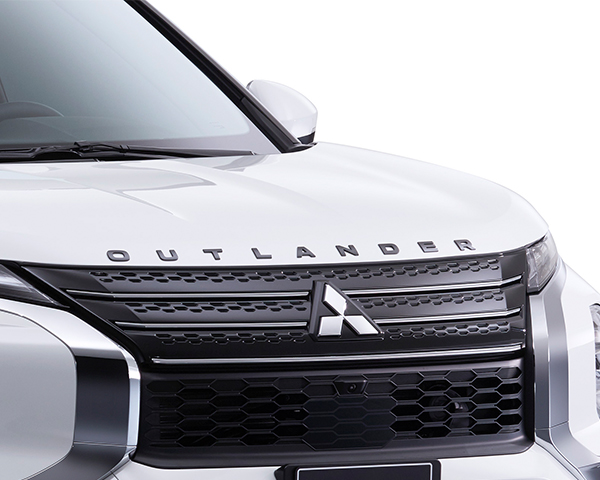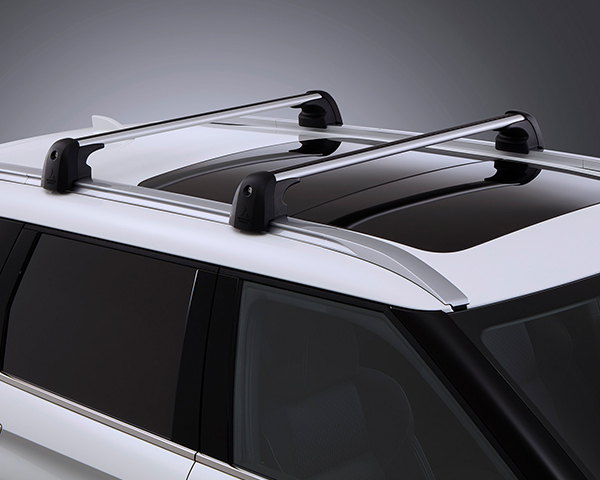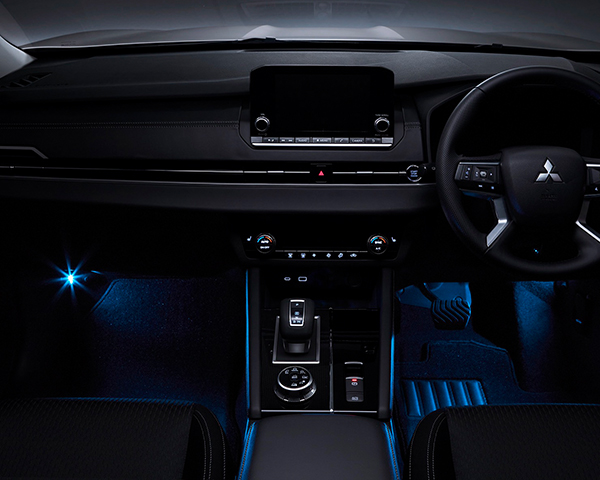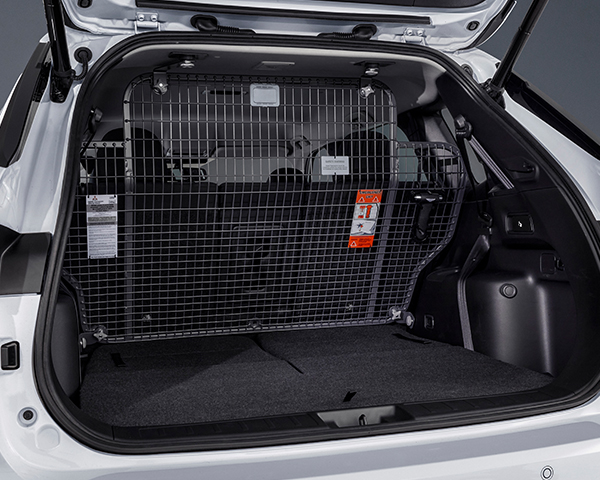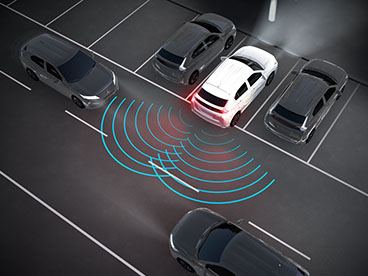 Rear Cross Traffic Alert
Mitsubishi's Rear Cross Traffic AlertO10 system helps detect approaching vehicles when reversing. It alerts you via a buzzer sound, and an indicator light appearing in the combination meter and blinking light in the side-door mirror.
Rear Automatic Emergency Braking
Rear Automatic Emergency BrakingO10 system uses the rear parking sensors to detect obstacles behind the vehicle. If a risk of a collision with an obstacle is detected, audible and visual warnings are given and the system will automatically apply the brakes. Operates when vehicle is in reverse at speeds below 15km/h.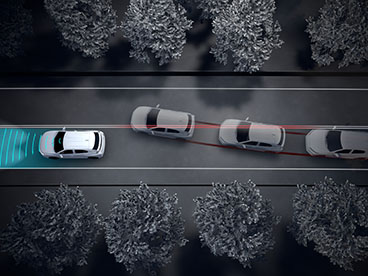 Lane Departure Warning
Mitsubishi's Lane Departure Warning uses a camera to issue an audible alert if your vehicle drifts from its lane while the turn signals are not operating. The system operates at speeds above 60km/h, and will vibrate the steering wheel and flash the lane departure warning light.
Lane Departure Prevention
Lane Departure Prevention uses front camera to issue an alert if the vehicle drifts from its lane while turn signals are not operating. The system operates at speeds above 60km/h, and will vibrate the steering wheel and flash lane departure warning light. The vehicle will also apply the brakes on one side to help return the vehicle to the centre of the travelling lane.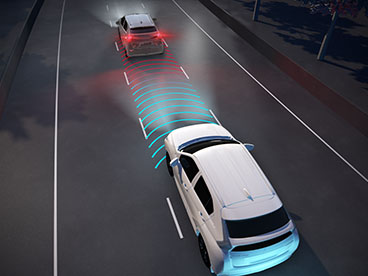 Forward Collision Mitigation
Mitsubishi's Forward Collision MitigationO13 system with pedestrian detection, cyclist detection and junction assist detects obstructions ahead and issues a visual and audible alert when there is a danger of collision, automatically applying the brakes to avoid collision or reduce impact.
Blind Spot Warning & Lane Change Alert
Mitsubishi's Blind Spot Warning and Lane Change AlertO14 helps you change lanes with confidence.
The Lane Change Alert system sounds an audible alert and displays a blinking warning in the door mirror when the system detects a high collision probability with a vehicle coming from behind moving in the same direction within 3.5m from your vehicle's side or 70m from its rear bumper.
Rear View Camera
The Rear View Camera system automatically shows a rear view of the vehicle when the selector lever is placed in the 'R' position. The rear view image is displayed on the Smartphone-link Display Audio screen, and includes predictive guidelines based on steering wheel position.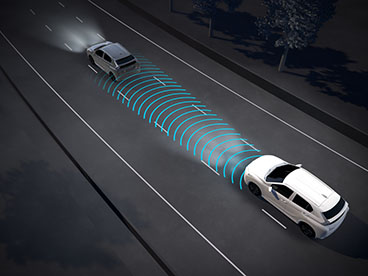 Adaptive Cruise Control
Mitsubishi's Adaptive Cruise Control uses radar technology to detect any cars in the lane ahead and adjusts the speed of your car accordingly while maintaining a safe distance set by you.
Driver Attention Alert
Driver Attention Alert system monitors driving style and steering behaviour over a period of time, detecting changes to normal driving pattern. When the system detects that driver attention has deteriorated, audible and visual warnings are signalled to the driver suggesting 'take a break'.
Traffic Sign Recognition
Traffic Sign Recognition uses front camera to read speed limit signs and display the most recently recognised value in the multi-information display, and in the head-up display if equipped. If the vehicle exceeds the displayed speed limit value, the displayed value will begin to blink to warn the driver.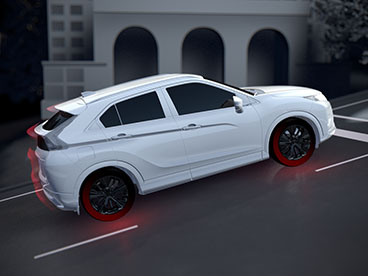 Hill Start Assist
Steep city streets or congested shopping mall ramps are no longer a problem with Mitsubishi's Hill Start Assist technology. It prevents the car from rolling backwards by maintaining braking force to give you time to move your foot from brake to accelerator.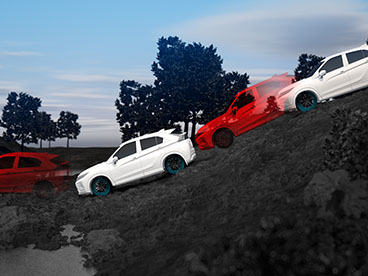 Hill Descent Control
Drive downhill safely with peace of mind.
Hill Descent Control automatically applies the brakes when travelling downhill to maintain vehicle speed so you can focus on steering.
Emergency Lane Assist
Emergency Lane Assist uses the front camera to detect the road edge and lane markings, and front radar to detect vehicles approaching from the front, while simultaneously using the rear side radar sensors to detect vehicles approaching from the rear. Operating at speeds above 60km/h the steering wheel will vibrate and the land departure warning light will flash when activated.
Predictive Forward Collision Warning
Predictive Forward Collision WarningO13 uses the front radar to detect sudden braking of the vehicle traveling ahead of the vehicle directly in front. The system operates at speeds above 5km/h and will flash a warning light and sound an audible alert.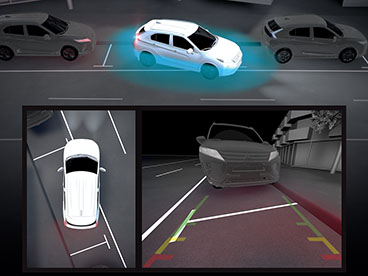 Multi Around Monitor
Mitsubishi's Multi Around MonitorO10 provides a 360o birds-eye view of your car. The view from cameras mounted on the front, rear and sides of the vehicle (including birds-eye view) can be displayed in various combinations to reveal what is in blind spots and help you park more safely.
MI-PILOT
MI-PILOTO11 adds extra functionality to Adaptive Cruise Control with features such as Lane Keep AssistO16 to keep the vehicle near the centre of the lane; Traffic Jam Assist which allows Adaptive Cruise Control to automatically reengage after coming to a complete stop within a short time period; and Speed Limit Assist using Traffic Sign Recognition which prompts automatic adjustment to new speed zones with a one-touch acceptance/activation when using Adaptive Cruise Control.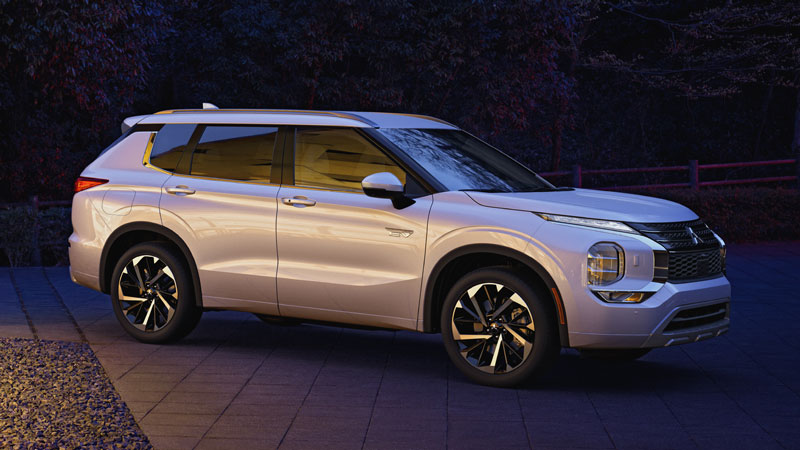 Mitsubishi Motors
Intuitive Technology
Mitsubishi Motors Intuitive Technology or MiTEC O12, is an integrated system of brilliant innovations in action, working in unison to guide and protect, alert and connect, even entertain. It thinks like you, reacts like you, before you even know it.
MiTEC delivers unsurpassed safety and next generation features to the modern-day driver. These significant safety features coupled with Mitsubishi's Reinforced Impact Safety Evolution (RISE) body means you can rest assured you're driving one of the safest cars on the road.
Forge your own path
Outlander's Super-All Wheel Control system integrates Mitsubishi's revolutionary rally bred full-time, 4WD based technology. Featuring direct coupling with quick torque response, it optimises speed and braking force at each wheel to deliver more power, better cornering and greater stability wherever you are.
Forge your own path with seven available drive modes giving you the freedom to drive on all kinds of terrains, in almost all conditions.
Power Mode
Delivers the fastest acceleration response for overtaking.
Normal mode
Optimal performance for everyday use.
Eco Mode
Provides ecological and economic driving.
Tarmac Mode
For agile and fun driving on dry sealed surfaces.
Gravel Mode
Superior handling on loose road surfaces for maximum control.
Snow Mode
Enhances stability on slippery or icy road conditions.
Mud Mode
Provides powerful all wheel driving in muddy conditions.
Performance on every stage.
Whether you're using electric, hybrid or a combination of both, on-demand performance is always at hand.
The Outlander Plug-in Hybrid EV is equipped with a lively 4-cylinder 2.4L hybrid petrol engine for greater fuel economy and range. When engaged, it can drive the front wheels and supply any excess electricity generated back into the lithium-ion battery pack.
Pace and prowess when you need it, power in reserve when you don't.
Out and about. In the know.
A high resolution widescreen 12.3 inch full digital driver display continuously updates the status of your Outlander and can be customised to showcase navigation, Super-All Wheel Control information, audio entertainment options, and many more important details.
The transparent driver's 10.8 inch head up displayO10 can be configured to provide additional information in clear view of the road ahead.
March to the beat of your own playlists.
Go loud and proud. Sound insulating double pane windows and windshields ensure silence is golden, so you can hear every note played through the Outlander Plug-in Hybrid EV's incredible nine speaker Bose sound systemO11.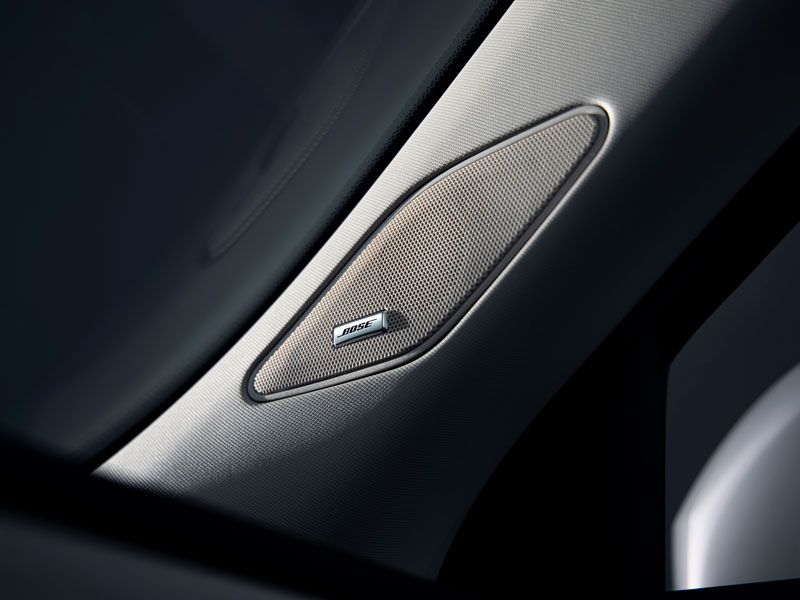 Well Connected.
The show always goes on with complete Apple CarPlay and Android Auto connectivity. Wireless smartphone chargingO10 means the entertainment or handsfree conversations never have to stop.
Interested in Outlander Plug-in Hybrid EV?
Back yourself with the ultimate in Customer Care.
We're here for the long run. That's why Mitsubishi offers Australia's only 10 Year New Car Warranty with 10 Years Capped Price Servicing. It's a guarantee of the integrity and service standards that set us apart from other automotive manufacturers. The Mitsubishi Diamond Advantage program is our commitment to you for complete peace of mind. Every Mitsubishi is built and backed for the time of your life. You can count on it.
10 Year New Car Warranty ⋄1
10 Years Capped Price Servicing ⋄2

Genuine Servicing

12 Months Roadside Assist ⋄3
O1

Based on sample vehicle tested in accordance with ADR 81/02. Actual results will vary depending on traffic conditions, vehicle condition and driving style. Lithium-ion cells degrade over time, and any decrease in battery capacity will reduce electric range.
O2

Based on sample vehicle tested in accordance with ADR 81/02. Actual results will vary depending on traffic conditions, vehicle condition and driving style. Lithium-ion cells degrade over time, and any decrease in battery capacity will reduce electric range.

Plug-in Hybrid Competitors:

MG HS+ EV 63km - NEDC
KIA Niro 58km - NEDC
Hyundai IONIQ 63km - NEDC
Ford Escape - 69km NEDC
Kia Sorento 68km - NEDC
Outlander Plug-in Hybrid EV – 84km NEDC 
O3

With an approved Bi-directional EVSE, sold separately to the vehicle.
O10

Not available on ES models
O11

Exceed & Exceed Tourer only
O12

Please drive safely and never rely solely on these systems while driving. Drivers are fully responsible for their own safe driving.
O13

The detection and control capabilities of FCM are supplementary only and do not prevent collisions in every situation. Please read the operation manual carefully and be aware of these limitations.
O14

The detection and control capabilities of BSW and LCA are supplementary only and do not warn you of vehicles in blind spots in every situation. BSW and LCA may not activate in some situations.
O15

Exceed Tourer model only
O16

The Lane Keep Assist (LKA) is not a replacement for proper driving procedures and is not designed to correct careless, inattentive or absentminded driving. The Lane Keep Assist (LKA) will not always steer the vehicle to keep it in the lane. It is not designed to prevent loss of control. It is the driver's responsibility to stay alert, drive safely, keep the vehicle in the travelling lane, and be in control of the vehicle at all times.
⋄1

Up to 10 years from the date of first registration or 200,000 km New Vehicle Warranty (whichever comes first) when all regular services are completed within the specified service intervals at a Mitsubishi Dealership. Otherwise, 5 years from the date of first registration or 100,000 km New Vehicle Warranty (whichever comes first) applies. Service conditions apply. Excludes Plug-in Hybrid EV drive batteries, which are warranted for 8 years / 160,000kms from the date of first registration.
⋄2

10 Year/150,000km Capped Price Servicing (whichever occurs first). Includes the first 10 regular services (at 15,000km/12 month scheduled intervals). Some items excluded or subject to separate warranty. PHEV main power (traction) battery is warranted for 8 years or 160,000km (whichever occurs first). Any non-regular service/repair items are at an additional cost. Servicing must be completed by an authorised Mitsubishi Motors Dealer within 2,000kms or 2 months of the service due date. Valid from date of vehicle registration. Some customers are excluded such as government, taxis, rentals and selected national business.
⋄3

1 year Roadside Assist. Your initial 12 month Roadside Assist will be extended for a period of 12 months from the date of the most recent eligible Capped Price Service for that vehicle performed at an authorised Mitsubishi dealer. Roadside Assist, if extended in accordance with these items, is available for a maximum of up to 4 years. Conditions apply.