Written by Josh Bennis
During winter it's hard to find a place that's more picturesque than the Kosciuszko National Park, NSW, which is why we chose it as our destination to go for a drive in the new Pajero Sport.
As the Pajero Sport comes with Mud/Snow mode we thought what other reason do you need to take Mitsubishi's newest, smartest four-wheel drive to the snow?
Heading south, exiting Sydney, our target location was Guthega; a small ski village located in the Kosciuszko National Park. The drive there takes you through some very cool countryside (literally), with lots of little towns along the way.
We stopped into Adaminaby to scope out the local tucker, and to our surprise the pies, coffee and chocolate caramel eclairs at the local bakery were absolutely on point. After stopping in Jindabyne for another quick bite and a cup of coffee we headed up to the entry to the national park. While driving up the long and winding road to Guthega we flicked over to 4H (on the fly) to initiate full time 4WD – always a good precaution where the road might be icy. All of the photos featured are from the beginning of the Kosciuszko National Park to the Guthega village.
When we got to Guthega things couldn't have been more 'white' or picture perfect. Snow isn't something we're treated with regularly in Australia unless you head up to one of the few snowfields on offer. Note: if you've never been to the Kosciuszko National Park in winter, do yourself a favour and get there.
Just before the entry to Guthega village patches of the road and roadsides were covered in snow, which was the perfect chance to give Mud/Snow mode a run. Switching through the driving modes was easy; all we did was come to a complete stop, flick the rotary selector dial into 4LLc, which means low range four-wheel drive, and then changed to drive mode to Mud/Snow mode, which helps to maximise grip by telling the traction control system what type of terrain you're driving on.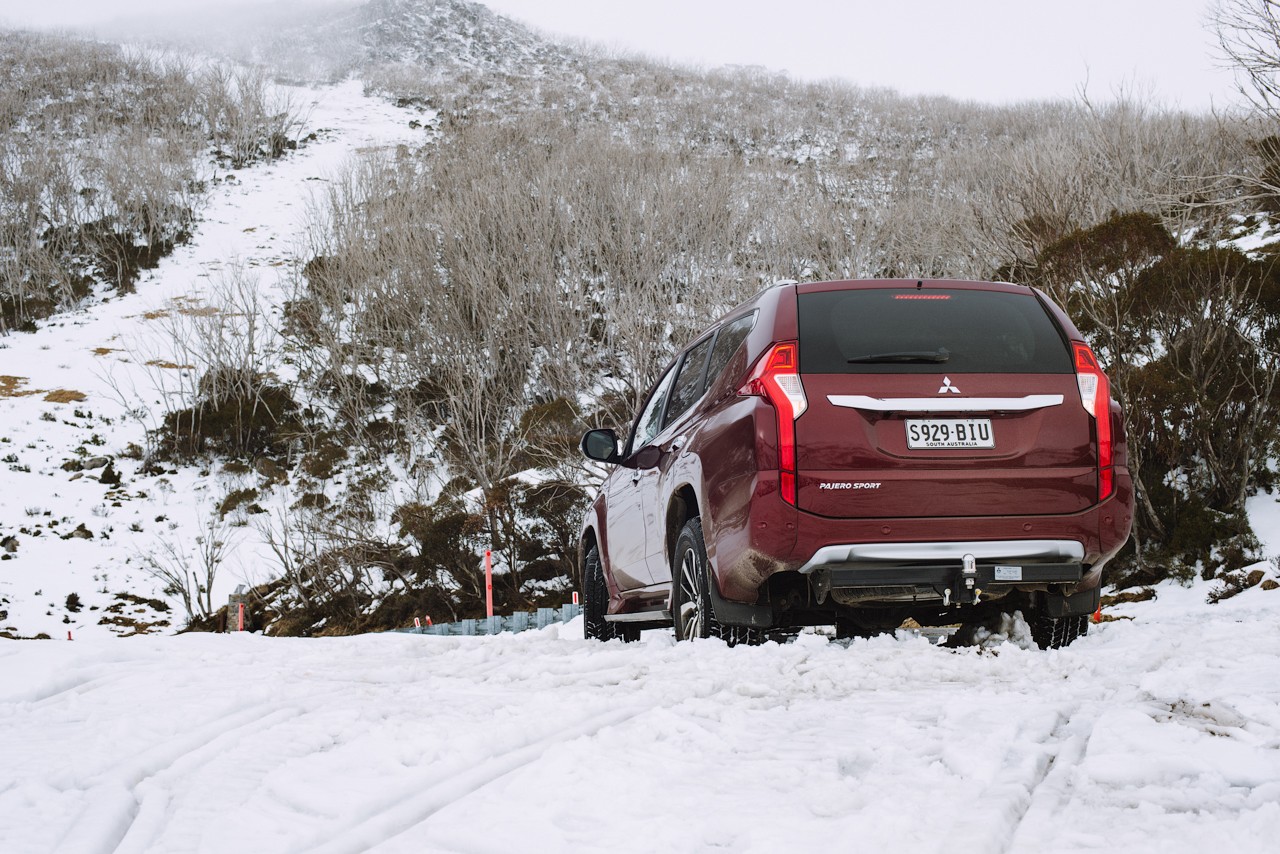 On reading up about the Pajero Sport, it's no wonder it was a more-than-ideal vehicle for the conditions. Up front it's fitted with the latest generation 2.4-litre turbo-diesel, which features a variable geometry turbo as well as MIVEC valve train technology. It's the most efficient turbo-diesel SUV Mitsubishi has ever sold in Australia, using just 8L/100km for the combined cycle and featuring 133kW and 430Nm. And the newly introduced eight-speed automatic does its job perfectly; offering the perfect balance of smoothness and intuitiveness to allow you to get the most out of the turbocharged diesel engine.
In size, it compares to the PC Challenger, but to look at the new Pajero Sport is a much smarter vehicle inside and out. Initial drive impressions were very good, with the Pajero Sport feeling a lot more comfortable – less industrial, entertaining and sure-footed to drive than its predecessor. And that's saying something because the PC Challenger was a good SUV.
Having been to the snow in various types of vehicles before, being confident in your car's ability in these types of conditions is paramount. And for the Pajero Sport, well, it was all in a day's work.
Disclaimer: Content is correct at date of publishing. Vehicle related content in this article refers to 16MY Mitsubishi Pajero Sport.