Production and supply of this model is currently affected by high demand and a global parts shortage, so additional wait times may apply.
Please contact your local Mitsubishi Dealership for further information on availability.
OVERVIEW
A new generation of SUV
You don't need to change your life to drive an Outlander PHEV, but it will change your life. Outlander PHEV (Plug-In Hybrid Electric Vehicle) combines premium features and finishes, quiet, dynamic performance, exceptional efficiency and low emissions for a superior driving experience. With 700km range and incredible 1.7l/100km fuel economy, Outlander PHEV is the innovative hybrid SUV for tomorrow that's aligns with your purpose today.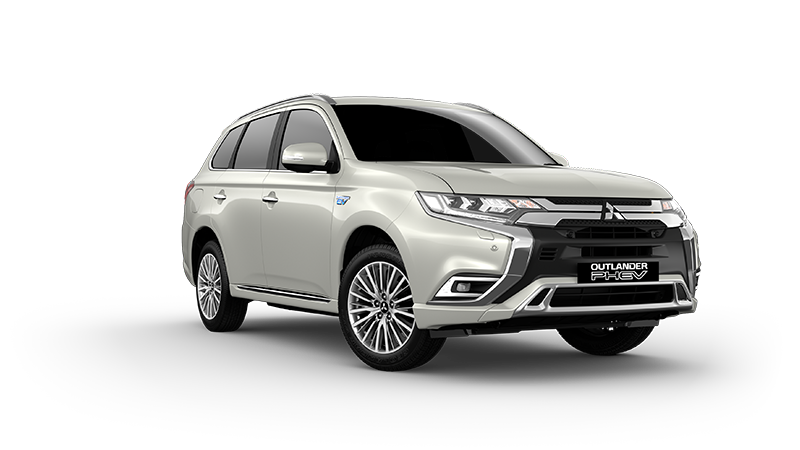 Next generation
technology
Economy

Plug-in Hybrid Electric Technology

Safety

Advanced MiTEC technology

MMBA

Mitsubishi Motors Business Advantage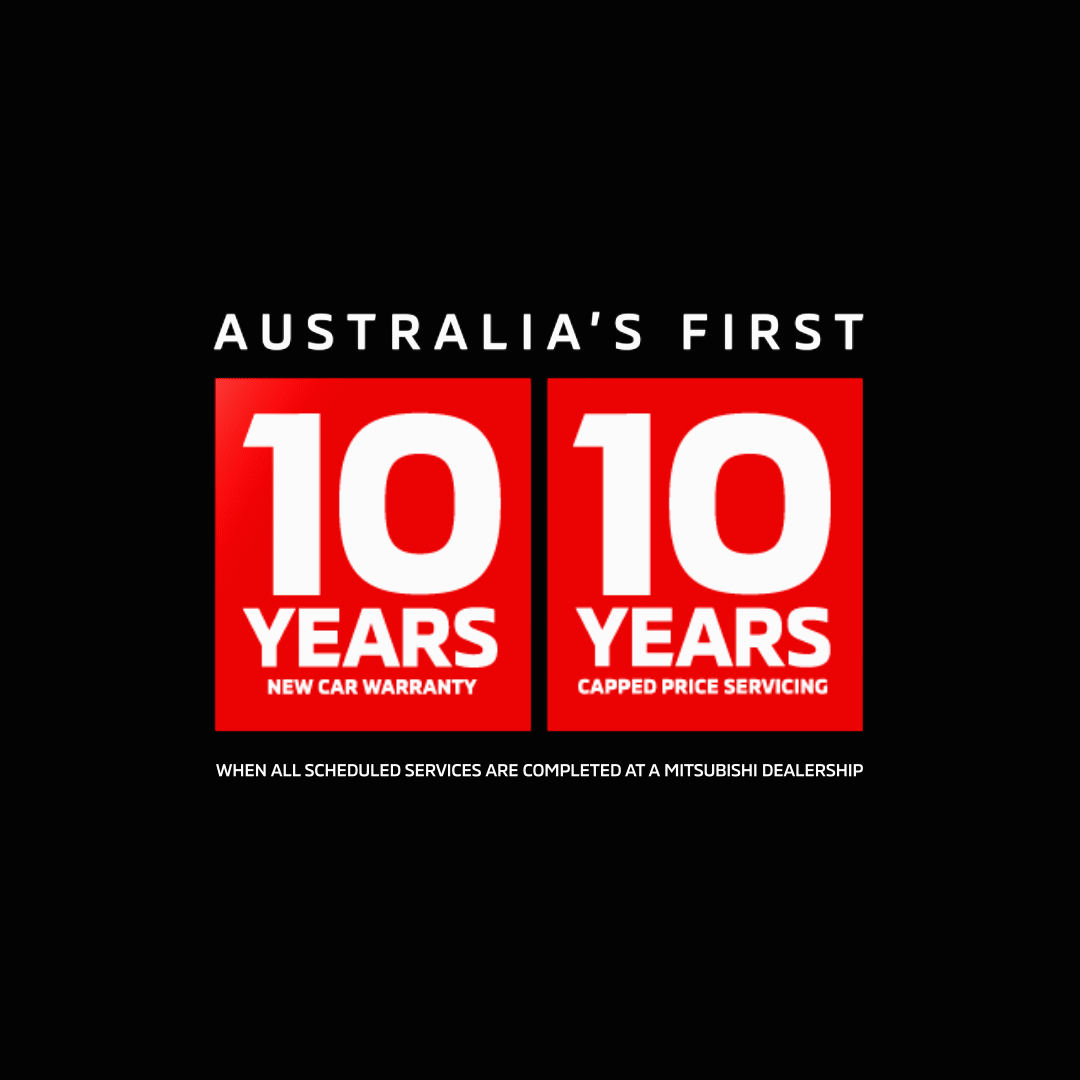 MITSUBISHI DIAMOND ADVANTAGE
Built And Backed For
Your Business
Australia's first 10 Year New Car Warranty and 10 Year Capped Price Servicing is both a symbol of our integrity and a service standard that sets us apart from other automotive manufacturers. The Mitsubishi Diamond Advantage program is our commitment to you and your business, to ensure complete peace of mind, so you can spend more time on the road working with customers.
10 Year New Car Warranty⋄1
10 Year Capped Price Servicing⋄2
Genuine Servicing, Parts and Accessories
Inspection and Maintenance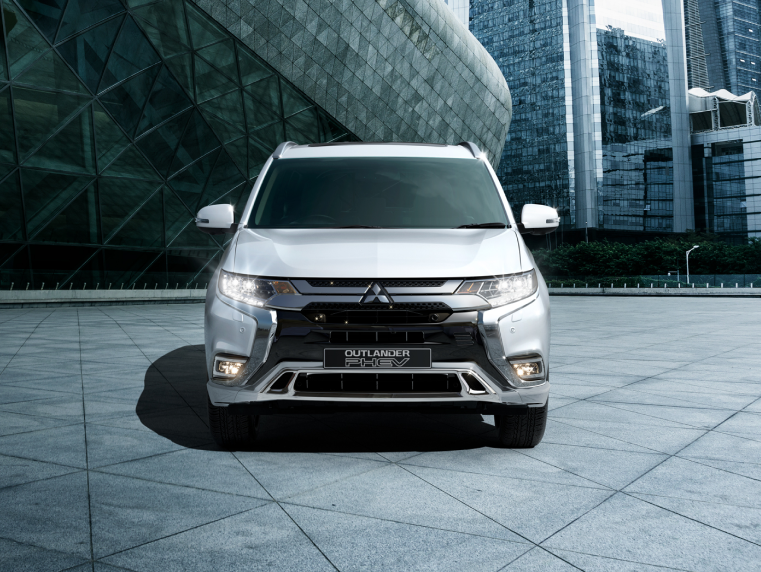 TECHNOLOGY
Plug-in Hybrid

Electric Technology
Outlander PHEV has twin electric motors and an efficient MIVEC petrol engine that work together intelligently to give you remarkable economy, with the complete peace of mind of long-range capability. The innovative technology switches seamlessly between three drive modes to deliver optimum performance – dynamically and environmentally. The result is an exemplary blend of luxurious smoothness, potent performance, ease of use and everyday practicality.
PERFORMANCE

Two powerful

electric motors
Enjoy a new kind of driving experience in the world's first plug-in hybrid SUV. Outlander PHEV's powerful electric motors work with the economical petrol engine, responding to your driving style and the road conditions to optimise performance and efficiency. Separate motors drive the front and rear axles for AWD traction and S-AWC (Super All Wheel Control) for poised, confident handling and responsiveness.Outlander PHEV can drive using the electric motors alone, with the petrol engine able to keep the batteries charged as well as driving the wheels when maximum power is called for.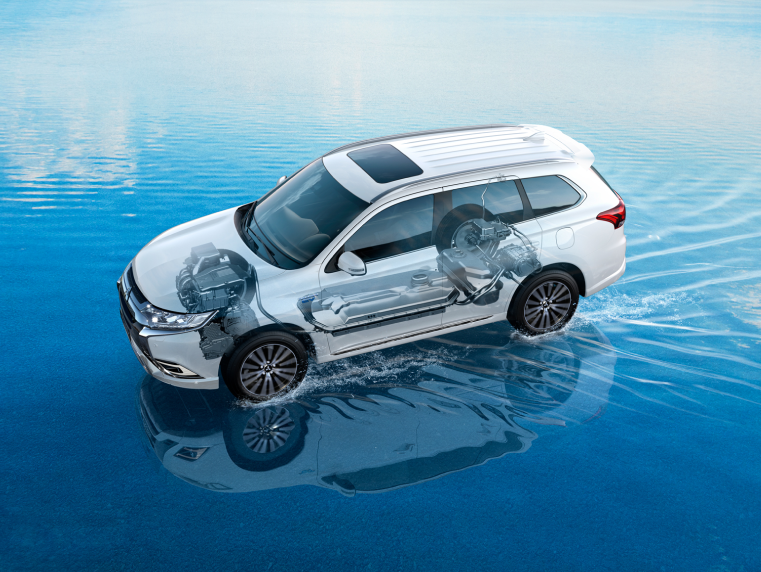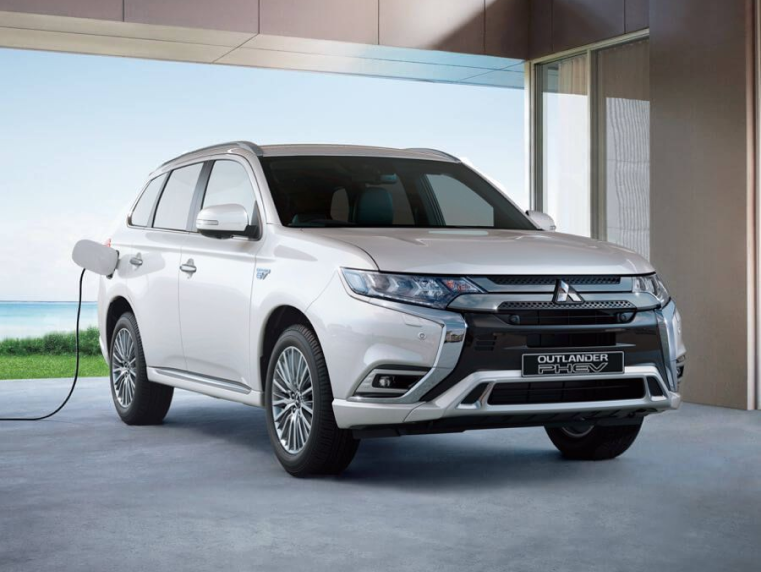 Charging
the Outlander PHEV
Outlander PHEV can operate as a zero emissions electric vehicle (EV) with a range of up to 54 kilometres using the electric motors alone. Charging the lithium ion batteries uses just 9.8kWh of electricity, which can take as little as 30 minutes using a fast charger. Plug it in to a domestic power point overnight for off-peak power bills that are a fraction of the equivalent petrol or diesel fuel usage. For short journeys and stop start urban driving, an EV delivers low running costs with the total confidence of the petrol engine's charging ability if battery levels get low.
Outlander Full Charge: The amount of energy required to charge will vary and is affected by a number of factors, including ambient temperature and the traction battery's current state of charge.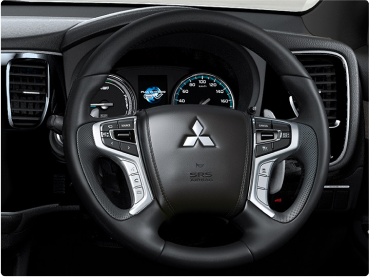 Regenerative Braking
Outlander PHEV harnesses the vehicle's kinetic energy when the brakes are applied, recharging the battery with energy that would otherwise be wasted. Every time you lift your foot off the accelerator, the electric motors start to function as generators, feeding power back to the batteries. Regenerative braking can be adjusted to suit your driving style and traffic conditions, with steering wheel-mounted paddle shifters selecting between 6 levels04 of braking strength.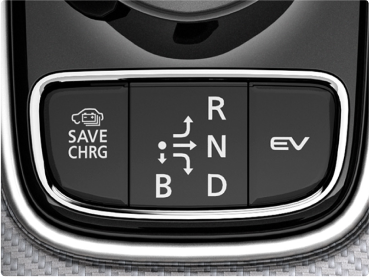 Charge & Save
You can choose how and when the battery is used with the touch of a button. When the engine is engaged, the Battery Charge mode continuously charges the battery. In Battery Save mode the engine will maintain the charge you have, allowing you to save the battery charge for later. Or select EV Priority mode for fully electric driving, with the petrol engine only kicking in when battery levels get low or when maximum power is called for.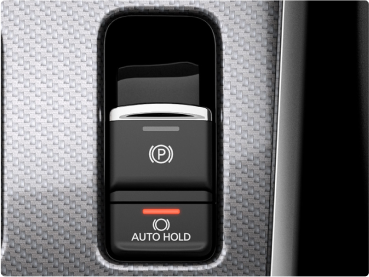 Electric Park Brake and Brake Auto Hold
Apply and release the park brake with a simple switch on the centre console. The Brake Auto Hold function holds Outlander PHEV in place when stationary, so there's no need to keep your foot on the brake when stopped in traffic.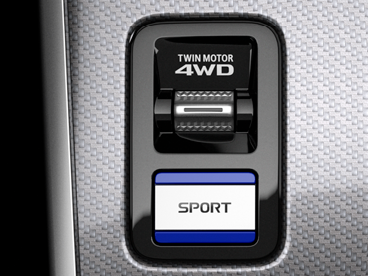 On Demand AWD
Maximise traction on slippery surfaces with the 4WD Lock button. This works in a similar way to locking the centre differential on a conventional AWD vehicle, sending torque equally to all four wheels for enhanced traction and stability.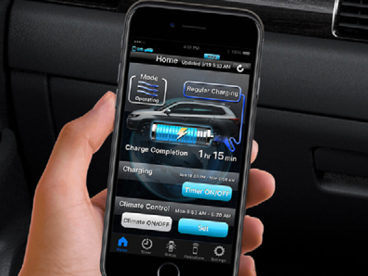 EV Remote
Outlander PHEV Exceed gives you control and oversight of your vehicle through your smartphone05. The remote control app connects via Bluetooth® and allows you to monitor the remaining charge time, control the charging timer settings, check the alarm, turn the headlights on and off, all with your fingertips. You can even and even turn on the heater or air conditioning or set it for later, perfect for those brisk early morning starts.
Complete Control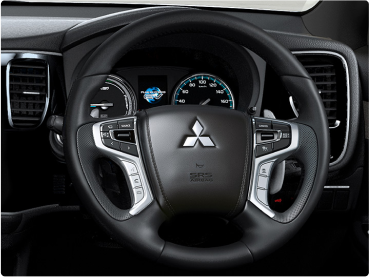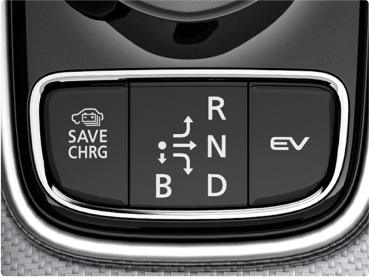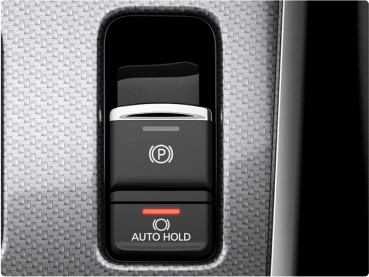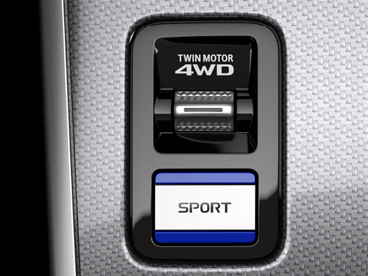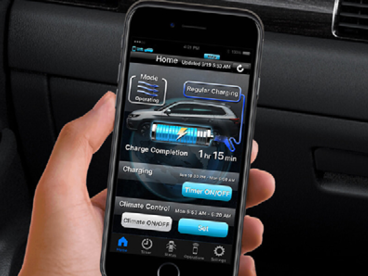 Interior
Outlander PHEV's interior is elegant and luxurious, with premium finishes and generous head and legroom for colleagues and clients in the front and rear seats. The rear seats fold down for carrying larger loads, which is easy with the power tailgate that opens and closes with a touch of your Smart KeyO6. Mounting the lithium ion battery under the floor allows for a roomy cabin and lowers the centre of gravity for optimum handling.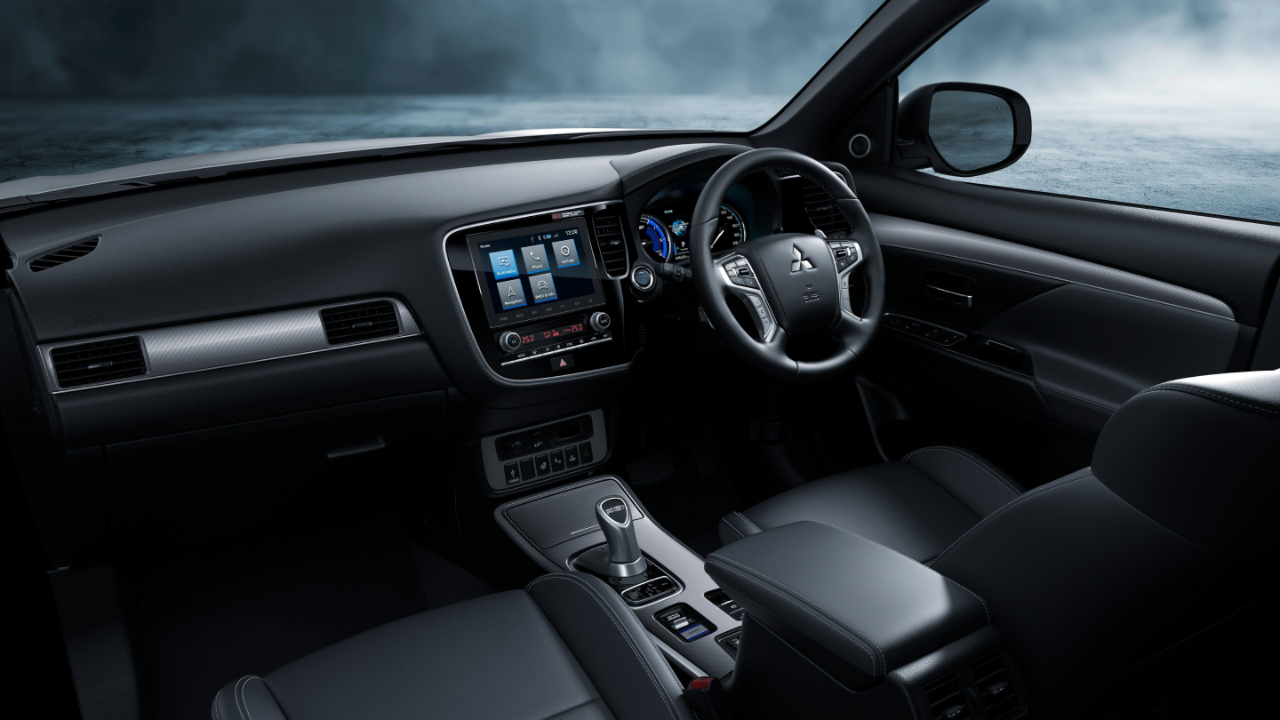 Clever connectivity
Outlander PHEV's 8" touchscreen is the centre of your mobile office. Mitsubishi's Smartphone link Display Audio (SDA)K6 technology links with your phone via Android Auto™ K11 or Apple CarPlay K12. Access your smartphone's compatible apps to stay in touch with voice calls and messages, find your way to your next meeting and stream your soundtrack from any source including DAB radio.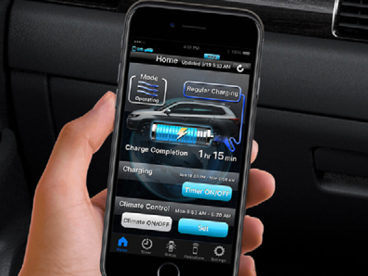 Techonology at your fingertips
The premium leather four-spoke steering wheel features paddle shifts to control the regenerative braking, as well as Bluetooth® phone connectivity, speed limiter, audio and cruise control switches for convenience and safety.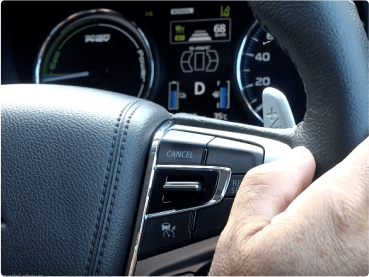 Adaptive Cruise Control (ACC)
Mitsubishi Motors' Adaptive Cruise Control uses radar technology to detect any cars in the lane ahead and adjusts the speed of your car accordingly while maintaining a safe distance set by you.
Never rely solely on this system, it may not activate in some situations and may be unable to decelerate sufficiently if the vehicle in front brakes suddenly or if another vehicle cuts into your path. Refer to the user manual.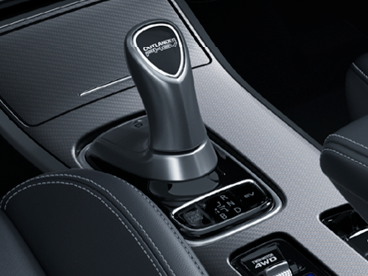 Joystick selector
The gearshift selector always returns to the centre position like a joystick. The D-position provides pleasant driving performance in accordance with acceleration pedal operation. The B-position increases regenerative braking and provides two strength settings.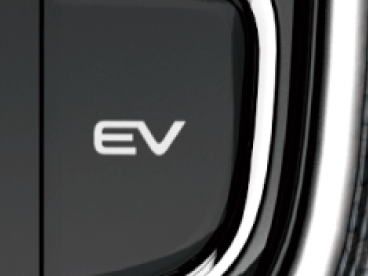 EV priority switch
The EV Priority switch lets you select electric-only driving, so your Outlander PHEV operates solely on electric power. The petrol engine will start automatically if the battery's charge drops to a low level or if your driving calls for maximum power.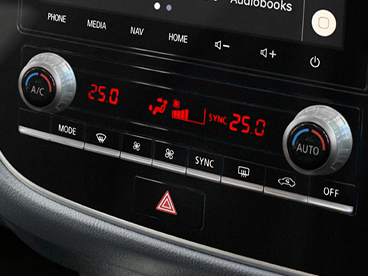 A friendly climate
The driver and front passenger in all Outlander PHEV can each set their own ideal temperature using the automatic dual zone climate control. Passengers in the rear have their own air vents with cooler, ensuring comfort in every seat.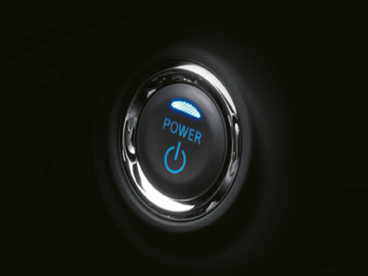 Smart key and one touch start
No more fumbling for keys – Mitsubishi's Smart Key and One Touch Start System lets you lock and unlock doors, open the tailgate, and even start the engine with the touch of a button, all while your Smart Key is tucked safely in your bag or pocket. Outlander PHEV Exceed makes busy workdays easier with its power tailgate that automatically opens and closes with a touch of the Smart Key.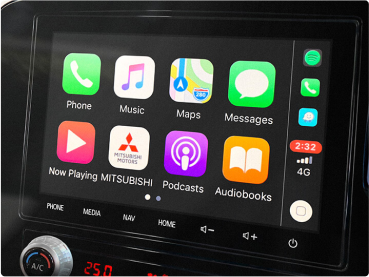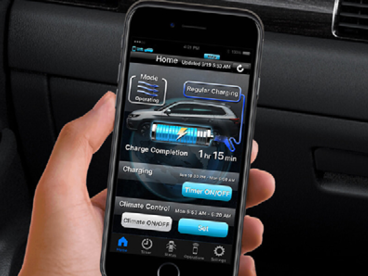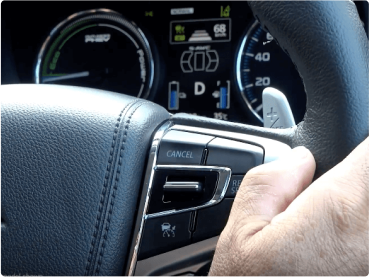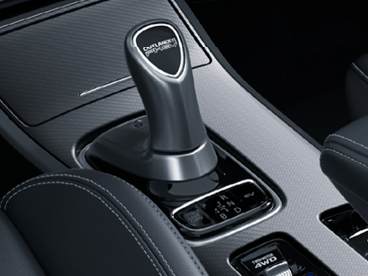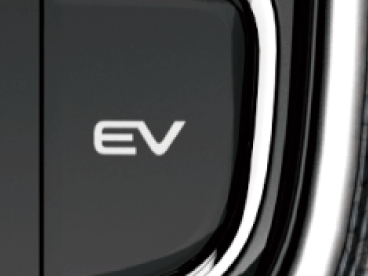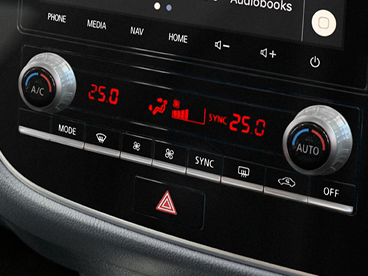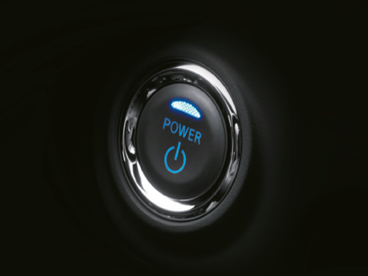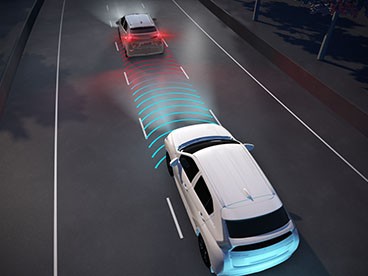 Forward Collision Mitigation (FCM)K10
Mitsubishi Motors' Forward Collision Mitigation system detects obstructions ahead and issues a visual and audio alert where there is a danger of collision, automatically applying the brakes to avoid collision or reduce impact.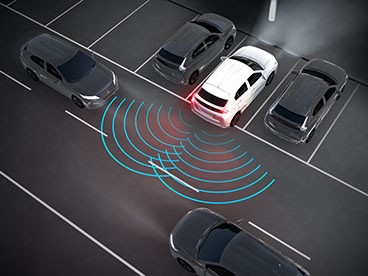 Rear cross traffic alert06K9
Mitsubishi Motors' Cross Traffic Alert system helps detect a moving vehicle when reversing. It alerts you via a buzzer sound and an indicator light appearing in the combination meter and blinking light in the side door mirror.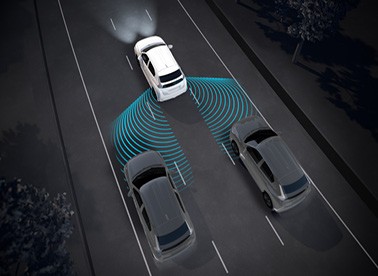 Blind Spot Warning (BSW) and Lane Change Assist (LCA)O6K8
Mitsubishi Motors' Blind Spot Warning and Lane Change Assist helps you change lanes with confidence. The Lane Change Assist system sounds an audible alert and displays a blinking warning in the door mirrors when the system detects a high collision probability with a vehicle coming from behind moving in the same direction within 3.4m from your vehicle's side or rear bumper.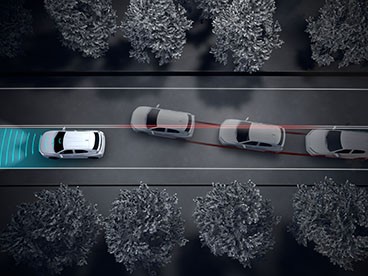 Lane Departure Warning (LDW)
Mitsubishi Motors' Lane Departure Warning issues an audible alert and shows a warning on the multifunction display if your vehicle drifts from its lane while the turn signals are not operating.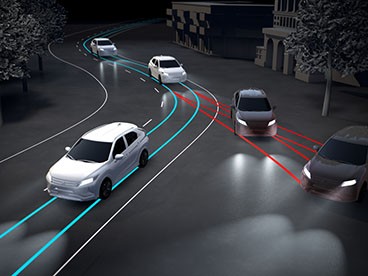 Automatic High Beam
Mitsubishi Motors' Auto High Beam detects both the headlights of oncoming vehicles and the taillights of vehicles ahead, automatically switching between high and low beams.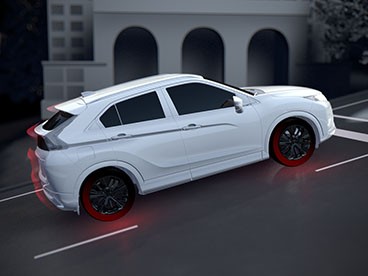 Multi Around MonitorC1
Mitsubishi Motors' Multi Around Monitor provides a 360° bird's eye view of your car. The view from cameras mounted on the front, rear and sides of the vehicle (including bird's-eye view) can be displayed in various combinations to reveal what is in blind spots and help you park more safely.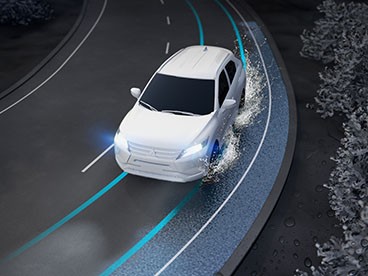 Adaptive Cruise Control (ACC)
Mitsubishi Motors' Adaptive Cruise Control uses radar technology to detect any cars in the lane ahead and adjusts the speed of your car accordingly while maintaining a safe distance set by you.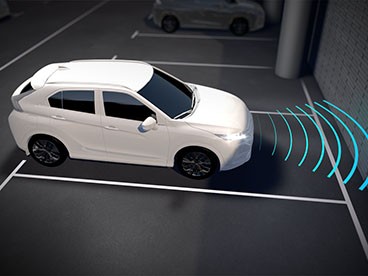 Ultrasonic misacceleration Mitigation SystemC1K7
Mitsubishi Motors' Ultrasonic misacceleration Mitigation System reduces the chance and severity of hitting obstacles 4m in front or behind when a driver mistakenly presses the accelerator when stationary or at speeds of up to 10km/h.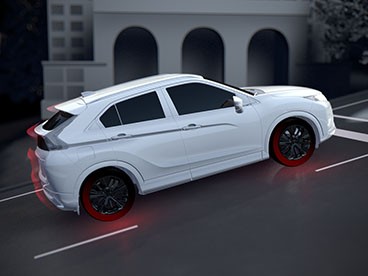 Hill Start Assist (HSA)
Steep city streets or congested shopping mall ramps are no longer a problem with Mitsubishi's Hill Start Assist technology. It prevents the car from rollingbackwards by maintaining braking force to give you time to move your foot from brake to accelerator.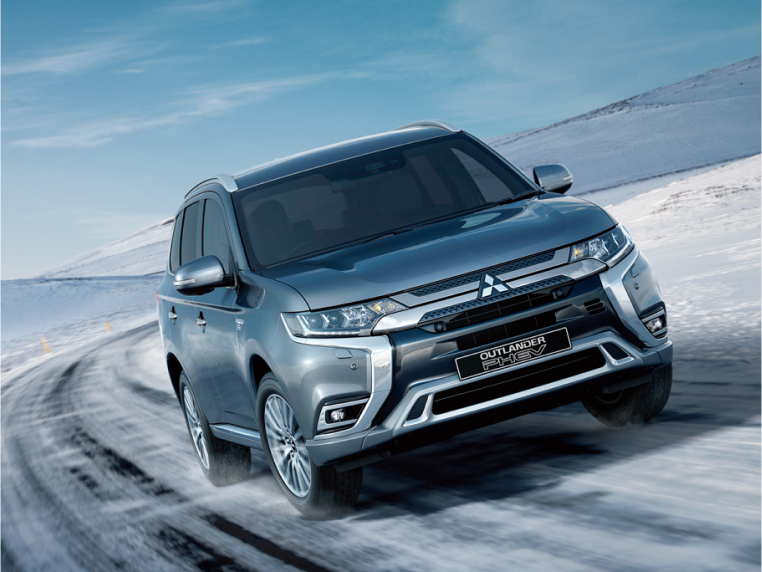 TECHNOLOGY
Mitsubishi Motors

intuitive technology
Mitsubishi Motors Intuitive Technology, or MiTECK0, combines a range of innovative technologies into one integrated system that worksconstantly to keep you safe, comfortable and entertained every time you drive.Passive and active safety systems work in unison, alerting, guiding and reacting to help keep you and your passengers safe.
Learn more about MiTEC
Forward Collision MitigationK10


Lane Departure Warning

Adaptive Cruise Control

Automatic High Beam

Blind Spot WarningO6K8
Lane Change AssistO6K8
Rear Cross Traffic AlertO6K9
Multi Around MonitorC1
Ultrasonic misacceleration Mitigation SystemC1 K7
BUSINESS ADVANTAGE OPERATING LEASE
Absolute
peace of mind
Mitsubishi Motors Business Advantage, or MMBA, is a flexible package that bundles all your vehicle finance and operating costs into one risk-free plan that delivers certainty and reduces your company's administrative burden. Receive National Fleet pricing, regardless of how big or small your business is.
ACCESSORIES
Personalise
your Outlander PHEV
Mitsubishi Genuine Accessories will ensure you get quality accessories that are both durable and reliable. Mitsubishi genuine parts and accessories are designed, engineered and manufactured to ensure a perfect fit and optimal performance, first time, every time.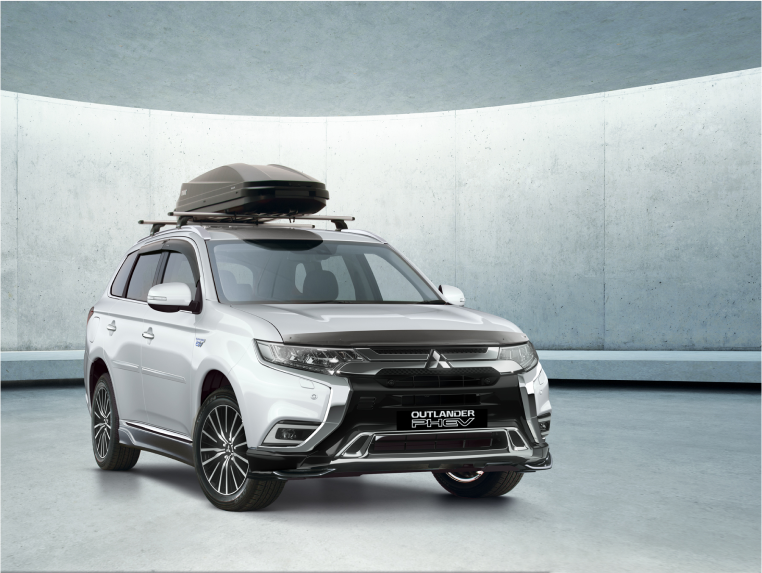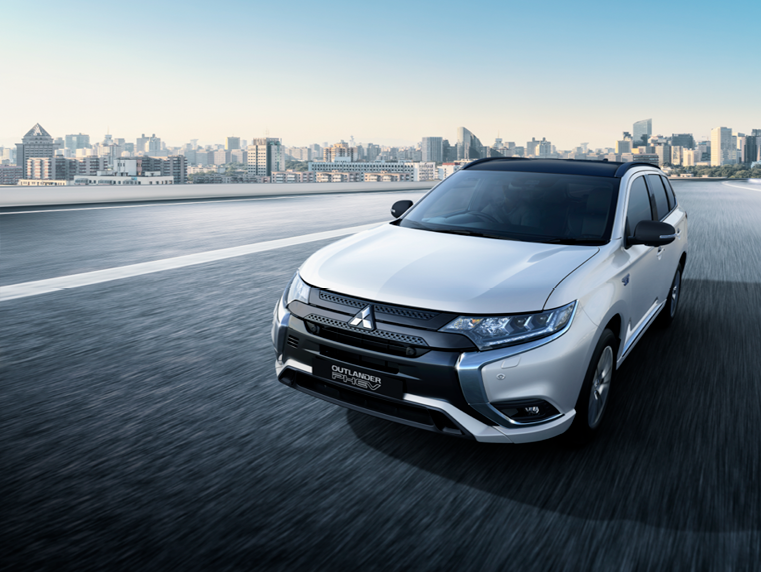 Outlander PHEV

GSR



New Outlander PHEV GSR has a commanding presence, with its emphatic black grille and roof, and purposeful black two-tone 18" alloys. The dark theme continues with privacy glass, topped off with black mirrors and roof rails. Adding to the technically advanced driving experience of Outlander PHEV GSR are practical, high end features such as its Mitsubishi Premium Sound System, power tailgate with remote open/close, heated front seats with microsuede synthetic leather trim, fog lights and reverse parking sensors. It's the SUV that will turn heads and change minds.
Range
Outlander PHEV Range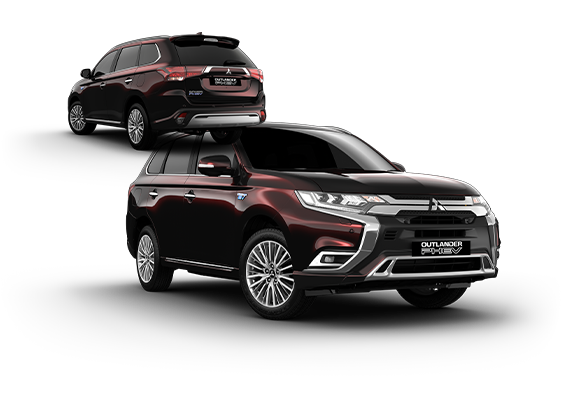 Twin electric motors and 2.4L MIVEC petrol engine
Super All Wheel Control AWD (S-AWD)
 Smartphone link Display Audio (SDA)K6
Climate control dual zone air conditioning
Reversing camera and sensors
Smart key and one touch start system
Forward Collision Mitigation (FCM)K10
Lane Departure Warning  (LDW)
Adaptive cruise control 
Hill Start Assist (HSA)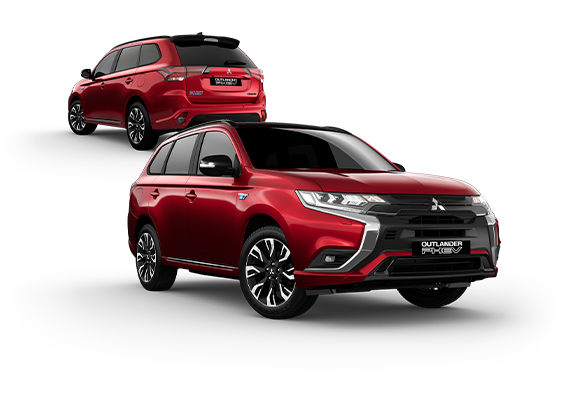 Bilstein Premium Suspension
Black grille
Black mirrors
Black two-tone 18" alloy wheels
Black roof
Super All Wheel Control (S-AWC)O1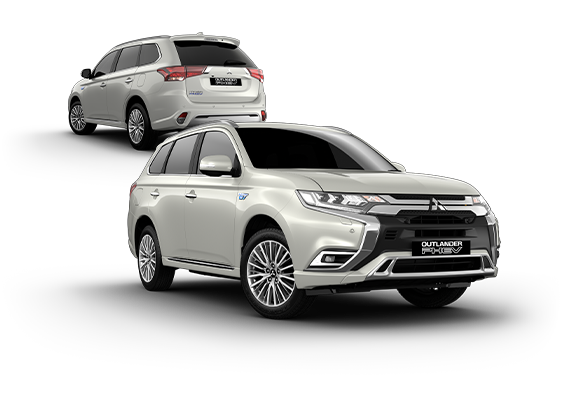 IN ADDITION TO ES
Leather seat facing 
Electric sunroof
Electric tailgate
Front parking sensors 
LED headlights 
Ultrasonic misacceleration mitigation system 
Blind Spot Warning (BSW)K8
Lane Change Assist (LCA)K8
Rear Cross Traffic Alert (RCTA)K9
Multi Around Monitor
EV remote smartphone app
O1

LS and Exceed models only
O4

Except when Adaptive Cruise Control (ACC) is active.
O5

Exceed models only. The vehicle and smartphone need to be interconnected within a Wi-Fi area. Some smartphones may not be supported.​
O6

GSR and Exceed models only.
C1

Only available on Exceed model
K0

Please drive safely and never rely solely on these systems while driving. Drivers are fully responsible for their own safe driving.
K6

(SDA) supports Android™ 5.0 or higher/iOS 8.0 or higher for use with Android Auto™ / ApplePlay. Smartphone Link Display Audio will not operate in areas with no service signal and may not operate in supported areas where the signal is weak. Users are responsible for all charges incurred using smartphones and iPhones to connect to Android™ and CarPlay respectively. Some functions may not be available for use depending on the user's location. Only compatible Apps can be used.
K7

UMS may not activate in some conditions. The engine output control activates when driving; 0-10km/h (not in N or P Position); obstacle/vehicle is within 4m range; accelerator pedal is pushed hard or abruptly; driver is not turning to avoid obstacle/vehicle. The detection and control capabilities of UMS are supplementary only and do not prevent misacceleration in every situation.
K8

The detection and control capabilities of BSW and LCA are supplementary only and do not warn you of vehicles in blind spots in every situation. BSW and LCA may not activate in some situations.
K9

Do not rely solely on this system, which may not detect all moving vehicles in certain conditions.
K10

The detection and control capabilities of FCM are supplementary only and do not prevent collisions in every situation. Please read the operation manual carefully and be aware of these limitations.
K11

Android Auto™, Android™, Google Maps and Google Play are trademarks of Google Inc.
K12

iPhone, Siri, CarPlay, iPod, iPod touch and iPad are trademarks of Apple Inc. registered in the United States and other countries.
⋄1

Up to 10 years from the date of first registration or 200,000 km New Vehicle Warranty (whichever comes first) when all regular services are completed within the specified service intervals at a Mitsubishi Dealership. Otherwise, 5 years from the date of first registration or 100,000 km New Vehicle Warranty (whichever comes first) applies. Service conditions apply.
⋄2

10 year or 150,000 km Capped Price Servicing (whichever occurs first). Includes the first 10 regular services (at 15,000 km/12 month scheduled intervals). Covers all items specified under the standard "Regular Service Table" for normal operating conditions detailed in the Periodic Inspection and Maintenance Schedule on the Mitsubishi website. Additional service/repair items (if required) are at additional cost. Once a schedule of Capped Price Servicing costs are set for a model year, they are not changed for the life of the model. Conditions apply.