Expert angler and outdoors enthusiast Al McGlashan loves to share his passion for fishing, whether it be in his regular column for The Daily Telegraph or on his show Fish'n with Mates. In fact, Al spends 180 days a year out on the water, most of which is done on his own trailer boat towed by his Pajero Sport.
Need to tow a heavy load such as a boat, caravan or trailer? Here's a quick guide to safer towing, so you're always in control.
1. What's your weight?
Towing too much weight can be a big safety risk, so confirm your vehicle's towing capacity before you set out. The owner's manual is the best place to go to find out how much weight you can safely tow. In addition, appropriate weight distribution is also a must so that your steering isn't affected, and the load doesn't sway. Position heavier items over the axle and secure any objects that might move around during the journey.
2. Have the right brake settings
If you intend to tow a caravan or trailer, have an Electric Brake Controller fitted in your towing vehicle to automatically activate the trailer brakes. This will apply the right amount of braking force to your trailer's wheels and allows you to monitor your trailer's brake activity from inside your vehicle. When the brake controller is set correctly, the vehicle and trailer can be slowed or stopped with the same force on the brake pedal as what would be required for the vehicle on its own under similar conditions.
3. Keep a safe distance
Because you're carrying a lot more weight than usual, stopping your vehicle and load takes longer. Leave enough room between yourself and the car in front so you can safely slow down or stop. Excess speed poses a real danger when you're towing extra weight and length, so slow down to prevent swaying, or even flipping. A gust of strong wind, or a truck going past, can also cause your load to sway. Slow down a little, prepare yourself for some movement, and, if required, apply the brake controller override to help you maintain a straight line. Avoid overtaking, but if you do need to do it, allow plenty of space as it will be a slower process than what you may be used to.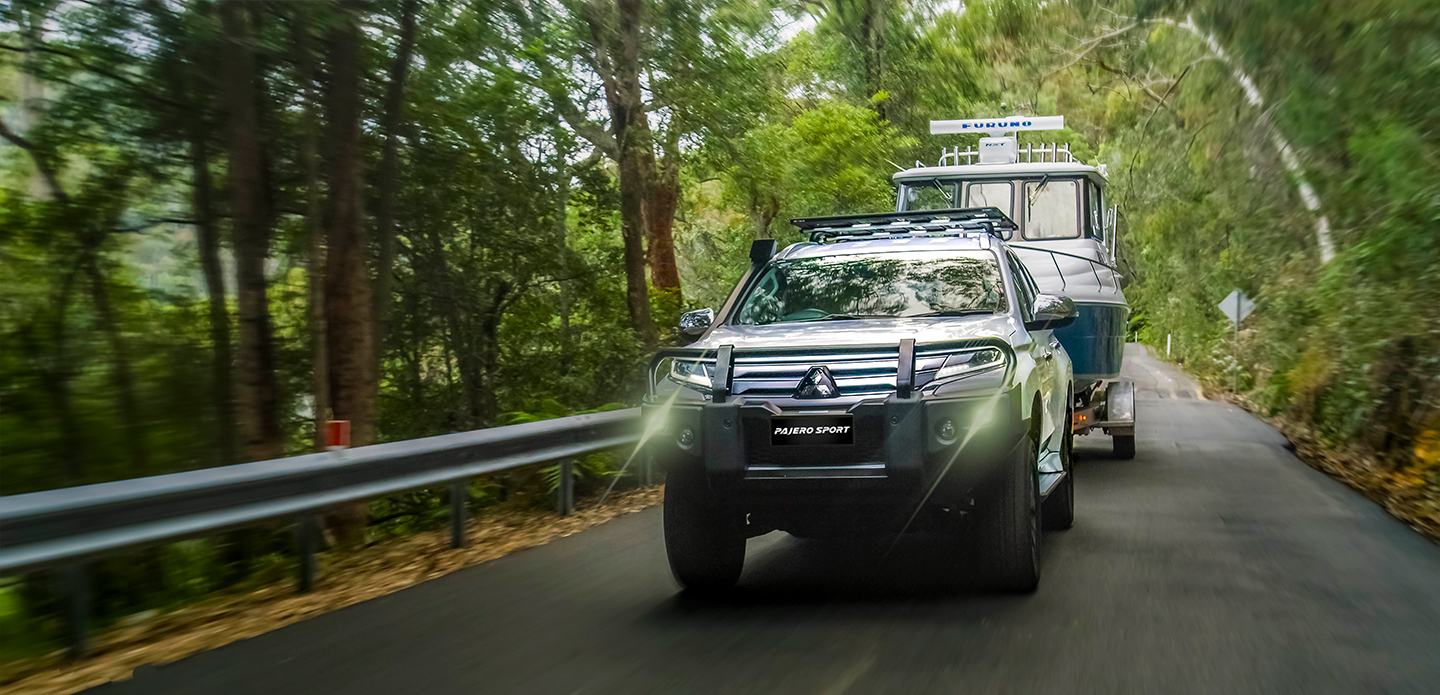 4. Be mindful of your width
You'll need to adjust your driving behaviour to compensate for the extra width of your caravan or trailer. When turning a corner, take a wider line than usual so that your load doesn't cut across the corner too much. Position your vehicle as close to the centre line as you can, and, when negotiating a roundabout, turn as late as possible so your trailer can get around it safely. If you're new to towing, practice driving around a quiet area so you can get used to your width and weight before embarking on your road trip.
5. Check your mirrors
In Australia, you're required by law to have a full and clear view of the road ahead, behind and to each side. If your caravan or trailer obstructs your normal rearward vision, it's essential to fit additional towing mirrors. Mirrors can extend 150mm beyond the widest part of the trailer but must be removed when the trailer is disconnected. Once you've adjusted your mirrors to ensure you have a clear view of what you're towing, keep an eye on your load throughout your journey by regularly checking your side mirrors.
Want more ways to elevate your next adventure safely? Then check out Al's other great tips.
*This article series have been created from partnership support with Al McGlashan