If you're in the market for a new car, one of the biggest decisions you'll face is how to finance it. There are a range of options available, including buying outright, car loans and novated leases. So, how do these car financing options work and which one might be right for you?
The biggest difference between buying and leasing a car is ownership. Buying a car means the vehicle is yours for as long as you like. On the other hand, when financing a car the vehicle ownership is not yours, until after the final payment (often referred to as the balloon) is made.
Buying outright
Buying a car outright provides you with immediate ownership over your new vehicle, however it does mean paying the entire cost of the vehicle upfront. While this option offers the benefits of no debt and no ongoing payments, it does mean putting your money into one of the largest depreciating investments you could make, when it could be used elsewhere.

Pros of buying outright
No debt

No ongoing payments

Easy to sell the car at any time in the future (no exit costs)

No need to wait for finance approval (a faster option compared to a lease or loan).

Cons of buying outright
Opportunity cost - you are spending your money on a depreciating investment, money could be used elsewhere, depending on your needs and lifestyle.

Limits you to a certain budget threshold, the value (RRP) of the vehicle, when a more expensive car may be more suitable and equally affordable when financed.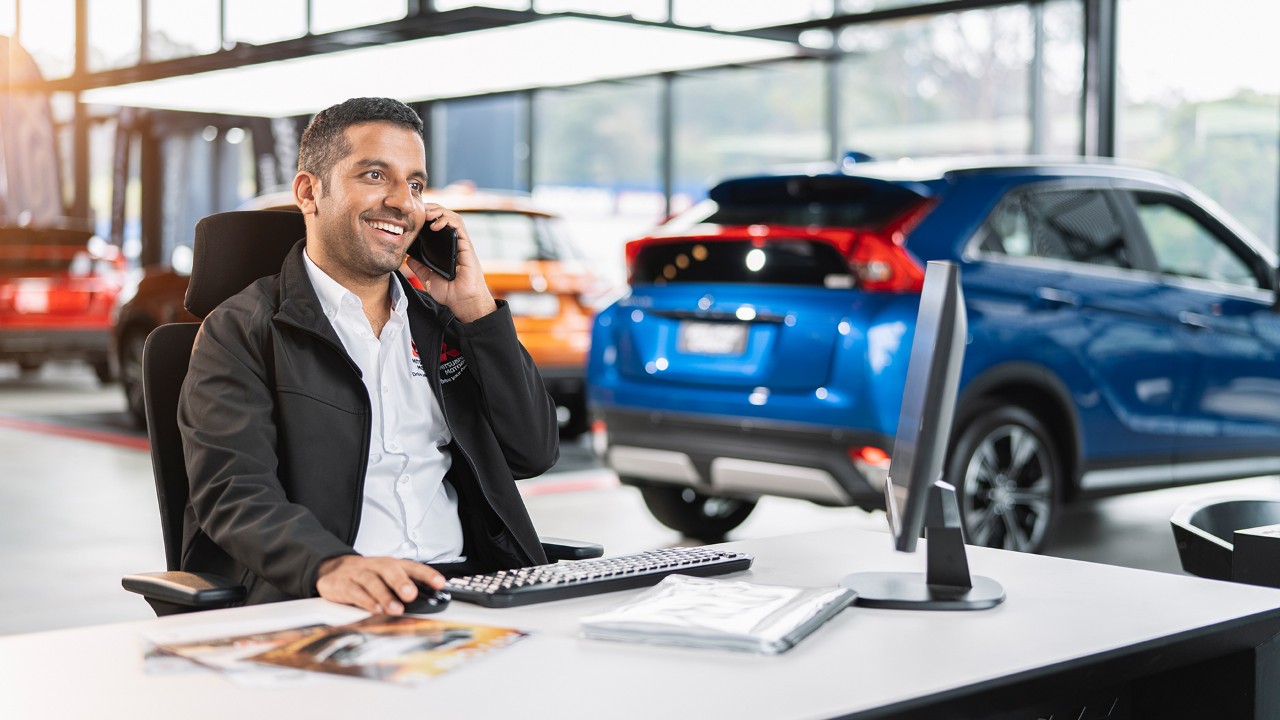 Car Loans
A car loan is a type of finance that is sourced at the dealership and often provided by the vehicle Manufacturers financial division. With Mitsubishi Motors Financial Services (Personal), you get the flexibility of loan terms from two to seven years, repayment frequency options with an interest rate fixed for the term of the loan. You can use our simple Finance Calculator to calculate potential car loan repayments based on just the loan amount and lease term.
Along with their flexibility, car loans may also help with building a credit history, and leave money in your bank that could be used elsewhere.

Pros
Flexible - with Mitsubishi, you get the option of loan terms from 2-7 years

You choose the repayment frequency

Can estimate your quote before you even walk in

Helps build a credit history

Leaves money in your bank

Allows you to consider not the total cost of the vehicle if you were buying it outright, but what you could afford if you were paying a regular instalment

Cons

Vehicle depreciation can often mean that at any point in time your vehicle's value might be lower than the remaining loan amount.

May be more expensive to pay off overall when compared to buying outright.
Novated Leases
A Novated lease is a form of finance available as an employee benefit. It is an agreement formed between you, your employer, and the vehicle funder. The lease payments are deducted from your pre-tax income, allowing you to pay less tax on your salary. Additionally, as a Novated lease normally includes all operational costs (e.g. rego and CTP, service and maintenance etc.) often resulting in a saving against retail price, and cash flow benefits.
Novated leases can be convenient, as the payment is deducted directly from your salary. At the end of the lease you purchase your car for the residual value, you can then decide whether to sell it (all profits over residual are tax free) and then start a new lease, or just keep the car.
Pros
As some or all of the monthly payment are deducted from your income, your taxable income is reduced, meaning you pay less tax compared

Operational costs are included in the Novated lease payment

May offer you a wider choice of car models than your 'buy outright' budget.

Cons
Fringe benefits tax may apply. We recommend seeking professional financial advice to determine whether this will apply in your situation.

As operational costs are included usage (kilometres per annum) is also contracted into the term

You still need to pay the residual amount when the lease ends

You do not own the car and it cannot be resold while under the novated lease
When it comes to car financing, picking the right choice for you will depend on your individual circumstances, budget and the type of vehicle you want. Understanding the pros and cons is a great starting point in working out whether buying outright, choosing a car loan or (if your employer agrees) setting up a novated lease is the best option for you.
If you're interested to learn more about our car loan options, you can find all the details on our Financial Services page.
And, for those who want to understand the car finance process and what to bring to the dealership, check our guide on How to do the finance dance.