Significantly enhanced 2024 Mitsubishi Triton is coming
The New-Gen Triton is bigger, tougher, and stronger with more cabin space, added cargo space and improved maximum braked towing capacity of 3.5 tonne.
Overseas model shown. Australian specifications may vary.
Pre-Order New-Gen Triton.
Receive something big.
Pre-order a New-Gen Triton before 18th February 2024 and take delivery by June 30, 2024, and you'll score a complimentary YETI pack valued at $740.
This ready-for-adventure pack includes a Crossroads®27L Backpack, Roadie® 24 Hard Cooler, Rambler®18oz (532ml) Bottle and Rambler®20oz (591ml) Tumbler.
The 2024 Triton's striking new design
The New-Gen Triton possesses a powerful, large, striking face and a wider stance, which grants it unconditional street presence imbuing a sense of firm yet nimble functionality, toughness, and solidity.
Rigorously tested in unforgiving terrains
The New-Gen Triton has been rigorously tested with its new Mitsubishi Motors built chassis frame's rigid design proven to withstand the harshest conditions. The application of more high tensile steels has optimised the strength to weight ratio so you can tackle even harsher terrain.
Mitsubishi Motors designed and developed 2.4-litre Bi-Turbo diesel engine with 'twin-stage' turbo charging develops 150kW of power with a 470Nm maximum torque, developed from lower in the rev range than ever before.
3.5 tonne improved towing
The New-Gen Triton provides an increased maximum braked towing capacity of 3500kg. With suspension and chassis frame upgrades, driving stability is improved even when towing a large trailer or boat. Feel confident as you embark on your next 4x4 or camping trip.
New-Gen Triton's cargo bed is bigger than ever and has been designed to fit a 1200x800mm pallet even with a bedliner fitted. Flat and wide with low-mounted inner hooks for ease of tie down of loads.
Now with Normal Mode, ECO Mode, Gravel Mode, Snow Mode, Mud Mode, Sand Mode and Rock Mode. Mitsubishi Motors Super Select 4WD-II all wheel control technology has been enhanced with seven drive modes. Each mode has been finely tuned to achieve outstanding driving confidence and performance in on and off-road conditions.
Newly developed Active Yaw Control
Active Yaw Control (AYC) assist drivers in cornering safely and confidently by optimising the yaw for enhanced steering response and consistency in the vehicle's behaviour. For vehicles equipped with Super Select 4WD-II, AYC has been optimised for each mode to ensure a smooth journey.
The New-Gen Triton is also equipped with an enhanced Brake Traction Control system with Active Limited Slip Differential (Active LSD) function for improved traction performance.
The 2024 Triton takes comfort in Pick Up utes to a whole new level. Enhanced comfort through meticulous cabin amenity design, a more spacious interior, and improved noise isolation performance means you can drive rugged terrain while in luxury.
Enjoy driving with minimal stress or fatigue
The interior of the New-Gen Triton provides SUV-like comfort, blending design and functionality. Passengers can enjoy a ute with a seat structure, materials and shape all designed to reduce the stress and fatigue often faced on those long road trips.
New-Gen Triton keeps you connected
A new 9.0-inch audio display with a 7.0-inch LCD Information display incorporated in the instrument cluster is standard across the range. This combination not only offers a cohesive look but also practicality. To assist drivers, the system comes equipped with integrated satellite navigation and traffic sign recognition. Entertainment hasn't been forgotten either, with Wireless Apple CarPlay and Bluetooth features enhancing connectivity options.
The 2024 Triton reaffirms Mitsubishi Motors' commitment to safety. The latest advanced active and passive safety features have been designed to protect both the driver and the passenger, putting your mind at ease.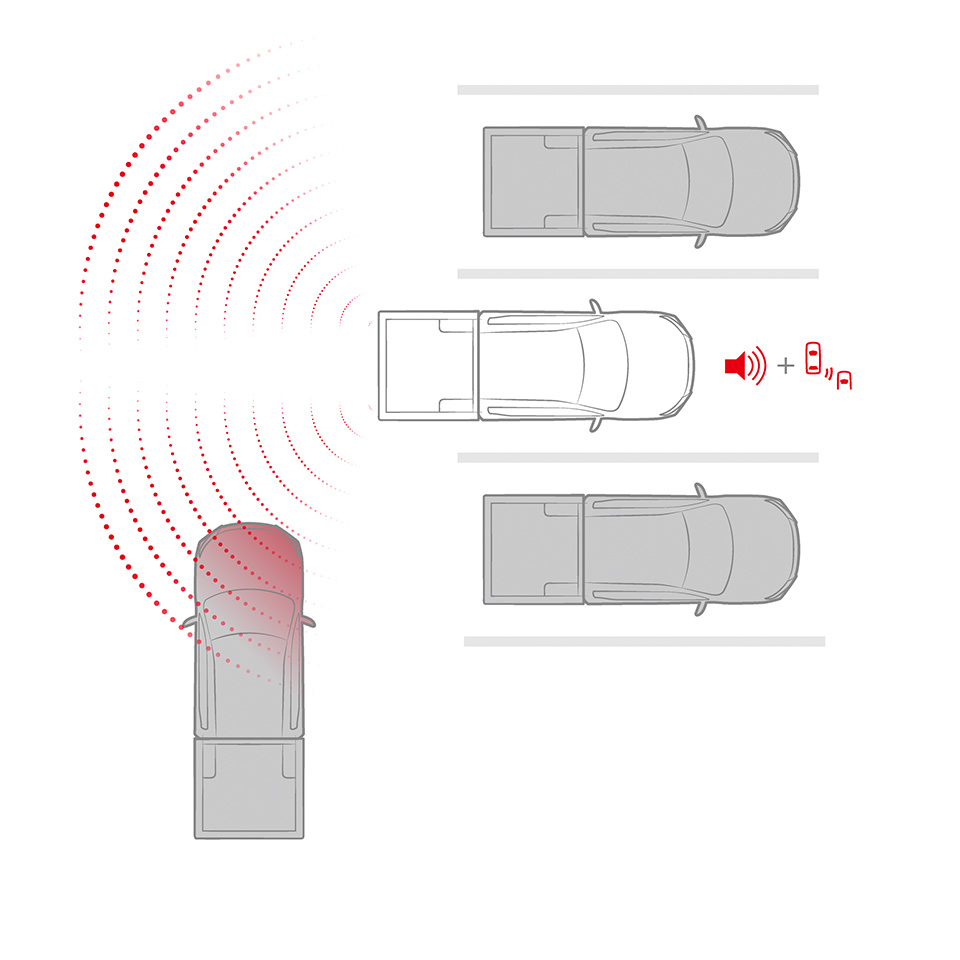 Forward and Rear Cross Traffic Alert
New Front Cross Traffic Alert (FCTA) alerts the driver via visual and audible warnings if an approaching vehicle is detected when entering an intersection. While Rear Cross Traffic Alert (RCTA) provides the same alerts for approaching vehicles when reversing.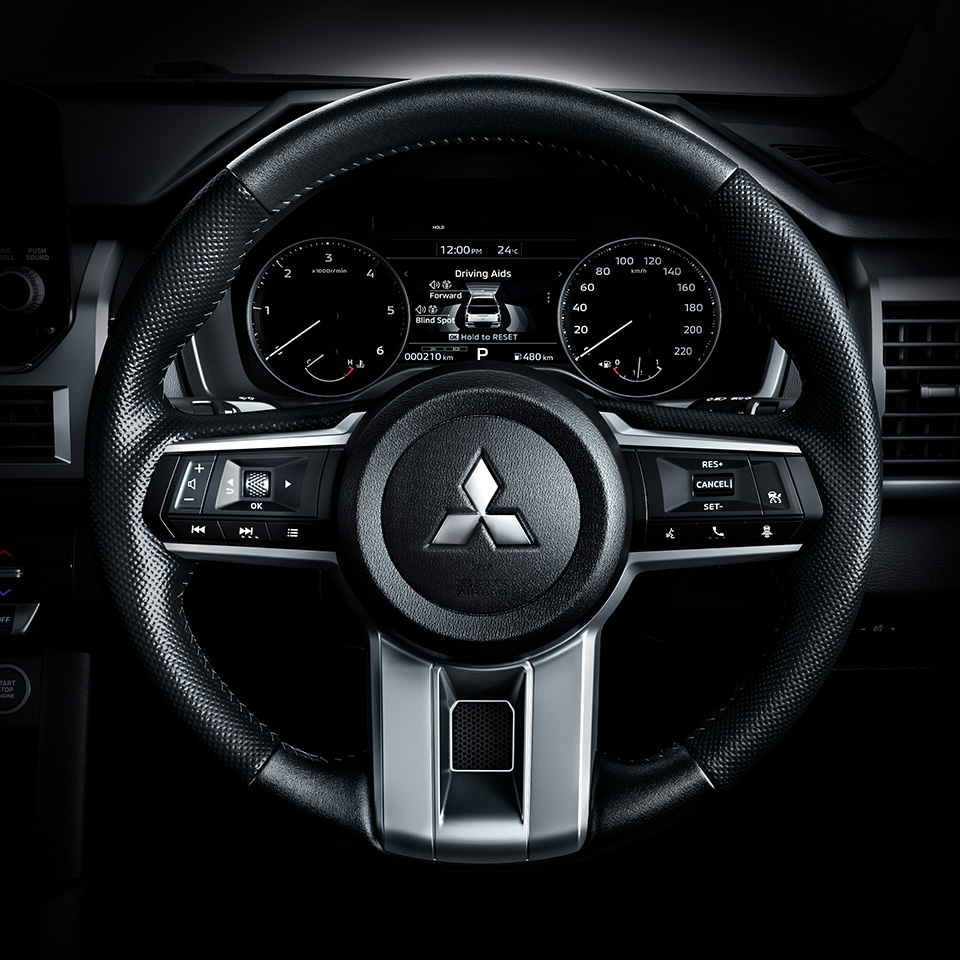 Driver Monitoring System
Driver Monitoring System uses a steering column mounted camera to monitor the driver's face and detect driver drowsiness or distraction. An alert is displayed via the instrument cluster meter display when such events are detected.
Forward Collision Mitigation
Forward Collision Mitigation with pedestrian detection, cyclist detection and junction assist aid to add further to New-Gen Triton's safety credentials.