If your family currently consists of more than two young children or is due to grow in number beyond a tidy four people, then child car seats are something you probably feel you spend far too much time thinking about. And if you're thinking of car seats then you're thinking of cars.
Specifically, which models are going to comfortably accommodate the number of car seats your brood requires. But you can't go around putting all your car seats in your potential new vehicle every time you take one out for a test drive, can you? Well, maybe you could but it wouldn't be much fun.
So, to help make the decision making easier we decided to put the Mitsubishi range to the test when it comes to child car seats.
We contacted Pete from Red Cross Baby Seats in Adelaide and asked him to come on down with all his seats. We wrangled a few kids and the ultimate kid-test was on!
The reason it's worth every cent to have your car seat professionally fitted as you know it's done right which means your treasures are safe but also, it's a lot of work. These professionals may make it look easy but anyone who has ever tried to fit their car seats themselves will tell you it's not as easy as the pro's make it look which is why we can't stress enough the importance of getting your car seats professionally fitted.
All the Mitsubishi range is fitted with 2 ISOFIX points and some models feature an additional standard anchorage point. ISOFIX has only been introduced for child seats here in Australia since Sept 2014. So before we get into cars let's look at how ISOFIX works.
Here are the ISOFIX connectors for the Infa Secure Kompressor II in action. The red indicator line tells you there's not enough tension on the connection. It turns green when you get the tension right. There are two ISOFIX connectors and each one has a tension indicator. Make sure they're both green before you use the seat.
Remember that ISOFIX might be something funky and new for car seats but it doesn't necessarily mean your car seats will be any safer.
ISOFIX compatible car seats must always be able to be installed using your car seat belts anyway and sometimes this can work better than the ISOFIX connections!
Car 1. Mitsubishi Outlander
The first car we tackled was the ever popular Outlander. The Outlander comes in a 5 and 7 seater option and we decided to check out the 7 seat Exceed to see how many people we could comfortably fit in it.
We have heard a lot of whispers of people saying that it's not large enough to fit three seats across the backseat … Well… Here it is with FIVE kids all safely seated in there. Three young ones in harnessed in seats AND two teens in the third row, with plenty of leg-room too!
Car 2. Mitsubishi ASX
Next was the ASX. This car was our little dark-horse. For a vehicle which appeals based on its looks we got quite a shock when we started fitting seats.
We began with two standard child seats a rear facing capsule for the baby and one for the toddler and then thought 'let's see if we can get three in there'. And we were suitably surprised! This car can fit three forward facing child seats and two forward facing and a rear facing. Pete from Red Cross kept saying how easy these seats were to fit and how much room there was.
For a small SUV it actually comfortably fit the seats better than others. When we looked at the vehicle specs we noticed the 2nd row shoulder room was one of the widest across the range at 1410mm. Those spec pages in brochures and on websites can help you research intricate details about the cars and are well worth a read.
And in the ASX XLS they can all look at the sky through the panoramic glass roof that will keep them calm and peaceful during the trip, sure, maybe that's wishful thinking!
Car 3. Mitsubishi Pajero
The Pajero is one mighty vehicle. So it will be no surprise to you that this car will happily accommodate four big people and three little people with ease. The 6th and 7th seats in this beast are easily accessible through the back and passengers can simply walk in [albeit hunched] around each side of the seat.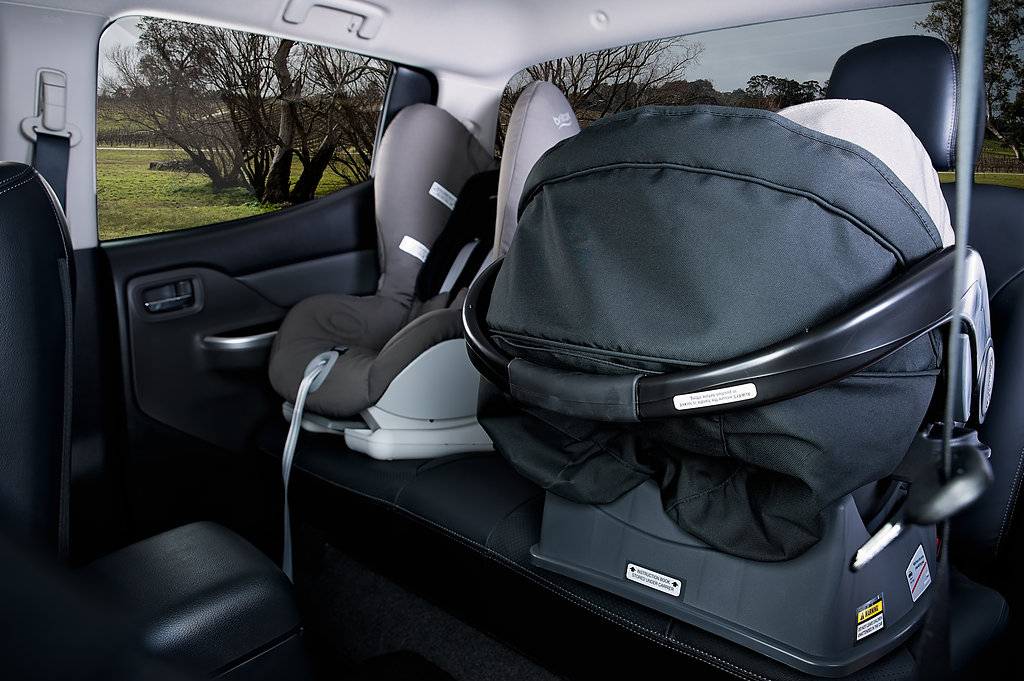 Car 4. Mitsubishi Triton
Next up was the Triton. A practical double-cab ute (available in GLX, GLS and Exceed variants) that has two ISOFIX anchor points in the back seat row. Perfect for a rear-facing baby capsule and a Britax full seat. Keep in mind this vehicle only has the two points. There is no third and so 3 child seats cannot be fitted across the back. Although as it is generally a work ute the two points will be suitable for the people who buy this pick-up.
Car 6. Mitsubishi Mirage
We didn't test out the Mirage as we had previously put it to the test in our real mums review. Both Mirage variants (sedan and hatch) have two ISOFIX anchor points and comfortably fits 2 seats across the back. For a little car it certainly felt spacious even with 2 adults and 2 kids.
Car 7. Mitsubishi Pajero Sport
The Pajero Sport is one amazing vehicle and does a fabulous job of keeping you up high on the road and feeling safe as houses!
The Pajero Sport has 2 ISOFIX mounting points in the outboard seating positions and 3 child restraint anchorages in the roof.
The 60/40 split fold rear seat worked a treat for keeping master 4 in his seat but allowing room for bulkier/larger items to be loaded in the boot with ease.
The Pajero Sport is also fitted with child restraint compatible seatbelts or ALR [automatic locking restraint] seatbelts ensuring that once you've pulled them out all the way a lock is activated that only allows it retract. Great for ensuring the tension on the belts never increases!
Now, a couple of disclaimers about 3rd row seats. If you've got three child seats across the back, the only way to access the 6th and 7th seat is through the boot. Which is totally doable when you're thirteen years old but probably not so easy if you're forty plus. However, if you only have two child seats in the back, then the 6th and 7th seat is accessible from the back door and totally possible for grown-ups to sit there without throwing their hip out.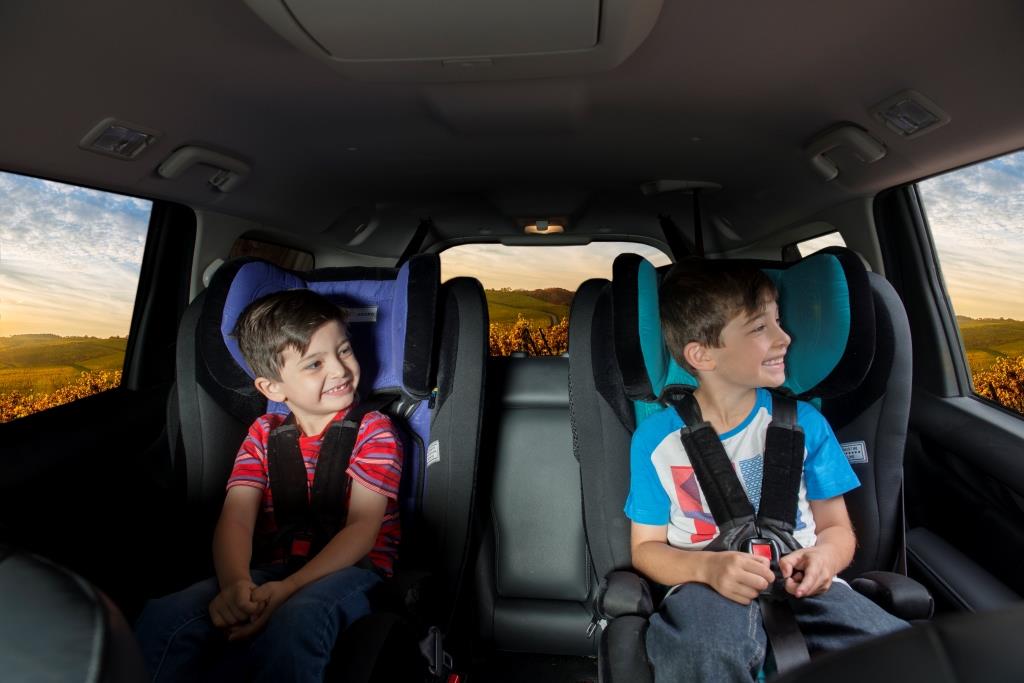 Summary
What WE learned from this exercise is that there needs to be a shift in thinking when considering family cars and child seats. Instead of buying a car to fit your seats perhaps flip it and buy a car to meet your needs [size, fuel economy, budget] and then tailor your child seats around that. We were amazed at the size range of child seats available which all meet Australian safety standards. Biggest does not always mean best and as you can see with some clever configuring [just like tetris!] many of the popular mid-size vehicles could safely accommodate three child seats across the back.
Disclaimer: Content is correct at date of publishing. Vehicle related content in this article refers to 16MY Mitsubishi Outlander, 15.5MY Mitsubishi ASX, 16MY Mitsubishi Pajero, 16MY Mitsubishi Triton, 16MY Mitsubishi Lancer, 16MY Mitsubishi Mirage and 16MY MItsubishi Pajero Sport.